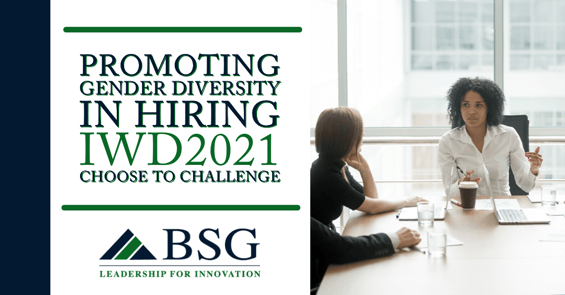 The guiding principles embraced by and promoted across the BSG ecosystem have long touted the importance of diversity in hiring. In fact, we very recently explored updated statistics surrounding the diversity in our candidate pools. And as we yet again recognize the importance of International Women's Day, we felt it only appropriate to dive into gender diversity trends in hiring with renewed vigor, not only to keep our finger on the pulse of our greater environment but also to ensure we are staying abreast of the latest understandings and research.
While the following actually comes from two years ago, it is still very timely (and likely "less than two years ago" in nature as the pandemic has caused a bit of a disruption to our normal timelines). Harvard Business Review tackled the question of when and how gender diversity makes firms more productive and found that its not solely diversity but a supportive, normative environment that makes gender diversity that much more impactful on overall productivity.
In research one of us (Professor Zhang) conducted, this is exactly what was found. In a study of 1,069 leading firms across 35 countries and 24 industries, we found that gender diversity relates to more productive companies, as measured by market value and revenue, only in contexts where gender diversity is viewed as "normatively" accepted. By normative acceptance, we mean a widespread cultural belief that gender diversity is important. - Harvard Business Review
As part of our support for IWD2021 and the "Choose to Challenge" initiative, we're joining the call with our promise to promote positive, normative acceptance of gender diversity in hiring at all levels of firms.
Read more from HBR here: https://hbr.org/2019/02/research-when-gender-diversity-makes-firms-more-productive