Here at BSG, we continue to learn and share with our clients and candidates about the latest developments and advances in diversity, equity & inclusion. There is so much being developed in terms of education, content, data, and insights in the last several years that it is hard to believe that permanent improvement isn't on the horizon.
However, as the business aphorism goes, if you can't measure it, you can't manage it. So we at BSG continue to measure our progress in developing and presenting diverse slates of candidates for our clients' executive hiring needs.
While we certainly don't believe that the numbers below represent a "win," or a completion of our efforts, at least they endeavor to support the beginning of increased awareness, focus, and efforts to bring to our clients the highest caliber talent drawn from diverse make-ups.
2019 & 2020 BSG Candidate Diversity in Recommended Client Slates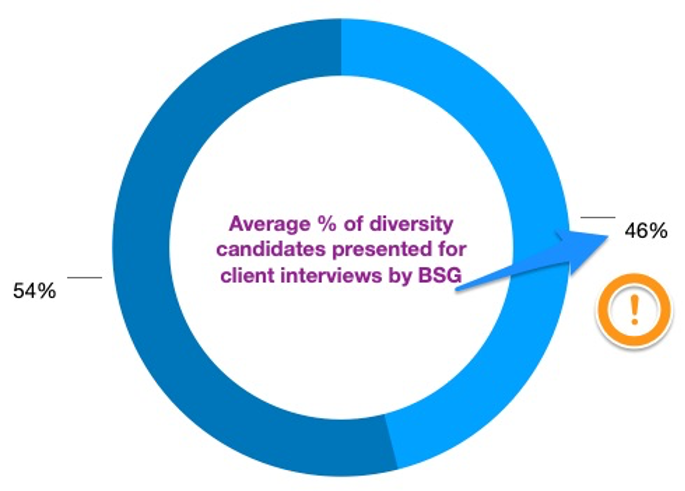 Were there some assignments where the numbers were higher? Absolutely, it's the law of averages. We've had searches that have been as high as 90% diversity, when that definition includes female/gender diversity. Yet there have been other searches that have been in the single digits. What impacted the delta in the numbers the most? Often, it appears to be a combination of industry, geography, level and function.
A note on our definition of "diversity slate." BSG's definition in analyzing the data is focused on the candidates that were actually presented to our clients and endorsed for our clients to interview with our recommendation. There are other ways other firms may do the math—from the loosest definition by looking at the total "target list" of all candidates approached in a search, to one of the most stringent where only including those candidates actually interviewed by the client get included in the calculus.
What are we doing at our firm to support continued learning, growth and development of our diversity, equity and inclusion agenda? We have engaged within a boutique executive search firm peer group to create a professional continuing education curriculum whereby several times a year, experts and trainers are brought in to teach and coach on topics from unconscious bias, to diversity candidate sourcing and beyond.
We will continue to try to chart our progress in this important area, and report out on it from time to time. And just to be clear, diversity doesn't come at a sacrifice to the business and its health. It's actually been proved to be quite the opposites. Here are some links to research by the likes of Boston Consulting Group, Harvard Business Review and the Wall Street Journal studies proving a correlation between diversity, and increases in innovation and company financial performance.
Further reading: