December 2019: BSG Completes Another Successful Executive Search— Vice President of Sales & Marketing, Capewell Aerial Systems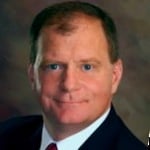 BSG proudly announces a recently completed executive placement. Michael Harden formally accepted the position as the Vice President of Sales & Marketing at Capewell Aerial Systems.
Michael Harden joins Capewell Aerial Systems as an experienced Sales & Marketing leader and Private Equity Operating Partner. He brings expertise in international sales, has extensive OEM experience, has built and rebuilt various sales teams and a track record of creating and executing successful domestic and international customer target lists. His 25+ years of sales and marketing experience have allowed him to establish himself in the fields of business development, product management, sales and marketing operational strategy and talent development.

Michael was most recently Executive Vice President; Sales, Marketing and Program Management at Nextek, Incorporated, an Electrical & Electronic Manufacturing middle market private company, as well as a Sales Executive at Grainger, a publicly held Business Supplies & Equipment organization that provides services such as inventory management and technical support. Michael holds a BBA from the Delta State University in Marketing and Management, as well as various certifications including Six Sigma.

About Capewell Aerial Systems:
Capewell Aerial Systems (CAS) is a global leader in aerospace and life support. Established in 1881, George J. Capewell founded the Capewell Horse Nail Company in Hartford Connecticut. His patented automated machines made Capewell the only company in the world that could mass produce horseshoe nails in an era when horses powered transportation worldwide. In 1939, they began a collaboration with the US government to develop specialized hardware for military paratroopers. In the 1980's, Capewell embarked on an effort to grow and diversify by acquiring top companies with expertise in related industries—and by focusing on the ability to engineer products rapidly in response to the needs of the military.

They are a respected provider of engineered products for aerial delivery, life support and tactical gear for military, law enforcement and humanitarian agencies worldwide. CAS provides a range of innovative engineering solutions for life support, aerial delivery and aerospace requirements. The engineering team is one of the most knowledgeable in the industry, with deep experience in international design standards, systems analysis, stress analysis, safety, maintainability and reliability techniques. They work with a wide range of materials and offer in-depth knowledge of the product design and qualification processes.

For assistance with your next executive search, in the aerospace and defense sector or across our array of practice area specialties, contact us today.
-by
BSG
on Jan 22, 2020 9:05:50 AM