August 2019: BSG Completes Another Successful Executive Search— Vice President of Research & Development, The Learning Corp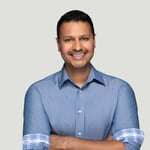 BSG proudly announces a recently completed executive placement. Shaheen Lakhan formally accepted the position as the Vice President of Research & Development at The Learning Corp.
Shaheen Lakhan joins The Learning Corp bringing extensive experience as a physician-scientist, medical educator, and clinical development specialist. His professional experience includes serving as the Neurology Department Chair & Assistant Dean of California University of Science and Medicine, Chief of Pain Management at a multi-hospital academic healthcare system (Virginia Tech - Carilion Clinic), and Medical Director at Sage Therapeutics. Shaheen has a passion for digital health therapies that affect positive change in various neurological conditions. Shaheen holds a Master's, PhD and MD and is board-certified in both neurology and pain medicine with clinical training from the Cleveland Clinic and Massachusetts General Hospital.

The Learning Corp is a fast-growing startup revolutionizing the treatment of neurological disorders with clinically-proven digital therapies. Their award-winning mobile application, Constant Therapy is already used by tens of thousands of patients and clinicians across the world today and has won awards from the AARP and American Stroke Association.
For assistance with your next executive search, in the healthcare sector or across our array of practice area specialties, contact us today.
-by
BSG
on Oct 16, 2019 9:16:59 AM