July 2020: BSG Completes Another Successful Executive Search— Chief Human Resource Officer, uniQure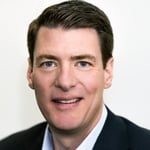 BSG proudly announces a recently completed executive placement. Jamie Brady formally accepted the position as the Chief Human Resource Officer at uniQure .
Jamie Brady joins uniQure and is a purpose-driven strategic human resources executive with a proven track record of building organizations, leaders and teams in transformational life science and digital information technologies. His 20+ years of executive leadership experience have allowed him to drive impact through people strategy, executive coaching and team development, talent acquisition, learning and organization effectiveness applications.

Jamie was most recently Vice President of Human Resources for Intarcia Therapeutics, a rapidly emerging gene therapy organization dedicated to redesigning the treatment, prevention and experience of chronic disease. Jamie holds a BA from Marietta College and an MTS from Harvard University.
About uniQure:
Leveraging more than 20 years of gene therapy leadership, uniQure is delivering on the promise of gene therapy -- single treatments with potentially curative results. They are leveraging their modular and validated technology platform to rapidly advance a pipeline of proprietary and partnered gene therapies to treat patients with hemophilia, Huntington's disease and other severe genetic diseases.

They are advancing a focused pipeline of innovative gene therapies and are currently conducting a pivotal phase 3 trial in their lead indication, hemophilia B, and have initiated a phase 1/2 trial in Huntington's disease. Their pipeline of adeno-associated virus (AAV)-based gene therapies has been developed using an innovative technology platform, supported by industry-leading proprietary commercial-grade manufacturing capabilities. uniQure is publicly traded on the Nasdaq (QURE).
For assistance with your next executive search, in the Biotech sector or across our array of practice area specialties, contact us today.
-by
BSG
on Aug 12, 2020 9:55:27 AM