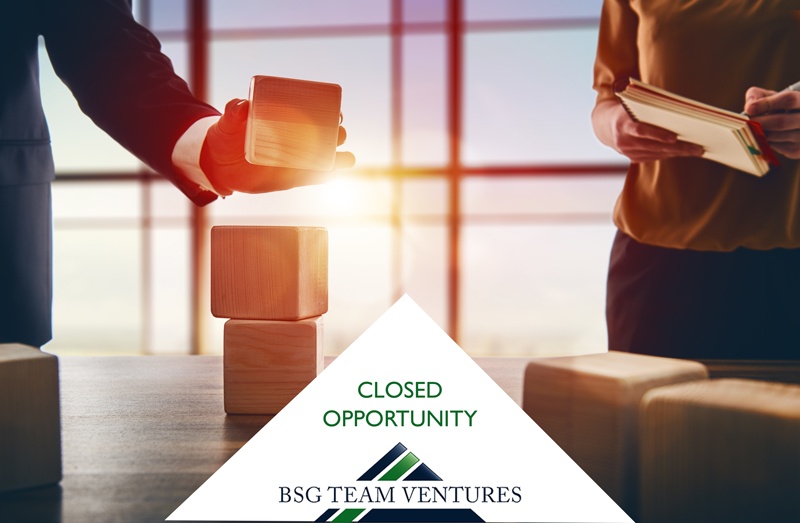 Chief Executive Officer / Reports to Board of Directors
Midwest/Michigan
BSG Team Ventures has commenced an executive search for Chief Executive Officer for our healthcare focused content developer for distance learning for medical certification and training client. The CEO will combine healthcare industry, SaaS software, and distance learning experience to help set the strategy and vision of the company, and drive the execution of the business.

Opportunity Overview
Chief Executive Officer
THE COMPANY
Short-term online training for national certifications in healthcare and IT occupations
Our client is a distance learning initiative to provide self-paced, user-friendly multimedia, simulations, and more importantly, mentored learning assistance from expert instructors and certification professionals. Our clients' comprehensive video-based training programs provide students with the knowledge and skills required to obtain nationally and internationally recognized certifications in growing specialized Healthcare and IT fields.
The Company's mission is to prepare students and workers for high-demand jobs and careers. To this effect, Our client's instructors develop and offer individualized short-duration training courses in health information systems administration---including information technology (IT) and medical administrative assistant certifications.
Our client provides the necessary skills to earn nationally and internationally recognized certifications in high-demand areas. The main beneficiaries of the program are the underemployed, unemployed, disabled, dislocated workers and students. But, also individuals interested in changing careers or improving their information-age skills.
The short programs lasting between 3 and 6 months are taught using innovative, friendly, mentor-assisted, self-paced learning technologies. So, students and participants can set their own learning schedule and pace depending on their needs and career goals.
These career certification training programs are offered as non-credit continuing-education and do not lead to an academic degree.
Our client is licensed or authorized in 22 states, and cleared to administer educational content, training and certification in an additional 17. Our client has developed corporate partnerships with the likes of Walgreens, and non-profit partnerships with various education and training associations including the HCEA (www.hcea-info.org). Our client is licensed as a Proprietary School with the State of Michigan. Each of the Company's Healthcare and IT programs has been reviewed and approved by the State of Michigan Department of Licensing and Regulatory Affairs (LARA). Additionally, Our client is fully Accredited by the Indiana State Workforce Innovation Council (SWIC).
Founded in 2011, our client is headquarted in Michigan.
PRODUCTS
Our client's Learning Experience is what sets them apart from other online schools. Their formula for student success is complex, yet simple. To date, our client has trained over 8,000 students for new careers in Healthcare and IT. Our client has successfully achieved a 90% Completion Rate for all enrolled students.
Our client provides self-paced, user-friendly multimedia, simulations, and, more importantly, one-on-one assistance from expert instructors and certification professionals. World-class instructors have decades of experience in the medical and IT fields. Their work experience comes from a wide variety of different companies within their respective industries including technology/software companies, billing companies, Physician Hospital Organizations (PHOs), and family practices in both clinical and administrative capacities. Our client online video training programs not only prepare the student or professional for a rewarding Healthcare career, they validate this knowledge through national and international industry certification. Our client's certified instructors deliver comprehensive video based training, allowing each student the ability to move through the training at their own pace, at the training center, at work, or at home.
Each of our client's learning module and certification program comes with the following benefits:
24/7 Access to curriculum, including all course/program supplements and resources for independent study.
Expert-led video-based training is the primary method of learning, with secondary methods that include courseware (text/workbooks), CD-ROM software demos, Live and Offline labs, quizzes and final exams, and much more.
While each program has a defined duration (from 3-9 Months), all students have the ability to customize their training schedule to fit their personal (and family) needs. Our client's programs are self-paced, with a suggested minimum chapters per week defined for each student.
All students receive a "Welcome Package" that contains the full set of textbooks & workbooks, course schedules, logins, and may include Flash Cards, Quick Reference Study Sheets, and/or textbooks that have been completely authored & published by our client.
Training delivered on a cutting edge Learning Management System (LMS).
Virtually our client's entire curriculum has been developed in-house by the Company's team of Instructors and Subject Matter Experts (SMEs).
Each course comes with a comprehensive Student Guide that serves as a bridge between the various learning resources that are provided for the course.

Live one-on-one mentoring support is available Monday-Friday for subject matter inquiries.

Access to all training material is provided for a full 12 months, regardless of the duration of the program. This allows for the use of materials after completion, during preparation for each respective Certification Exam.
THE POSITION
Our client is looking for a CEO who will partner with its investors and the Chairman and rest of the executive team in a hands-on, active role. Key to the position's responsibilities is driving sales, business strategy, and company profitability.
The new CEO will help set the strategy and vision of the company, and drive the execution of the business. This is a hands-on role which will require working both inside the company with the product, engineering and marketing teams, and outside with customers, prospects and partner channels.
Success in this role will lean on 3 pillars of skills and experience:
Has prior P&L experience as CEO, President, COO or General Manager equivalent of private equity-backed business

Has industry experience in the healthcare, software and/or education technology sector

Has prior career functional leadership experience in sales, marketing, business development and strategy
IDEAL CANDIDATE PROFILE
A summary of key competencies required to be successful in this role include the following:
Functional Prior Success
P&L experience

Business strategy and value creation roadmapping

Building SaaS software recurring revenue businesses

Sales forecasting and budgeting, pipeline management & tools -- managing revenue-to-plan at both board and sales team level

Strong enterprise customer selling

Creating KPI dashboards

Organic and inorganic growth

Build vs. buy trade-off analysis

Building education management systems

Proven track record helping prospect and close big customer opportunities in conjunction with partner channel

Mapping target partner ecosystems and identifying and closing early

Education: BA or BS + MBA
Customer Segment Experience
Global 2000 enterprise customers concentrated in the following segments:

financial services

telecom

education

distribution
Management & Leadership Experience
Building scalable management processes without suffocating innovation/speed

Success as individual contributor and as player/coach

Remote/multi-office team management of 35+

Track record hiring/upgrading to A players for A team
Industry Experience (healthcare industry)
SaaS software

Training and certification e-learning content

Healthcare payers and providers

Home care services, consulting and/or revenue cycle management
Stage of Company Experience
Experience working with founders, investors, and board directors in closely held companies

Building and scaling brand recognition off of referenceable work

Growth phase of company development and rapid revenue growth, $10-50M+

Marshalling cash resources, "doing more with less" in scaling business

Developing partner ecosystem relationships that result in strategic acquisition/liquidity events
GENERAL:
Finally, this individual should have as many as possible of the personal traits required to succeed in this leadership position:
High levels of intelligence, analytical strength and conceptual ability.

The ability, and willingness, to set and communicate demanding standards for professional staff and to hold people accountable for their performance; at the same time, sensitivity to, and insight into, individuals' capabilities and development needs, and the combination of firmness and likability that all good leaders possess.

Decisiveness when necessary, coupled with a willingness to seek input and build consensus as much as possible.

Unquestioned honesty and integrity; also, loyalty to colleagues and to the organization, and the ability to inspire loyalty. This person should have the ability to identify and focus on the Company's best interests, rather than the agenda of any individual or group within the firm.

A very high level of energy and commitment, combined with enthusiasm and a positive attitude.

Excellent writing and speaking skills; this individual must be able to communicate complex ideas and information clearly and concisely.

Outstanding planning and organization skills.

Good strategic instincts and long-term vision; the ability to address both big-picture issues and detailed, day-to-day management concerns.

In general, the business and personal skills, and the absolute commitment, required to make a major contribution to The Company during the coming years.

Attention to detail required to deliver consistently accurate data, information and reporting on time and on budget.

The work ethic required to do what it takes to get the job done and to invest the time required to deliver on key responsibilities in a timely fashion.
TEAM
The team currently numbers approximately 35.
FINANCIAL BACKING
Our client' lead private equity investor is healthcare-focused Lorient Capital, based in Michigan.
COMPENSATION
Compensation will be commensurate with the position's requirements. Since this is a performance-based environment, the successful candidate's package will include base salary, bonus structure based on corporate qualitative and quantitative strategic KPIs, and a stakeholder position in the company.
For more information or to submit your resume, please contact: