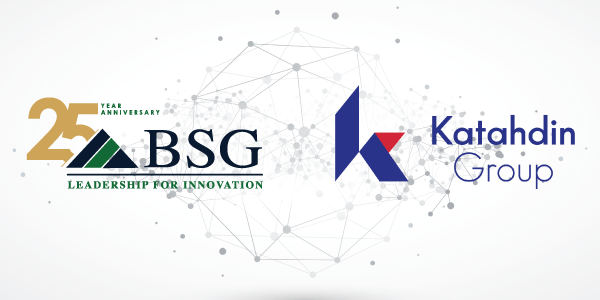 MARCH 20, 2023: BOSTON, MA: BSG and Katahdin Group announce today a partnership to create top-tier national peer groups at the executive and CEO levels of private equity-backed companies. Under the direction of both firms, these newly formed groups will collaborate on identifying, clarifying, and providing feedback on each member's most significant strategic issues in a peer group format. The partnership merges decades of experience and knowledge from both organizations.
For over 20 years, Katahdin Group has refined a process-driven approach to yield actionable insights to companies. BSG has led the boutique executive search industry in talent strategy and acquisition for private equity firms for over 25 years. Collectively, Katahdin and BSG will provide CEOs and top executives of private equity-backed companies an environment where their exchanges of insights and experience will be the genesis for inspiration and motivation to drive their companies to the next level.
The partnership between Katahdin Group and BSG will be a coordinated effort combining Katahdin's developed peer groups within a deeply engaged CEO network with BSG's top-level CEOs and executives. The peer program and peer models will benefit high-caliber executives in private equity by providing a breadth and depth of unbiased input and insight needed to usher companies to higher levels.
In addition to CEO peer groups, a "CEO in-waiting" peer group will also function as a means of adding private equity members to a focus group which will build and develop the future generation of leaders. This effort will maximize company enterprise value leading up to the next change of ownership whether it is a transaction to a strategic buyer or a sponsor-to-sponsor event.
"Katahdin Group is excited to partner with BSG because we both see how critical it is to help top talent perform at the next level. Our skills are complementary to help those CEOs and their C-suites for the benefit of the company's performance and their personal development as leaders" said Gordie Spater, CEO of Katahdin Group
"BSG strives to provide the best quality service possible to private equity firms in their executive searches," said Clark Waterfall, BSG Managing Principal and Co-Founder. "Partnering with Katahdin Group will enable our private equity partners to form additional prospective members and also help identify and introduce Strategic Facilitators to dedicated BSG client groups."
BSG and Katahdin Group will generate a dynamic partnership that will assist in elevating both brands through their mutual association. Together they will provide more to private equity firms with a top-tier set of members. BSG partnered with Ascend Coaching & Training in November 2022 in their continued efforts to provide new service offerings to executives. While BSG is talent acquisition-focused, its companion brand Talent Sequencing focuses on talent optimization.
-by
BSG
on Mar 20, 2023 12:24:09 PM