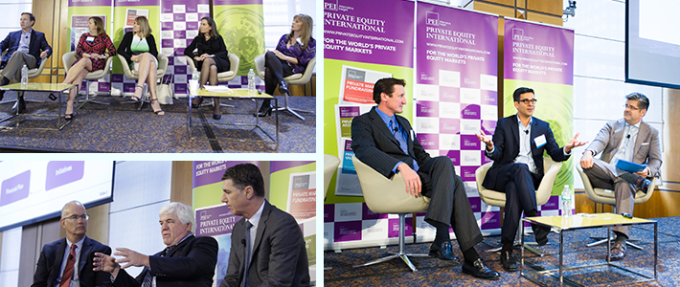 Each year for the past five, Private Equity International has staged a conference focused on the issues facing PE operating partners. Once the deal team has closed a new acquisition (or indeed before), these operating partners are tasked with what's referred to as "value creation." The two-day conference agenda is packed with panels sharing experiences, best practices, and insight. PEI does their US conference in New York City each fall in October, and a parallel conference in London in the spring.
BSG had the opportunity to moderate a panel on Day 2 of the agenda, titled, "What to do when things go wrong—protecting portfolio companies in a downturn." On the panel? Three veteran and talented operating partners, Kristoffer Nino at Orbis Invest, Tony Pucillo at Corinthian Capital, and Anchorage Capital's Jon Weber (linkedin bios below). It is important to understand that the context of the panel was around portfolio companies that were not "distressed by design," but rather had been bought when healthy, but fallen below the "watchful waiting" phase, and into that of the "take action."
While specific attributed comments were off the record, there were some interesting take-aways worthy of note, generated by both panel and audience.
To kick of the session, the 100+ audience of PE operating partners were given a flash poll, asking 2 questions around portfolio company downturns from their experience:
What was biggest reason for company deterioration?
What did they most often do in an effort to course-correct?
Below were their responses.
In current or recent portfolio companies in which you have been involved, which represents the PRIMARY reason for underperformance:

In current or recent portfolio companies performance deterioration, which lever have you pulled most often to effect change:
Unpacking these flash poll results, by a 2-to-1 margin the biggest contributing reason to portco performance decline was driven by "execution failure" owned by the executive teams in place.
Logically then, the second flash poll question asking operating partners what they did about the under-performance returned a correlating response—most often (41%), they changed out the CEO. Note that other levers were pulled as well to generate change within the executive team—31% of the time more executives were hired to augment the existing management team, and 22% of the time consultants were brought in to help diagnose/prescribe/teach.
Two other footnotes of interest from the panel stuck out.
The first was the question of when to diagnose whether a company was in trouble. Do the PE deal and operating teams assume that missed numbers at the first board meeting are just a byproduct of the defocusing nature of completing an acquisition and will self-correct in future quarters? The answer was quite loudly, "no." Giving a mulligan for first post-acquisition quarterly underperformance is not a best practice, and this should be most often taken as a sign of troubled performance ahead.
The second footnote was around whether to take a "DIY" approach to fixing the troubled portfolio company or outsource it to 3rd party consultants. Again, consensus appeared to argue for 3rd party consultants when a portfolio company was determined "unremediatable." The message was clear that investing valuable and limited OP resources on portfolio companies that stood little chance of turnaround was a flawed strategy. Rather, better to invest those operating partner resources on the portion of the PE portfolio where value creation legitimately existed and could generate a bigger ROI for their LPs.
Kristoffer Nino, CEO, Orbis Invest. https://www.linkedin.com/pub/kristoffer-nino/0/617/813.
Tony Pucillo, Managing Director and Operating Partner, Corinthian Capital Group . https://www.linkedin.com/pub/tony-pucillo/0/a0/9b2
Jon Weber, Managing Director - Head of Portfolio Group, Anchorage Capital. https://www.linkedin.com/in/jonfweber