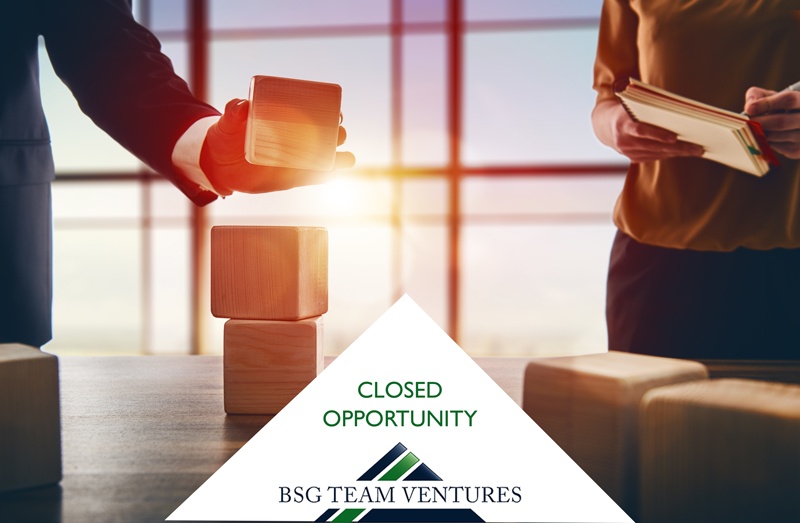 Senior Vice President Business Development / Reports to CCO
Open, anywhere in the United States near a major metro airport
BSG Team Ventures has commenced an executive search for Senior Vice President Business Development, US. This individual will sell complex managed healthcare services into medium and large sized hospital systems across the US.

Opportunity Overview
SVP Business Development, US
THE COMPANY
The power to heal
Headquartered in Florida, our client is the nation's largest provider of advanced wound care services with more than 16 years in the industry. Our client and its affiliated companies manage nearly 800 Wound Care Centers® and serve over 500 skilled nursing facilities in the U.S., Puerto Rico and multiple locations in the United Kingdom. More than 300,000 patients were treated through our client's network in 2014. Our client's team is made up of more than 3,200 employees, including nearly 200 employed physicians in addition to a network of approximately 4,000 panel physicians.
Our client strives to be the pre-eminent wound care provider serving multiple sites of care with a clinical and economic model that delivers value to all stakeholders. Operating through various business models, our client provides a comprehensive wound care solution by building and leading integrated wound care communities spanning inpatient, outpatient and skilled nursing facilities. Our clients'' physicians and nurse partners provide consistent, quality care in order to maximize efficiency, value and patient satisfaction. Whether in an acute care hospital, skilled nursing, long–term acute care facility or the outpatient Wound Care Center®, patients benefit from our scale, experience and expertise as the leader in wound care services.
MARKET OPPORTUNITY
Our client utilizes an evidence–based systematic approach to chronic wound healing in treating an underserved and growing patient population. It is estimated that there are currently 6.7 million people living with chronic wounds. Fueled by an aging population, increased obesity and a rising rate of diabetes, the incidence is projected to increase at a rate of 2 percent annually over the next 10 years.
SERVICE OFFERINGS
Our client's partners with hospital systems with an array of medical service offerings that bring many advantages over conventional care. Our client's Wound Care Center may also practice advanced wound care therapies, such as negative pressure wound therapy (NPWT) and hyperbaric oxygen therapy (HBOT). These specialized wound care therapies can aid in wound closure, new tissue growth, and wound tissue regeneration. A partial listing of our client's value to both hospitals and patients includes:
A physician-driven, multi-disciplinary methodology

Unmatched specialized training for physicians, clinicians and operational team members

A network of wound care specialists to assist with challenging cases

The world's largest accumulation of wound data, i-heal®

Comprehensive and proven Clinical Practice Guidelines for chronic wound treatment

Recruitment of physicians as well as Center staff

The largest reimbursement support in the industry

Community education programs

Excellent wound healing and patient satisfaction rates

Purchase and maintenance of hyperbaric oxygen chambers and other advanced wound care technology
THE POSITION
Our client is looking for a senior revenue development executive who will partner with its investors and the rest of the executive team in a hands-on, active role. Key to the position's responsibilities is driving top line results as leader of a set of senior regional sales executives.
The new SVP Development, US will contribute to the product and business strategy of the company and drive topline execution of the business. This is a hands-on role that will require working both inside the company with the operations and service teams, account managers, marketing, and outside with prospective customers, current customers and hospital partner and channel relationships.
Success in this role will lean on 3 pillars of skills and experience:
Has been prior senior sales leader responsible for a sales team selling 7-digit long sales cycle complex multi-year services agreements

Has industry experience in the healthcare provider sector

Experience in high growth, privately held business, with investor backing
IDEAL CANDIDATE PROFILE
A summary of key competencies required to be successful in this role include the following:
Functional Prior Success
Sales rolodex in hospital system C-suite

Functional C or VP career history in sales, marketing and business development

Selling 7-digit, multi-year strategic and complex multi-stakeholder solutions

Optimizing direct (inside and outside) sales structures

Business and product strategy contributor

Experience in sales channel partner program creation/management

New product/service offerings go-to-market and launch experience

Multi-functional budget creation and management focused on driving gross margin and optimizing cost of sales

Track record of hiring successful sales teams with sophisticated service lines value prop selling experience

Strong sales team management, with rigor around CRM integrity, pipeline management

Responsibility for customer contract renewals

Deep understanding of value drivers in managed care customer base (ACOs etc.)

Managing remote, regional sales team members

Education: BA or BS + MBA
Customer Segment Experience
Hospital-based services

Hospital-based managed services businesses

Specialty clinics or related medical services, hospital based

EMR enterprise software sold as service

Healthcare provider focused management consulting and project consulting (e.g. Accenture, CAPGemini, etc.)
Management & Leadership Experience
Building scalable management processes without suffocating innovation/speed

Success as individual contributor and as player/coach

Remote/multi-office team management

Track record hiring/upgrading to A players for A team
Stage of Company Experience
Working with privately-held investor-backed businesses (PE)

Sales growth from $400M—> $600M+
Geographic:
Open, anywhere in the United States near a major metro airport.
General:
Finally, this individual should have as many as possible of the personal traits required to succeed in this leadership position:
High levels of intelligence, analytical strength and conceptual ability.

The ability, and willingness, to set and communicate demanding standards for professional staff and to hold people accountable for their performance; at the same time, sensitivity to, and insight into, individuals' capabilities and development needs, and the combination of firmness and likability that all good leaders possess.

Decisiveness when necessary, coupled with a willingness to seek input and build consensus as much as possible.

Unquestioned honesty and integrity; also, loyalty to colleagues and to the organization, and the ability to inspire loyalty. This person should have the ability to identify and focus on the Company's best interests, rather than the agenda of any individual or group within the firm.

A very high level of energy and commitment, combined with enthusiasm and a positive attitude.

Excellent writing and speaking skills; this individual must be able to communicate complex ideas and information clearly and concisely.

Outstanding planning and organization skills.

Good strategic instincts and long-term vision; the ability to address both big-picture issues and detailed, day-to-day management concerns.

In general, the business and personal skills, and the absolute commitment, required to make a major contribution to The Company during the coming years.

Attention to detail required to deliver consistently accurate data, information and reporting on time and on budget.

The work ethic required to do what it takes to get the job done and to invest the time required to deliver on key responsibilities in a timely fashion.
Team
Our client's team currently numbers approximately 15.
Financial Backing
Our client's control investor is top tier private equity firm Clayton, Dubilier & Rice, based in New York, NY.
COMPENSATION
Compensation will be commensurate with the position's requirements. Since this is a performance-based environment, the successful candidate's package will include base salary, bonus structure based on corporate qualitative and quantitative strategic KPIs, and a potential for stakeholder position in the company.
For more information, please contact: