The annual ACG Intergrowth conference is a "must attend" for BSG Principals every year. As is the case still sweeping the world, this year's late spring event was cancelled due to COVID-19. The Association for Corporate Growth (www.acg.org) quickly pivoted and introduced the ACG Member Summit, a virtual 3-day event, held during the week of June 23rd. This event leveraged innovative new technology which allowed for presentations, one-on-one meetings, as well as networking. Overall, given the first time effort and the venture into the unknown, sincere kudos all around to the ACG organizers for pulling off a great event… from the comfort, convenience, and safety of our own living rooms, studies, dens, and home offices.
In addition to being a great experience, the event held captive audiences with insight into the state of middle market private equity, both before COVID-19 through June 2020. Below is a quick fly-by of one of the keynote presentations given by Tom Stewart, Executive Director of the National Center for the Middle Market.
Prior to taking this role, Tom was Chief Marketing and Information Officer at Booz Allen and Editor & Managing Director of the Harvard Business Review. The NCMM is a research center located at The Ohio State University Fisher College of Business. The Center conducts research about and for middle market companies. The Center focuses efforts on research, outreach, events, student programs, and policy in order to spread awareness of the middle market, which is defined as businesses with revenues from $10 million to $1 billion.
The NCMM was created in 2011 out of a partnership between the Fisher College of Business and GE Capital. It works on a variety of academic research each year, not least of which is the publication of the quarterly Middle Market Indicator as a check of middle market businesses. Over 1,000 senior executives of middle market companies are surveyed about revenue and employment growth, plans to invest, and other areas of concern. For more on the NCMM, see www.middlemarketcenter.org. The full Q2 report and comparisons quarter-over-quarter can now be downloaded from their site, and an "Insights Summary" is currently on their home page.
What BSG's summary includes, that is not included in the full report, are the flash poll responses of the Association for Corporate Growth (ACG) attendees, primarily comprised of middle market private equity investors and the investment bankers and other advisors serving the middle market segment. Their responses are quite interesting to juxtapose against the survey results of their middle market business leadership teams.
Growth Projections for 2020, then and now
There were some great "Before and After" survey slides that gauged middle market business sentiment before COVID, and then as of June 2020. Below is the first, surveying anticipated growth projections for the year.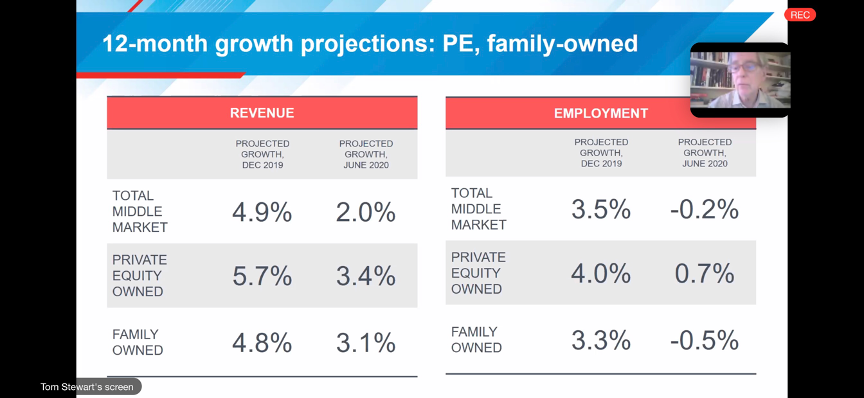 At first glance, numbers perform as expected, with 12-month projections changing quite a bit on both revenue and employment projections. However, of note is the anticipated stronger performance of private equity-owned business outperforming family-owned businesses, likely reflecting the effects of having more professional management and access to advisors.
Polling the ACG member virtual audience regarding any government assistance middle market companies had received during or because of COVID, here were the responses—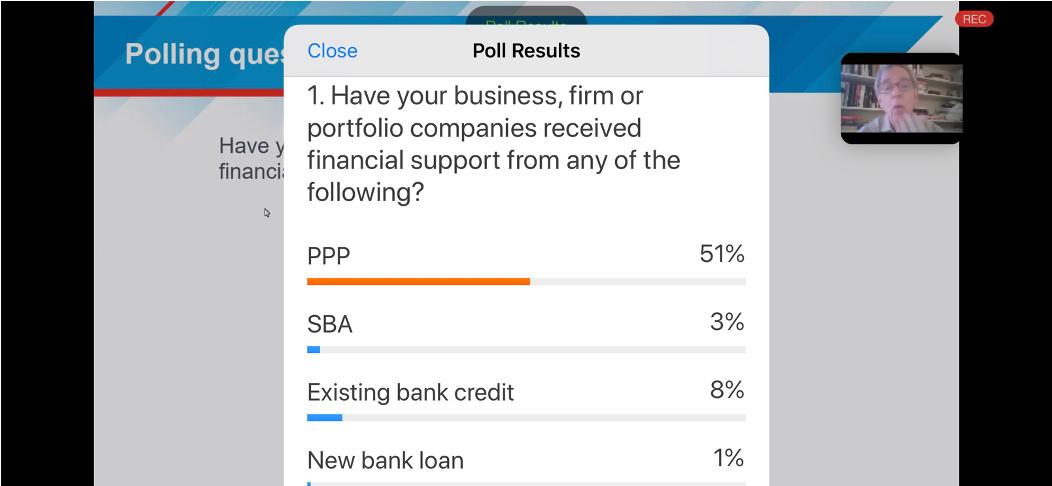 An overwhelming number of middle market businesses (and this likely reflects a strong private-equity backed response given the nature of the attendees), had applied for and benefited from the Payroll Protection Program funded by the SBA as economic relief. The PPP, beginning late March and early April, was originally slated to help bridge an 8 week period thought to span the bulk of the crisis period and keep employees of middle market businesses from the unemployment lines. This has since changed in both scope and time, but nearly two thirds reported applying for benefits and more than confirmed that PPP (or SBA other) were benefits received.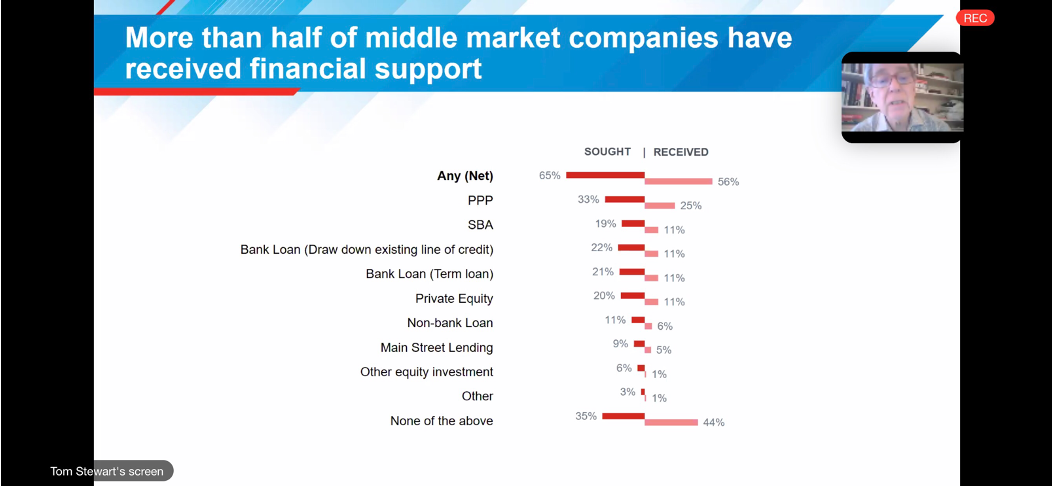 When looking at the survey data and times slices from December, March and June, a "tap-the-brakes" March attitude ameliorated by June to show a shallower pull-back than initially projected, with a drop in market expansion plans from 55% of companies to 41%, and corresponding drop in capital expenditures for new plants or buildings from 24% in December 2019 down to 14% in June 2020.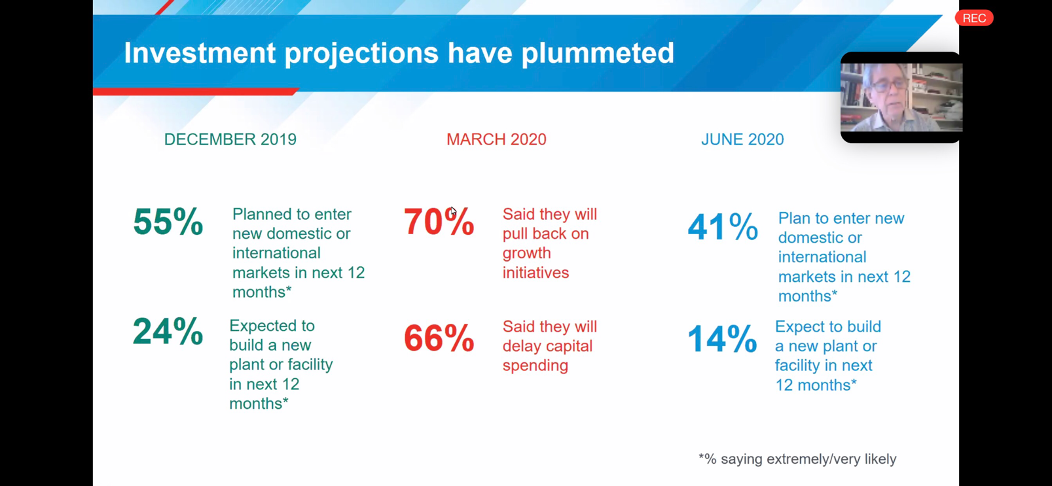 These 2 slides were an interesting time slice comparison, March to June, with the biggest consistent change across both Q1 and Q2 identifying as an increased likelihood that COVID-19 will drive increased restructuring within the business. Most other areas were "more likely" at the onset of the Corona virus, but then reverted back to prior status by end of June for the most part.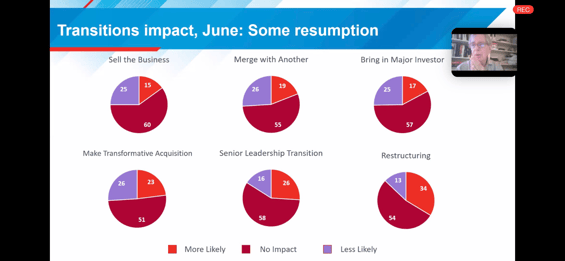 While the flash poll taken during the presentation is not probably statistically relevant, nor do any of the respondents truly "know" what the future holds, the sentiment is pretty sobering, with only 40% responding indicating they believe "the worst is over," and 57% believe either "the worst is yet to come" or are too uncertain about the future to declare any victory. This sentiment most likely therefore will seep into day-to-day decision making, as well as medium term strategy decisions with the most likely impact being a more conservative stance to growth, cash, hiring, opex and capex.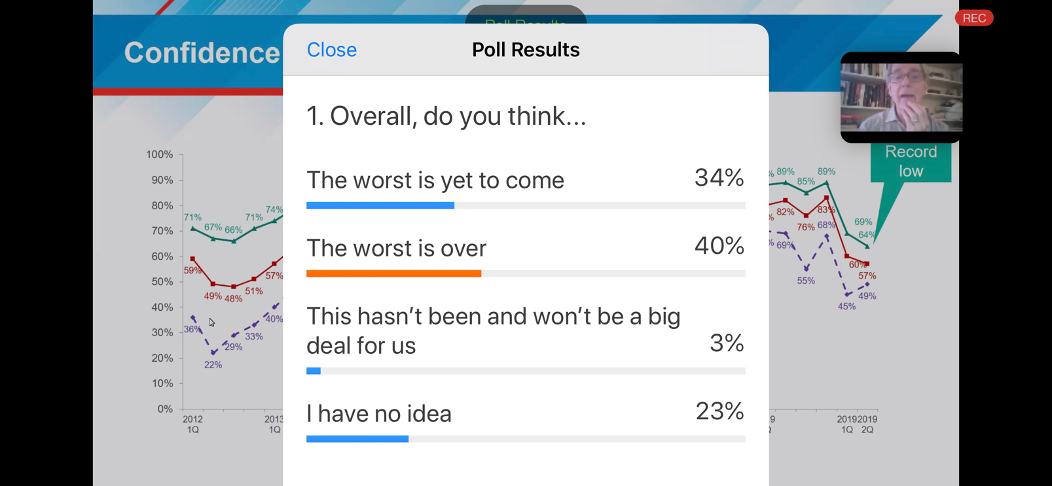 On a possibly brighter note, the Short Term Index holds a more optimistic viewpoint by the survey respondents than those who were listening to the presentation and responded to the flash Zoom poll with a literal "v-curve" bounce-back anticipated.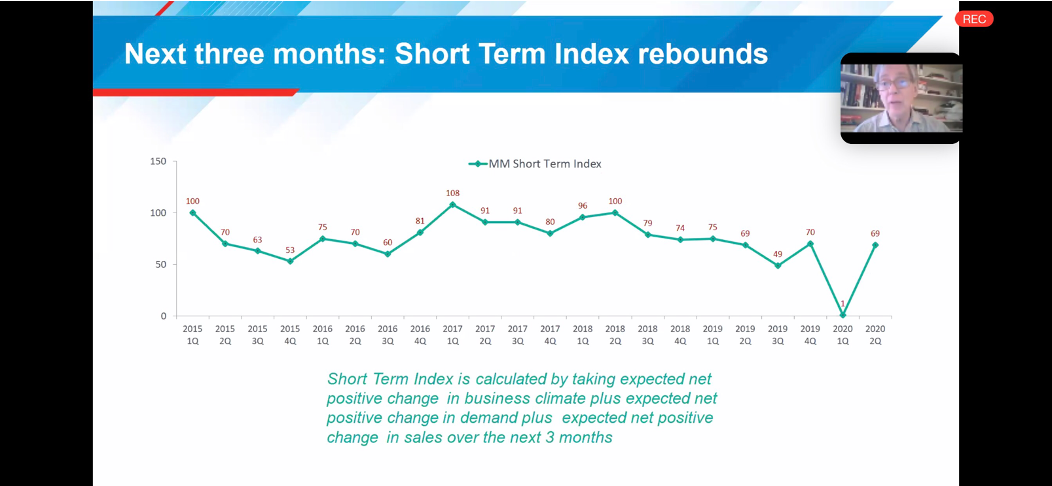 This graph shows the 3 month short term 3-factor "positive changes" sentiment, and clearly shows a V-curve expectation, certainly a positive indicator of how business leaders are thinking about Q3.
As a talent optimization advisory firm, one of the most interesting survey responses showed a significant increase in concern and focus on employee communication, engagement & productivity in a much more virtual, decentralized and distributed workforce. Similarly, business leaders were concerned around customer relationships & customer engagement, as all traditional physical tools of customer engagement—trade shows, industry conferences, user group summits, etc.—were being forced into "reimagination." The heightened concern is very visible around how businesses are going to engagement both employees and customers in the new normal where virtual presence is having to replace physical presence and "old skills" are becoming increasingly challenged by "new ways".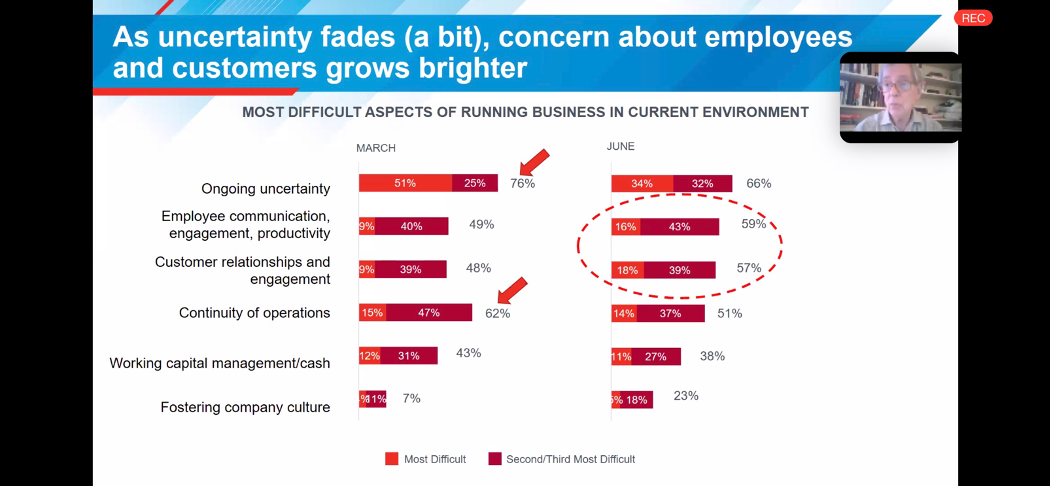 This slide demonstrates the significant changes business leaders are forecasting as a requirement for coming quarters.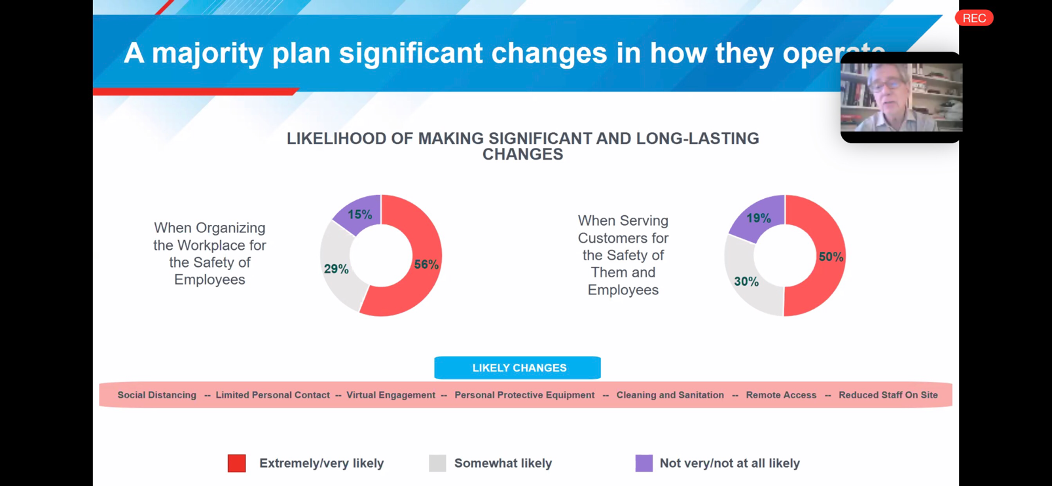 This slide is also reaffirming for us at BSG, as the largest percentage of non-financial input solicited comes from the advisor segment, comprised of professional services firms such as bankers, accountants, lawyers, consultants and coaches (the last category a big component of our sister company spin-off brand, Talent Sequencing, www.talentsequencing.com).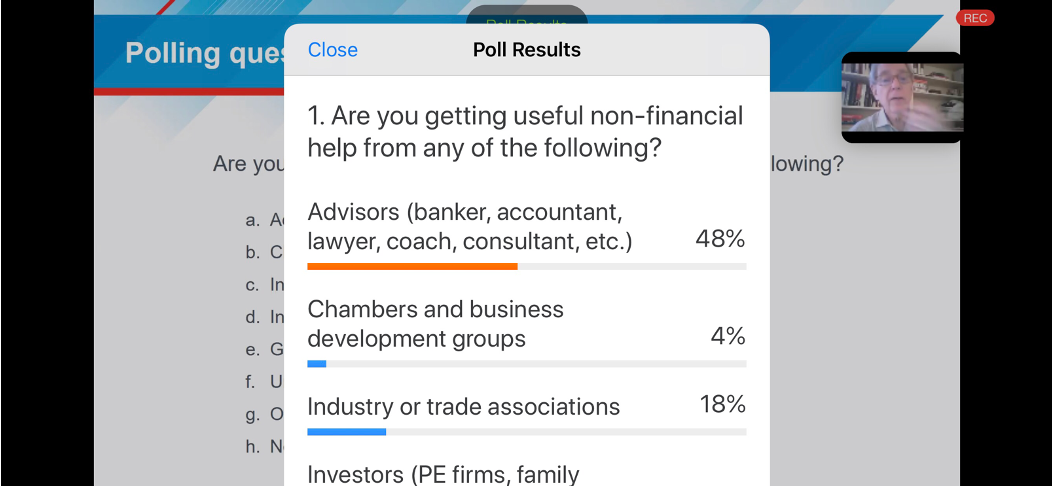 Consultants actually represented the largest slice of "outside advice" from the middle market business sector, at 40%. Interesting to note that 22% of middle market businesses didn't seek any outside counsel whatsoever during Q2 and the peak of COVID impact & uncertainty.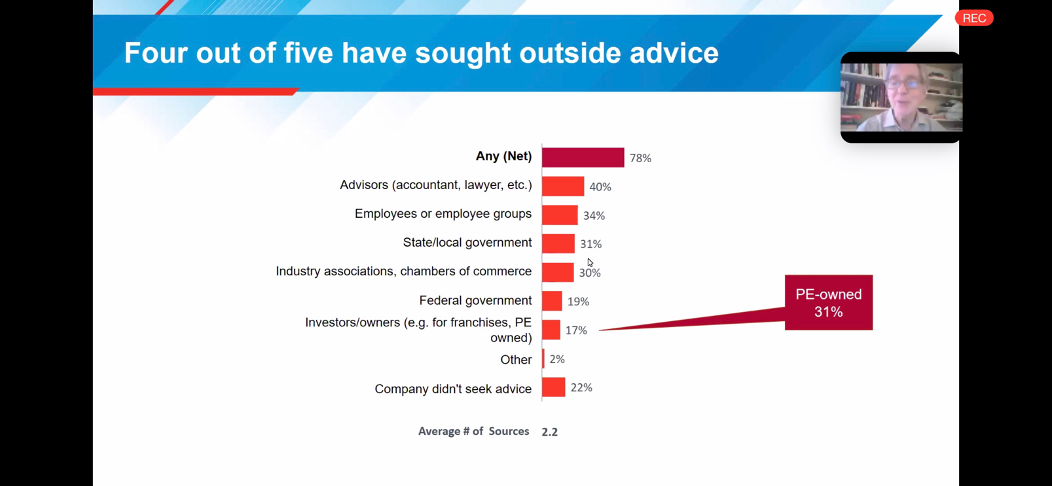 When middle market business leaders were asked how long it would take their companies to be back at full capacity, more than 50% of them said between 4 and 12 months from June 2020.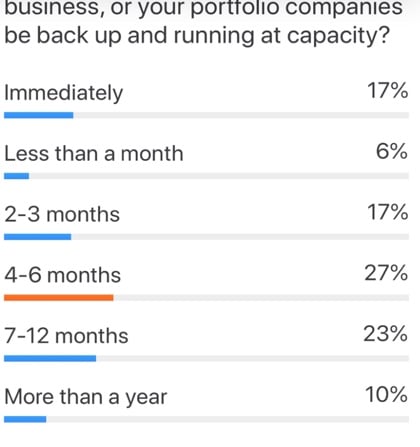 Current middle market businesses are operating at about two-thirds capacity as of June 2020.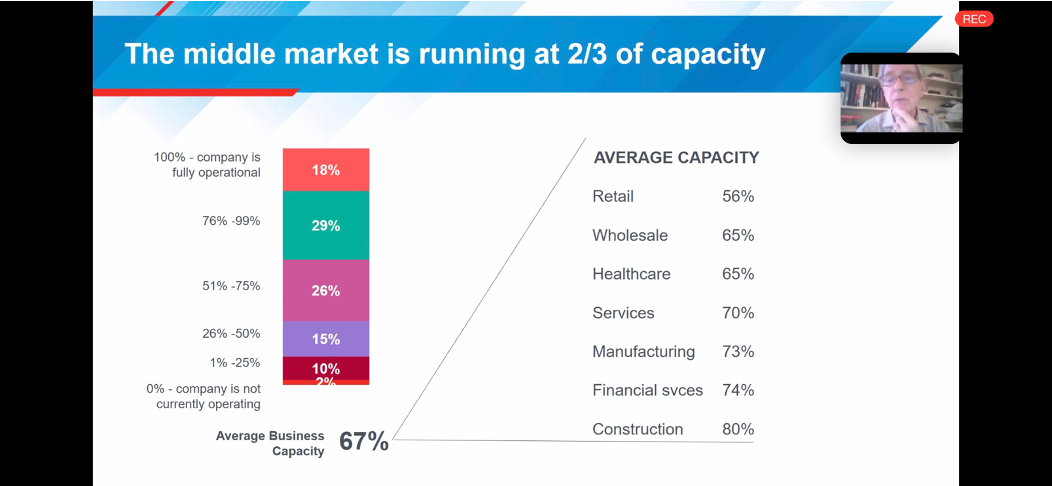 Interesting to note the lack of difference in private-equity backed businesses vs. their non-PE backed peers and their estimates on how long it would take to bounce back fully post-pandemic.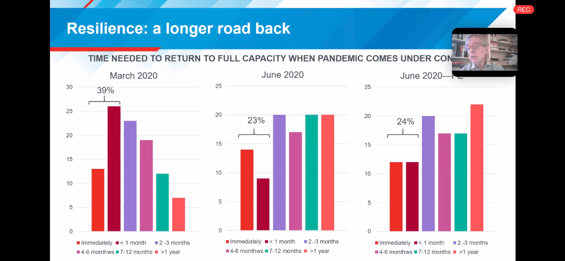 Overall, middle market businesses are appearing less bearish than back in March around how much damage COVID would inflict and for how long. However, they're now struggling most with communication and engagement in the era of distributed employees, and virtual customer relationship management. It will be really interesting to see what Q3 survey results yield, especially in determining if the second spike of infections and hotspots across the US that began late June and rapidly is accelerating into July (FL, CA, and south central states like TX) will spark a similar or different response from business leaders and their middle market companies.
A key recommendation to businesses with an eye on the future would be to explore opportunities now to address potential opportunities and challenges within your employee and customer engagement. Talent and team coaching, advisory services, and tools are available to help identify and address these issues so that you can remain on the forefront of managing engagement, relationships and communication.