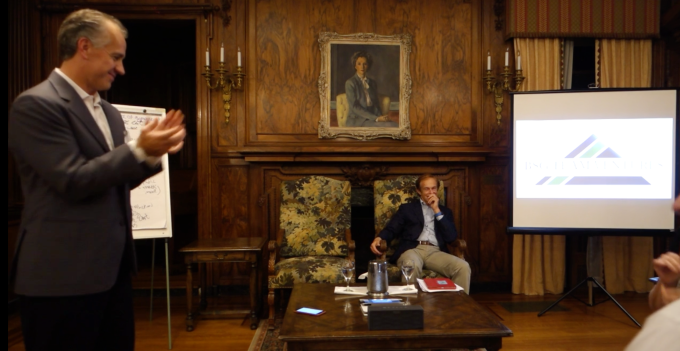 As 2015 drew to a close with record temperatures in much of the U.S., private equity-backed CEOs and their investors stared into their crystal balls in an effort to build their business strategies for 2016. Over the last several years our firm has called upon noted macro-economist Dr. Allen Sinai of Decision Economics to weigh in with his forecast for the short and medium-term business climate. Here is what Dr. Sinai shared with us both in late 2013 and just last month as 2015 was wrapping up:
Dateline: December, 2013 |Location: Henderson House, Weston, MA |Assembled: CEOs of privately backed companies:
Dr. Allen Sinai declares the economy is set for "a long expansion…another 3 to 5 years in the US and global economies… and the business climate will be good and get better…. A long upturn… the best business economy in over a decade."
2 Years Later, Dr. Sinai Makes a Curtain Call…
Dateline: November, 2015 |Location: Dane Estate, Chestnut Hill, MA |Assembled: CEOs of privately equity-backed companies and their investors:
Dr. Allen Sinai declares another "1 to 3 years of continued expansion…."
Most important in Sinai's comments is the stark contrast to his prognostications of economic Armageddon in 2005-2006, when Allen said, "If I could have been in one of Elon Musk's space ships fleeing from earth, I would have been…."
In his comments last month to a group of private equity-backed CEOs and their investors, Dr. Sinai shared the indexes, statistics and KPIs that his firm—Decision Economics—highlights to support his economic ebullience:
For each of the last 5 quarters, on year over year basis, consumer spending in the aggregate after inflation adjustment, is up more than 3%. Prior 5 quarters, in the low 2's. This is on a current base of consumption spending in the aggregate that in 2015 will top $12 trillion (of a $16-17 trillion annual US spend).
6 key indicators Dr. Sinai tracks

Income. Sinai says income equals jobs. Allen forecasted that next day's unemployment report would be ticking further down, and with lower unemployment heading to under 5%, more income exists to fuel consumer spending [note that indeed, the Oct 2015 unemployment report came out at 5% down from 5.1%.]
Household financial conditions (debt/assets, debt/income, and interest costs/income). Lowest ever in 4 decades.
Wealth effect. With a rising stock market (gone up $30 trillion dollars in this current expansion), more exists to be fuel consumer spending. And the stock market is likely headed for new repeated highs. This includes low interest rates that will remain low (even with threat of Fed Reserve raising rates in December, 2015 and into 2016).
Balance sheets: are up in banks and businesses. So both are lending and spending.
Consumer sentiment: much higher.
Cost of living: low oil prices have freed more income as disposable. Decline in oil prices and derivative gas prices will remain near "permanent" putting more dollars in consumers' pockets and out of gas tanks. The US is now the 3rd largest global oil producer as well, so safety/security in low price of oil. This equates to about $800/year in reduced cost of living per US household.
What does all of this add up to in the short and medium term? 5% odds of Recession.
Black swans Allen framed? These are those unexpected derailing events that—when a CEO or investors see them printed "above the fold" in the Wall Street Journal—are likely to drive a negative change in the economic forecast and derivative business reactions & behaviors:
If U.S. companies slash spending and cut back on hiring due to any interruption in sales and earnings.
If inflation spikes up
If Asia (Japan/China) policy misstep occurs: A surprise screw-up in economic policy.
If International Geopolitical event:

Russia cuts oil production forcing global oil price spike

Or China could do a big devaluation of their currency and everyone gets scared

Or aggravated and protracted conflict flares up in the Middle East

If Japan, Brazil, or China start to falter economically. Watch their stock markets and currency valuations for signals of risk for potential upcoming weakening. These 3 countries make up a large percentage of global output and a downturn in any would have a global economic impact.
Dr. Sinai summed up his comments by saying that the stock market despite periodic corrections in 2016 should be net up, private investing is likely to continue to be robust, and corporate profits to remain strong. A rosy forecast indeed from a macro-economist who is not known for selling irrational exuberance. While these prognostications may not be something you can take to the bank, they certainly may influence how CEOs approach strategic thinking and behavior toward growth in 2016.