The Company
Becoming the leading content provider of geospatial imagery for mapping & monitoring applications
Our Client has its roots in rocket science… literally. Since the first image was collected from space over 30 years ago by classified government imaging systems, only a limited number of people have been permitted access to highly detailed photos of the Earth, and the industry was tightly regulated. Since its deregulation in the 1990's, The firm is changing this historical usage of Earth information through the commercialization of high-resolution satellite imaging and an innovative approach to conducting business with customers, partners and resellers. The company was founded in 1992 to launch satellites into space for the purpose of taking high-resolution photos of the earth for defense and intelligence, government, and commercial use. In early 2000, the US government awarded its first significant contract for satellite imagery, to our client. Currently the company offers the world's highest resolution commercial satellite imagery, the largest image size, and the greatest on-board storage capacity of any satellite imagery provider. In addition, the company's comprehensive ImageLibrary houses the most up-to-date images available.
In 2004, the firm struck an exclusive portal agreement to supply much of its satellite imagery to Google's new product launch, branded Google Earth. This deal served as both validation for a broader explicit push as well as anchor tenant into the non-federal government, commercial sector.
Continued growth in 2009 is punctuated by an IPO in May, and the launching of their third imaging satellite, WordlView 2, in October. With this satellite joining the prior two, the firm has the most powerful ability to add global imagery to its imagery library faster than any other company on the planet.
The company is headquartered near Boulder, Colorado, with other offices and facilities in key geographies throughout the world.
Market Opportunity
Popular business and technology soothsaying magazines have trumpeted mapping as the next "killer app." Even as far back as 2005, the MIT Technology Review dubbed it "Killer Maps" in their article--
The mapping revolution could, in short, change the way we think of the World Wide Web. We've long spoken of the Web as if it were a place—with "sites" that we "go to"—but as places go, it's been a rather abstract, disembodies one. Now that's changed. Geotagging means the Web is slowly being wedded with real space, enhancing physical places with information that can deepen our experiences of them and making computer into a more "continuous" part of our real lives…. [Google Maps and Google Earth] make paper maps and previous generations of online mapping tools seem primitive.
Image-enhanced mapping – typically associated with markets based on GIS and GPS - have now begun to penetrate the mainstream lexicon. Use of satellite imagery is definitely no longer the exclusive province of the intelligence community but is broadly used by business and the consumer as well. [Even somewhat capricious mapping use has taken off like wildfire, as evidenced by the overnight popularity of photo posting sites like Flickr that tag location coordinates to each image.]
Based on market data from ASPRS and Frost & Sullivan, the estimated global addressable market for sub-1 meter imagery (including aerial) is $680M. The combination of strong underlying growth in the traditional (GIS-based) market, and new emerging web-based applications will increase the addressable imagery market to more than $1B in 2010. Very high resolution commercial satellite imagery is expected to be the major growth driver, taking share from aerial imagery providers.
Our Client has established itself as the clear leader in providing satellite imagery to the commercial market, and is well-positioned to continue to increase the penetration of satellite imagery in this market.
The Products, Sales Channels, and Customers
Uses
In the commercial world, our client's imagery is used for 3 primary purposes: mapping, monitoring, and the increasingly popular web mapping and location-based services.
Products
The diversity of the company's products enables the company to respond to a variety of customer needs for numerous applications. Standard offerings include:
Basic Imagery

Standard Imagery

Panchromatic Imagery

Multispectral Imagery

Pan-Sharpened Imagery

Color Infrared Imagery

Mosaics

Stereo Imagery

Digital Elevation Models

Geometric and Ortho Corrections

Imagery-Derived Information Extraction

Data Fusion

Direct Imagery Downlinks

Library Data and New Data Acquisition by Request
The Position
The Vice President of Product Management will be responsible for managing the overall product plan and budget for both the government and commercial groups worldwide. This position reports directly to the CEO. Due to the deep technical nature of our client's satellite data capture mechanism, the VP Product Management will work closely with the VP Technology Development. The position and associated team is focused on driving new products into both commercial and government markets, including but not limited to U.S. defense and intelligence, oil & gas, telecom, utilities, online mapping & portals, consumer navigation, and the broadly defined corporate enterprise sectors.
As the Company is headquartered in Colorado, this position will be based at Headquarters offices.
The successful candidate must possess excellent organizational skills and the ability to communicate effectively with multi-continent distributed sales and marketing teams. Specific product management leadership background is in the broad-based areas at the intersection of software and web-based content. The successful executive will have significant experience in leading world-class product teams and delivering ground-breaking products to market successfully. A background in business content products and data processing services is highly desired. Background with SaaS or similar product strategies would also be a plus. A track record of defining products from inception through successful market adoption is a key requirement.
Highlights of the VP Product Management responsibilities include:
* Direct team of product managers and segment managers responsible for defining, documenting and releasing new products and product enhancements

* Drive consensus on overall product strategy and roadmap

* Refine and improve overall process for creating and prioritizing market, product and technology requirements

* Drive voice of the customer programs, vetting of market requirements and competitive research with a vertical focus on enterprise, consumer and international civil government markets

* Provide thought leadership to product development team tasked with creation of geospatial content product / platform technology plan

* Create and manage product and platform launch plans in coordination with product marketing

* Foster teamwork and create a positive work environment both inside their team as well as cross functionally

* Lead and develop a dynamic and creative product management infrastructure that fits the needs of our business and the products we provide our customers

* Drive internal discussion about strategies, ideas, new opportunities and the best methods for achieving success in a changing marketplace

* Consult with customers on their needs and provide feedback to other departments supporting sales efforts

* Forecast, track and report on product management performance (MRD/PRD) timelines using internal tools and applications

* Conduct internal product development progress meetings and reviews with the executive team

* Travel as needed to ensure that clients' product needs are understood and met or exceeded

* Participate actively in business planning and budgeting process
Functional Expertise, Focus and Ideal Candidate Profile
The diagram below illustrates the intersection of competencies critical in the new Head of Product Management: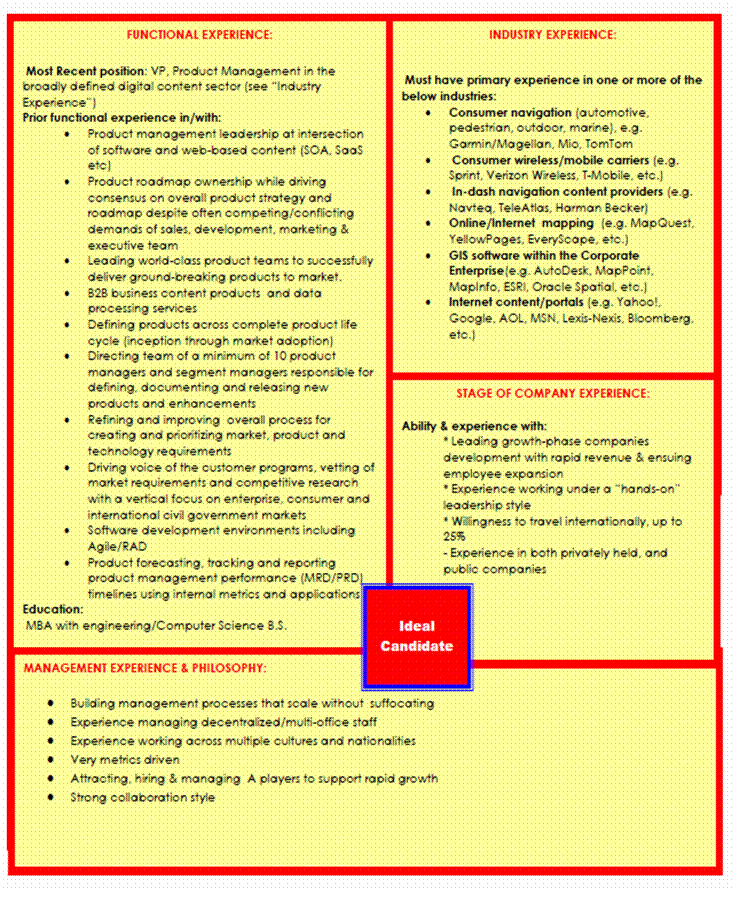 Staff & Global Office Locations
Commercial Business Unit offices exist with headquarters in Colorado, Boston area, Singapore, and the United Kingdom.
Compensation
Compensation will be competitive with the position's requirements, comprised of three basic components-- base salary, bonus driven by a combination of achieving team and company management-by-objective milestones, and stakeholder position.