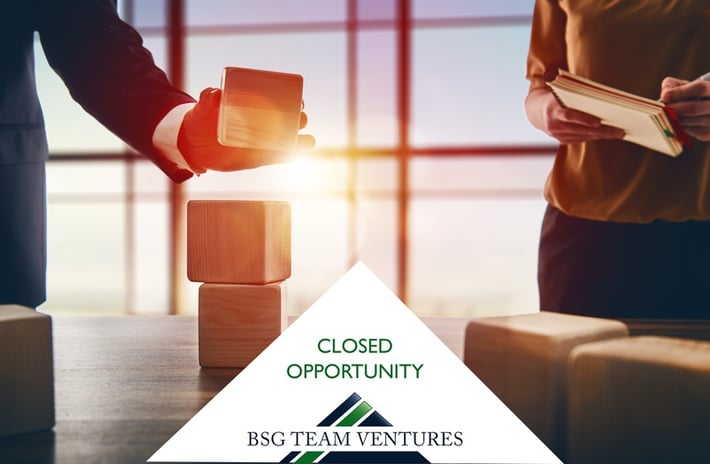 THE COMPANY
Eta Devices' disruptive technology solves the key power challenges in the mobile communications industry. Based on breakthrough research from MIT, Eta Devices is a fabless semiconductor company headquartered in Cambridge, MA with an R&D office in Stockholm, Sweden. In cellular base stations, this technology innovation results in significantly reduced power consumption and smaller cabinets. For handsets, battery life is considerably increased and multiband communications can be enabled at a fraction of the cost and footprint; this makes it possible to use the same handset model all over the world.
Eta Devices was founded in 2010 by a combined team of veteran mobile technology & industry engineers and business executives aimed at creating disruptive change in the area of RF power efficiency.The founders invented Asymmetrical Multilevel Outphasing architecture (AMO) in 2008.
Today, Eta Devices is in development state engineering, has closed two rounds of venture funding for a total of more than $10M from "smart money" venture and strategic investors with a deep mobile chip design heritage, and is looking at launching its first product in Q1, 2015 at the MobileWord Congress, the industry's leading mobile technologies conference.
MARKET & OPPORTUNITY
Eta Devices is solving a problem that is compounded by several factors:
Adoption of smart devices is growing

Applications usage for mobile devices is increasing

Data speeds are increasing, allowing proliferation of streaming video and other data intensive applications
The game-changing ETAAdvanced technology developed by Eta Devices solves the fundamental trade-off between power efficiency and linearity to deliver 70%+ drain efficiency for LTE and WCDMA base station PAs. The solution also enjoys a permanent performance advantage over competing smartphone PA technologies, such as envelope tracking.
With the Eta Devices solution, the following benefits can be achieved:
Increase battery life from hours to days

Double the data rates when transmitting at full power

Reduce thermal design costs by 60%

Improve coverage by 45%
MARKET SIZE
Addressable market opportunity is projected to rise to $4.6 billion by 2015. This is fueled by expected growth in smart phones to ~1 billion over that period. Other key statistics include the following:
500 million smartphones worldwide growing 2x to ~1 billion by 2015

78% annual growth in data usage ~min 8x increase battery by 2015

Current power amplifiers (PA) consume 65% of the energy in a smartphone

Growth in power consumption unsustainable at current pace

Eta Devices has developed the Asymmetric Multi-Level OutPhasing Transmitter (AMO) that reduces PA power consumption by 60% and phone power consumption by 40%
Eta Devices' product portfolio includes semiconductors, reference designs and application engineering support to help OEMs integrate the ETAAdvanced solution into base stations and smartphones.
THE POSITION
Reporting directly to the CEO, the Vice President of Engineering will play a senior leadership role as part of the senior executive team, overseeing all of the engineering development, holding leadership responsibility for a team of 20+ engineers designing and building chips for RF power amplifier applications.
The VP Engineering's role is to oversee day-to-day activities of the design and development teams for all Eta Devices' offerings. The VP will directly supervise a team of design and quality assurance engineers, identify risk and opportunity areas, and coordinate supply chain and early manufacturing relationships.
This role will also work closely with the Chief Architect, Chief Technology Officer, CEO and the rest of business leadership to envision and define features in the product roadmap and be accountable for the features development, deployment and support.
VP Engineering shall:
Manage chip architecture, design, development, procurement, and integration. Also manage tier-2 and higher support once chip has been placed into operation.

Achieve cost, schedule, technical and quality performance for delivered designs. Compile, maintain, schedule, resource, execute prioritized lists of development projects, including planning and managing the budget and scheduling personnel and vendor contracts to meet project needs. Collect metrics on development performance and report on them.

Collaborate with other functional managers (customer facing business units, systems engineering, QA, and operations) to ensure architectural integrity, effective integration and test, and ongoing system stability.

Direct technical subcontractor management including contract negotiation, technical support, budgetary management and program management of various contracts and associated budgets. Coordinate vendor contracts, deliveries and schedule with affected company parties. Contract with vendors for services to support engineering while addressing Intellectual Property, Non-Disclosures and Statements of Work.

Manage short- and long-term staff planning, recruitment, performance management, work assignments, training, mentoring, career development, and recognition or disciplinary action.

Be responsible for business planning and proposals, operating budgets and financial terms / conditions of contracts for both internal and external customers.

Manage integration opportunities between the various Eta's products and those of its OEM customers/partners.
The successful candidate must also have the ability and experience to lead a multi-disciplined organization in a multi-location environment.
Want to learn more?
QUALIFICATIONS
Minimum of 10 years overall chip design & development experience, with no less than 5 years in a combination of chipsets designed for the mobile handset or base station stacks, as well as at least 5 years of management experience.

2-3 years of senior-level or leadership experience in an engineering environment with 5 or more direct reports.

Experience working with product managers and other business stakeholders to set timelines, budget resources, and manage expectations and quality of the development process.

Advanced understanding CMOS digital/analog architectures, including key mobile industry design standards.

Demonstrated substantial leadership in both technical and management areas.

Experience leading development efforts using a variety of different SDLC approaches (waterfall, etc.).

Outstanding collaboration skills, excellent communication skills, and an ability to look at the big picture.
ESSENTIAL JOB FUNCTIONS / RESPONSIBILITIES
Lead chip design engineers in the specification, design and development and support of all company products.

Provide hands-on technical management leadership and support to development team of engineers, architects and QA personnel.

Identify skill and performance gaps in current organization and provide improvement plans.

Define and establish relevant processes for efficient development and high quality output.

Evaluate and enhance overall development environment and quality assurance methodology.

Instate and maintain development standards, code reviews, unit testing and integration testing frameworks.

Maintain overall ownership / accountability for design security, business continuity, disaster recovery.

Work in tandem with technical architect and development team to identify and implement new measures for system performance optimization.

Lead, recruit, develop and supervise the development team members.

Evaluate and take accountability for decisions on key technologies adopted.

Ensure proper development of technical specifications and documentation.

Estimate resource usage and timelines for development team.

Review team members' detailed design of components/modules.

Provide a good balance of experience and skills in several key areas of chip design, including digital & analog integration.

Ability to translate technology choices into business implications.

Responsible for initial manufacturing guidance and oversight.
SKILLS & PERSONAL CHARACTERISTICS
Defined by others as smart, capable, hands-on, energetic, and someone who possess a strong entrepreneurial spirit.

A proven communicator both within the technology function, but as importantly cross-functionally throughout the organization, and up and down the organizational hierarchy.

A strong, assertive personality, able to make a creative contribution and build buy-in for ideas, as well as integrating with the ideas of others.
IDEAL CANDIDATE PROFILE
The following diagram illustrates the intersection of competencies critical in the VP Engineering position: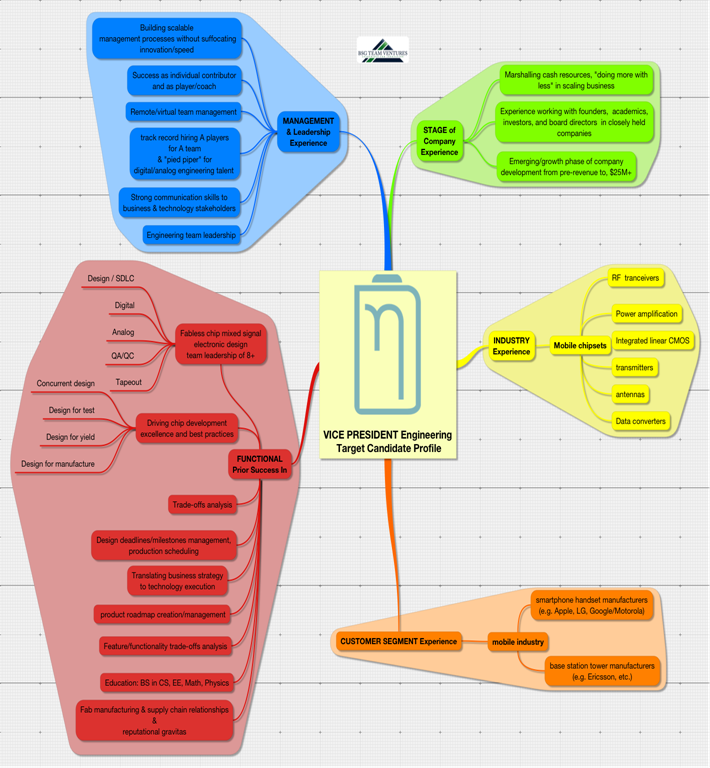 STAFF
The team reporting into the VP Engineering is currently ~15-20.
FINANCIAL BACKING
Eta Devices has raised two rounds of institutional venture capital, the first for $6M in Fall 2011, and the second in Q1, 2014, including initial investors in first round, with the additional of strategic investment from new lead investor deeply connected to the mobile ecosystem.
COMPENSATION
Compensation is competitive with the marketplace. In a performance-based environment, this will include base salary and MBO bonus structure and an equity stakeholder position.
CONTACT
Resume and cover letter should be posted on the BSG website. The job code for this project is x276etavpe. No phone calls please.