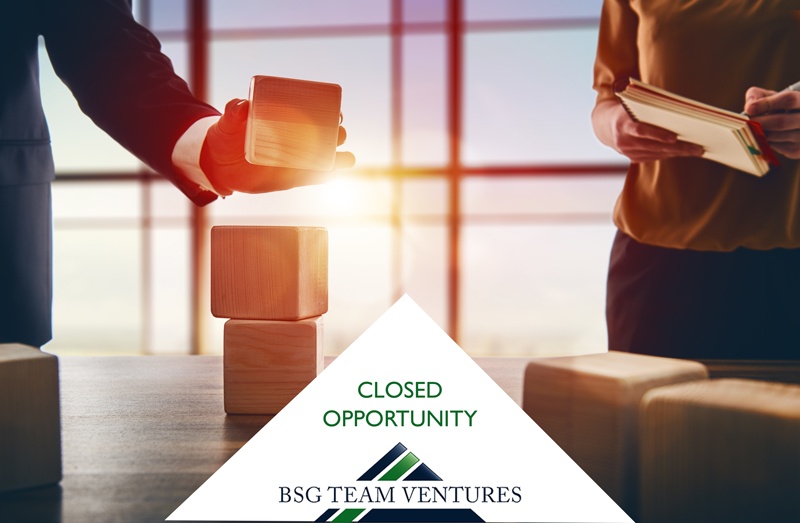 THE COMPANY
Originally spun out of the University of Stuttgart in Germany, PE INTERNATIONAL has been steadily guiding companies all over the world along this road since 1991. Today, PE INTERNATIONAL is the international market leader in strategic consultancy, software solutions and extensive services in the field of sustainability. PE INTERNATIONAL believes that sustainability awareness is the road to long-term corporate operation and a vibrant environment.
Serving market leaders around the world, PE has offices in Stuttgart, Vienna, Zurich, Copenhagen, Sheffield, London, Tokyo, Taipei, Perth, Bhilai, Boston, Wellington, Shanghai, Johannesburg, Istanbul and Kuala Lumpur.
PE INTERNATIONAL provides conscientious companies with cutting-edge tools, in-depth knowledge and an unparalleled spectrum of experience in making both corporate operations and products more sustainable. Applied methods include implementing management systems, developing sustainability indicators, life cycle assessment (LCA), carbon footprint, design for environment (DfE) and environmental product declarations (EPD), technology benchmarking, or eco-efficiency analysis, emissions management, clean development mechanism projects and strategic CSR consulting.
Moreover, PE INTERNATIONAL offers two leading software solutions, with the GaBi software for product sustainability and the SoFi software for corporate sustainability. Over 1500 companies and institutes worldwide put their trust in PE INTERNATIONAL's consultancy and software, including market and branch leaders such as Alcan, Allianz, Bayer, Daimler, Deutsche Post DHL, Rockwool, Siemens, Toyota, ThyssenKrupp and Volkswagen.
THE POSITION
The President, North America, in conjunction with the global CEO, serve as the executive core of the PE INTERNATIONAL business. This core team is charged with determining and realizing PE INTERNATIONAL's strategic vision and with delivering world-class shareholder/investor, customer, employee, and strategic partner satisfaction.
The President North America has full authority and day-to-day responsibility for planning, implementing, managing and controlling all sales activities of the company for the Americas. This includes direct responsibility for the inside/outside business development, account management, and consulting teams in each North American office, along with all other sales and marketing operations related roles. The key U.S. Presidential mission is to accelerate revenue and profitability growth and transform the PE INTERNATIONAL domestic business from its current focus on consultancy to a better balanced mix of software revenue led by consultancy.
The President, North America also has executive leadership responsibility for all the company's USA operations and staff.
Highlights of the new President's track record and experience will include the following:
Strong commercial leadership experience, with a focus on US & global expansion of both direct and channel sales distribution

Deep rolodex of customer relationships in the CFO corner office and corporate sustainability ecosystem

Previous experience in senior roles in entrepreneurial organizations

Team-building, with particular emphasis on the sales, marketing & business development side with proven track record of motivating teams

Corporate Development expertise in developing key strategic partnerships across the targeted PE INTERNATIONAL customer ecosystem

Experience with both direct and channel sales mechanisms, and the solutions to prevent channel conflict

Success taking new products "cross-chasm" into new markets

Experience taking companies from $30M to $100M+

Experience with global expansion, customer identification and development

Building and nurturing upstream and downstream ecosystem relationships that help the ultimate sale of the company into a strategic partner
DETAIL OF RESPONSIBILITIES
The President, North America for PE INTERNATIONAL will report to the CEO and be responsible for all revenue activities of the company in the Americas. The U.S. President's core responsibilities will include:
Work with the CEO and Board of Directors in creating, communicating, and implementing PE INTERNATIONAL's vision, mission, and overall direction.

Work with the CEO and rest of executive team to promote a culture that reflects the organization's values, encourages good performance, and rewards productivity.

Participate in regular board meetings and work with the CEO and executive team to develop operational and organizational evolution plans and correlated annual operating budgets that are submitted to the board for approval.

Work with the CEO and executive team to develop and review long term product and market strategies, sales and marketing plans, and performance targets that support the strategic direction set by the board.

Lead a world‐class sales and marketing team globally. Manage and assign sales territories and quota targets for all sales team members in all regions, then assist the sales team in closing strategic prospects and the attainment of quotas.

Establish and maintain all sales department policies, processes and systems including the management and consistent use of Salesforce by the sales team.

Provide direction and coaching to the marketing team in the establishment of priorities, development and execution of the strategic marketing plan, allocation of resources, and review of key performance metrics.

Build personal relationships with strategic clients and partners globally.

Represent and promote the company to customers, partners, the media and the investment community.

Oversee the operation of the USA organization and manage its compliance with legal and




regulatory requirements.

Recruit, integrate and manage members of the USA team and evaluate their performance on a regular basis.

On a day to day basis, work in partnership with the CEO to ensure the company's product




management, consultant teams, technical support and finance operations closely align with the company's global sales and marketing activities. Regularly assess the company's practices and infrastructures and implement changes as appropriate to enhance the company's effectiveness.

Develop sales commission structure and compensation plans and other sales reward and recognition programs for the sales and marketing teams globally, and review individual and team performance on a quarterly basis.
DETAIL OF DESIRED EXPERIENCE AND CHARACTERISTICS
Functional Prior Success
Sales forecasting & budgeting, pipeline management & tools -- managing revenue-to-plan at both board & sales team level

Strong consultative selling approach working with global 2000 customer base

Selling SaaS software revenue model

Rolodex of CFO & Chief Sustainability Officer ecosystem in North America and international

Directing & managing marketing team as symbiotic partner to sales

Divisional P&L experience

Proven track record helping prospect and close big customer opportunities in conjunction with partner channel

Mapping target partner ecosystems and identifying and closing early

Navigating complex, multi-influencer relationships including internal champions, detractors & derailers

Education: BS (chemistry, engineering, environmental) + MBA
INDUSTRY EXPERIENCE [corporate compliance software & energy optimization]
SaaS software sold into Global 2000 used in data analytics & business intelligence for compliance, measuring & monitoring

Strategy & consulting focused on corporate energy usage & efficiency
STAGE of Company Experience
Experience working with founders, investors, and board directors in closely held companies

Building & scaling brand recognition off of referenceable work

Growth phase of company development & rapid revenue growth, $30-75M+
MANAGEMENT & Leadership Experience
Building scalable management processes without suffocating innovation/speed

Success as individual contributor and as player/coach

Managing within a globally distributed, multi-cultural footprint

Remote/multi-office team management of 20+

track record hiring/upgrading to A players for A team
GENERAL
Finally, this individual should have as many as possible of the traits required to succeed in any U.S. President position:
High levels of intelligence, analytical strength and conceptual ability.

The ability, and willingness, to set and communicate demanding standards for professional staff and to hold people accountable for their performance; at the same time, sensitivity to, and insight into individuals' capabilities and development needs.

Decisiveness when necessary, coupled with a willingness to seek input and build consensus as much as possible.
Unquestioned honesty and integrity; also, loyalty to colleagues and to the organization, and the ability to inspire loyalty. This person should have the ability to identify and focus on the Company's best interests, rather than the agenda of any individual or group within the firm.
A very high level of energy and commitment, combined with enthusiasm and a positive attitude.

Excellent writing and speaking skills; this individual must be able to communicate complex ideas and information clearly and concisely.

Outstanding planning and organization skills.

Good strategic instincts and long-term vision; the ability to address both big-picture issues and detailed, day-to-day management concerns.

In general, the business and personal skills, and the absolute commitment, required to make a major contribution to The Company during the coming years.
IDEAL CANDIDATE PROFILE
The following diagram illustrates the intersection of competencies critical in the President, North America position: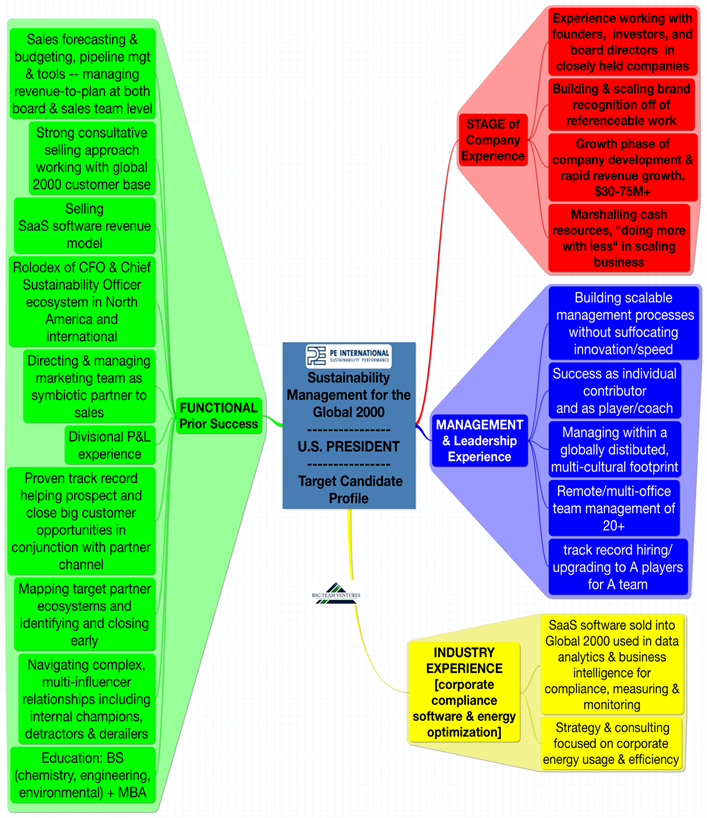 STAFF
The team reporting to the President is currently approximately 35, including 5 externally focused in solutions sales, 4 inside sales associates focused on product sales, and approximately 26 on delivery and support. In addition, there are dotted line shared services responsibilities with other key functional areas including marketing (UK), finance and human resources (Germany).
FINANCIAL BACKING
PE INTERNATIONAL is a profitable, growing company. The Company took on a round of equity capital for expansion purposes in 2010, provided by GIMV NV (ENXTBR:GIMB) and Siemens Venture Capital GmbH.
COMPENSATION
Compensation is competitive with the marketplace. In a performance-based environment, this will include base salary, bonus structure based on qualitative and quantitative metrics, and equity stakeholder position.
CONTACT
Resume and cover letter should be posted on the BSG website. The job code for this project is x275peintl. No phone calls please.