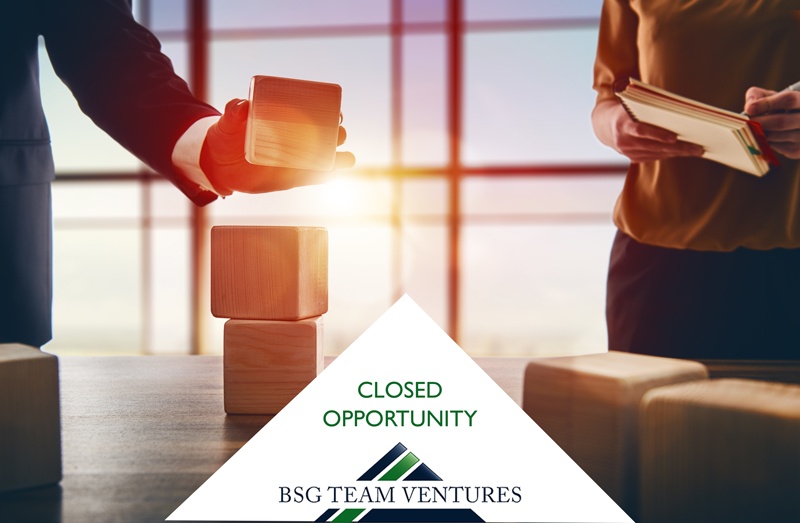 Managing Energy and Assets Enterprise-wide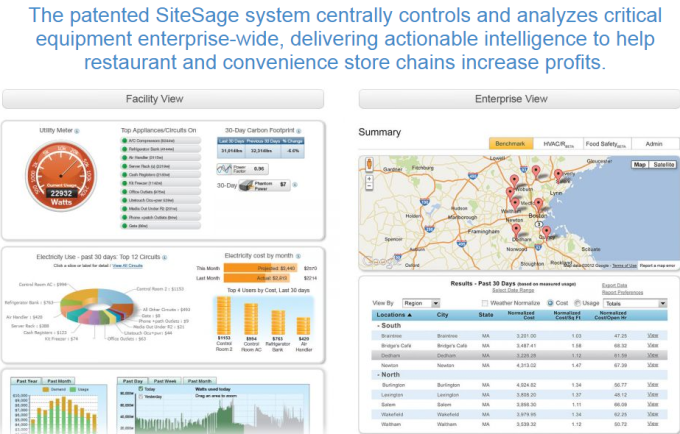 THE COMPANY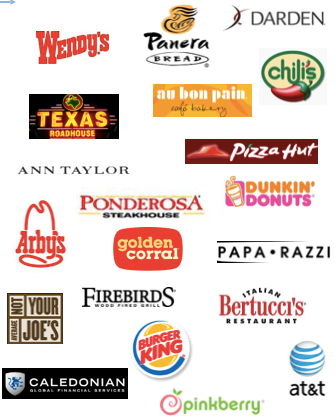 Powerhouse Dynamics was founded in 2008 with the vision of providing tools to help identify and eliminate wasteful energy consumption in the built environment. The company originally focused on products for the residential market with its first version of SiteSage™, then called the eMonitor™. In 2011, the company expanded its focus to deliver cloud-based enterprise energy and asset management solutions for large portfolios of small commercial facilities. Today, SiteSage controls and analyzes electricity consumption at the equipment level, delivering the actionable intelligence and control required for effective energy management and cost savings across thousands of locations. Powerhouse Dynamics' SiteSageTM is a revolutionary, award-winning product that reduces energy usage and equipment maintenance costs for portfolios of small commercial facilities, as well as for homes. The company has been experiencing great momentum, and the product has been adopted by a wide range of major brands in the restaurant, convenience store, and retail industries, among others.
THE POSITION
The Director, Channel Sales will manage Powerhouse's Partner and Channel Program and grow Powerhouse Dynamics' partner network and sales through partner recruitment, onboarding, training, engagement and enablement. Partner sales are a critical part of the Company's go to market strategy, and the Director will work closely with the VP of Sales and Marketing, VP of Business Development, and other members of the team to deliver dramatic growth. This position is responsible for the partner network and all channel sales of company products and services..
Highlights of the new Channel Sales Director track record and experience will include the following:
Demonstrated expertise in building a channel network and driving channel sales

Experience working with channel partners and complex channel relationships

Strong technical background; energy experience a plus but not required

Strong process orientation and ability to multi-task

Passionate, strategic thinker

Demonstrated self-starter with ability to manage time and resources effectively, meet deadlines, and execute on strategic objectives

Excellent verbal and written communication skills, including ability to communicate both internally and with partners and customers

Ability to rapidly establish trust with partners

Familiarity with web applications; understanding of Software as a Service a plus

Bachelor's or Master's degree plus 5+ years of relevant work experience
If this sounds like this position would be a good fit for you, read on!
DETAIL OF RESPONSIBILITIES
The Channel Sales Director will report to either the VP Sales & Marketing, the VP Business Development, or the CEO and be responsible for all indirect revenue activities of the company worldwide. The Channel Sales Director's core responsibilities will include:
Plan and execute channel sales strategy to achieve revenue, profit and growth targets

Spearhead the recruitment and development of new partners and channels

Engage partner sales teams to identify opportunities for new business

Work closely with partners through entire sales process, including active participation in the promotion of PhD products and services, screening inquiries, joint customer presentations, proposal preparation and pricing, leveraging PhD's direct field sales team where appropriate

Help partners understand the full value proposition of PhD products and how that can help their businesses

Provide guidance to channel partners on product features, technical specification and design parameters

Train partners on PhD products, features and roadmap, and keep them up-to-date on the product and product results

Develop, manage, and report on partner sales funnel and provide accurate and timely forecasts, leveraging Salesforce.com and other company tools

Work with the Director of Marketing to build and execute on a channel marketing strategy

Bring partner feedback back to the product management team to help ensure product meets partner needs.
DETAIL OF DESIRED EXPERIENCE AND CHARACTERISTICS
FUNCTIONAL Prior Success

Building channel network via partner recruiting

Sales forecasting & budgeting, pipeline mgt & tools -- managing revenue-to-plan

Channel training, support and yield optimization

Selling SaaS software revenue model

Rolodex of energy efficiency channel ecosystem in North America and international

Generating channel marketing strategy and ensuing execution

Proven track record helping prospect and close big customer opportunities in conjunction with partner channel

Navigating complex, multi-influencer relationships including internal champions, detractors & derailers

Education: BS (chemistry, engineering, environmental) + MBA

STAGE of Company Experience

Experience working with founders, investors, and board directors in closely held companies

Building & scaling brand recognition off of referenceable work

Growth phase of company development & rapid revenue growth, $$5M-25M+

Marshalling cash resources, "doing more with less" in scaling business

MANAGEMENT & Leadership Experience

Building scalable management processes without suffocating innovation/speed

Success as individual contributor and as player/coach

Managing within a globally distributed, multi-cultural footprint

INDUSTRY EXPERIENCE [energy efficiency software]

SaaS software sold into restaurant chain, retail and small footprint commercial enterprises used in monitoring and reducing energy usage across multi-facility locations

Energy efficiency software
GENERAL
Finally, this individual should have as many as possible of the traits required to succeed in any Director, Channel Sales position:
High levels of intelligence, analytical strength and conceptual ability.

Decisiveness when necessary, coupled with a willingness to seek input and build consensus as much as possible.

Unquestioned honesty and integrity; also, loyalty to colleagues and to the organization, and the ability to inspire loyalty. This person should have the ability to identify and focus on the Company's best interests, rather than the agenda of any individual or group within the firm.

A very high level of energy and commitment, combined with enthusiasm and a positive attitude.

Excellent writing and speaking skills; this individual must be able to communicate complex ideas and information clearly and concisely.

Outstanding planning and organization skills.

Good strategic instincts and long-term vision; the ability to address both big-picture issues and detailed, day-to-day management concerns.

In general, the business and personal skills, and the absolute commitment, required to make a major contribution to The Company during the coming years.
IDEAL CANDIDATE PROFILE
The following diagram illustrates the intersection of competencies critical in the Director Channel Sales position: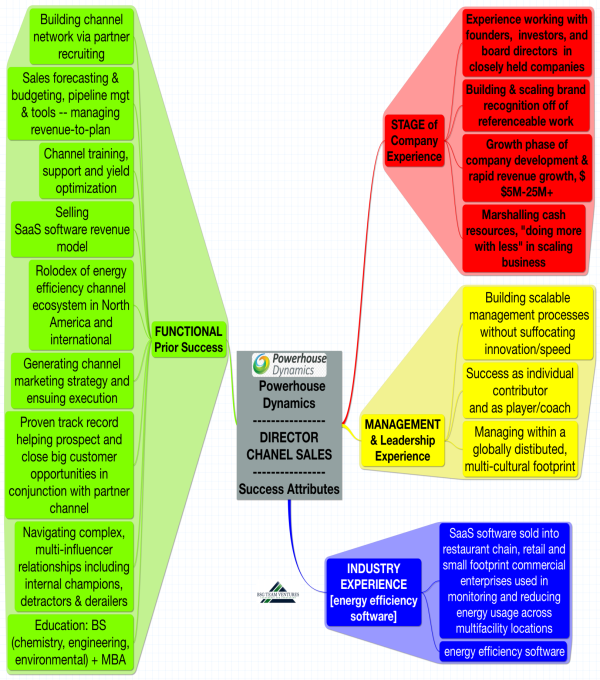 THE MARKET OPPORTUNITY
Three customer pinpoints make the market opportunity for Powerhouse's solutions greater than $6 billion in addressable market size:
Painfully high aggregated utility spend across many small sites – generally seen as uncontrollable

Large amount of decentralized mission-critical equipment to be managed – with limited staff resources

Unable to leverage traditional building management systems - too expensive and overly complex for smaller facilities
These combine to create inefficient operations, lost profits, and often product quality risk.
Market statistics accentuate this opportunity with the following realities:
90% of all commercial buildings - 4M in US <25k sq. ft.

27% greater energy intensity than large commercial

Restaurants & convenience store chains are key near-term focus

3 X average energy use/sq. ft. > .75M of them in US alone

Retail, health care, multi-family & telecom also potential targets
Given all of these realities, the Powerhouse solution yields payback in as little as 1 year in many cases.
FINANCIAL BACKING
Powerhouse Dynamics has benefited from a combination of early-stage and energy industry savvy investors, having raised a recent round led by Point Judith Capital. Major investors include the below:

COMPENSATION
Compensation is competitive with the marketplace. In a performance-based environment, this will include base salary, bonus structure based on qualitative and quantitative metrics, and equity stakeholder position.
For more information...
Please contact:
Clark Waterfall, BSG Team Ventures
Diane Amador, BSG Team Ventures