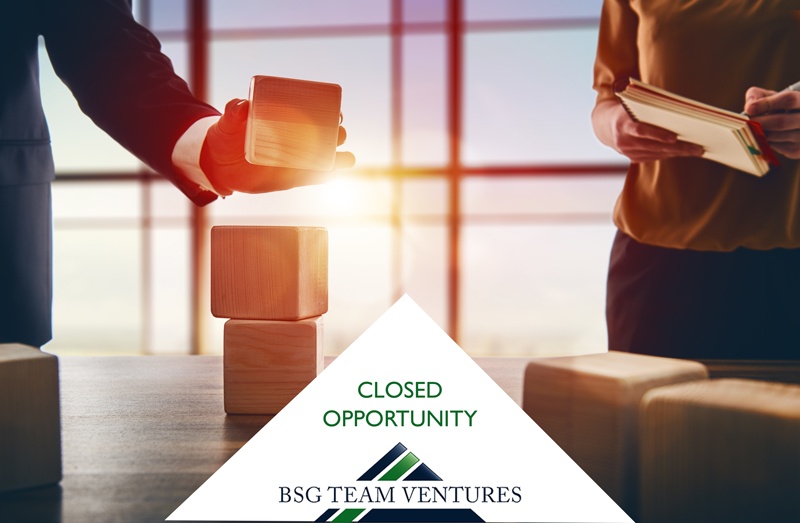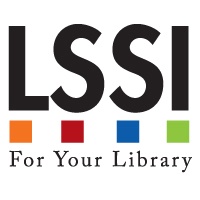 CHIEF OPERATING OFFICER
THE COMPANY
Improving How Libraries Serve Their Communities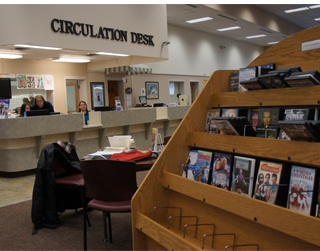 Since 1981, Library Systems & Services, LLC (LSSI) has partnered with communities throughout the US to provide library outsourcing for new and existing libraries, as well as contract library services for Federal agencies.
Nationwide, 78 communities enjoy the benefits of a public-private partnership with LSSI to operate their libraries: improved local control, cost-effective library operations, and increased community support.
Community leaders define their Libraries' policies, priorities, and direction; LSSI operates the Libraries within this local framework, while centralizing and lowering the cost of overhead functions such as human resources, accounting, and technology.
LSSI provides library operation services and solutions to public and government libraries in the United States. It offers library outsourcing services, such as library management, library data, and decision support for new and existing libraries; and contract-based library services to various federal agencies. The company also provides expert services, which include automated systems management, systems analysis, cataloging and processing, collection analysis, library design and space utilization, long range planning, user/non-user surveys, branch facilities operations, research and information assistance, and staffing support.
LSSI serves various organizations, such as the U.S. Department of Energy, the U.S. Department of Veterans Affairs, the U.S. Federal Trade Commission, the U.S. Geological Survey, the U.S. Export – Import Bank of America, Library of Congress, National Agricultural Library, Overseas Private Investment Corporation, Smithsonian Institution, and Social Security Administration. The company was founded in 1981 and is based in Germantown, Maryland.
Would you like to learn more about this opportunity? Read on...
LSSI MARKET AND OPPORTUNITY
Library trends:
Consultants studying the library services industry performed a market survey and below are several highlights from it:
From "Houses of Knowledge" to "Houses of Access"
77% of Americans think it is "very important" for public libraries to provide free access to computers and the internet to the community

2% …to provide access to employment databases

9% … to provide access to online business information resources
Redesigning Physical Space of Library
"Libraries are presenting a dramatically more open face to the outside world, using lots of glass, providing comfortable seating, as much for collaborative work as solitary pursuits, and allowing food and drink."

"The idea of being inviting isn't just to boost attendance but to maximize people's creativity."
Becoming the "Third Place" –Home, Work, Library –for Individual Development (Gates Foundation)
98.0% public library service outlets offer some form of technology training

99.5% reported offering education and learning programs

98.4% offer summer reading programs

Foreign language centers

Computer classes

Conduct health and wellness programs
Growing Role as a Community Center and Assistance Hub
95% of libraries assist patrons with important employment resources

85% offer community civic engagement or e-government programs

80% of libraries assist with job applications

Election Day voting centers
LSSI PRODUCT & SERVICE OFFERINGS
LSSI provides contract-based library services to the nation's most prestigious organizations. LSSI takes full responsibility for developing and implementing a library's programs, technology plans, collection development, staff development, long range planning and the overall day-to-day management of the library.
Expert services currently offered include:
Automated systems management

Systems analysis

Cataloging & processing services

Collection analysis

Library design and space utilization

Long range planning

User / Non-user surveys

Complete branch facilities operations

Research & information assistance

Staffing support
THE POSITION
Highlights of the new COO's track record and experience will include the following:
Creating scalable and repeatable processes across the organization to enable growth

Leveraging technology to make operations more efficient, measurable, and data-driven

Building cross-functional bridges in the LSSI organization to deliver projects and programs that surpass customer expectations
The COO for LSSI will report to the CEO, and core responsibilities will include:
Marketing:
Ensuring close symbiotic relationship between product development and customer market needs, creating demonstrable competitive differentiation and performance benefits of LSSI products & services vis-à-vis industry current insourcing practices.
Sales Operations Leadership:
Establishing the sales operations framework that directs LSSI sales initiatives. Creating systems, metrics, and processes that allow for predictable sales pipeline performance and management.
Technology Development & Operations:
Oversight of software implementation and operations teams responsible for commercializing the technology, establishing build/buy/outsource decisions, etc. Working with the rest of the team, oversight of quality assurance, working with the technical team to ensure that product development meets various domestic and international multi-regional market-driven specifications, and ensuring smooth and on-schedule product roll outs.
Staff— team building, development, mentorship: The COO is responsible for human capital planning and hiring. As important, the position will actively be responsible for developing new and existing staff to help prepare them for company growth and increased leadership responsibilities at all levels. Finally, the new COO will serve as leader and mentor to the existing team and as a complement to their existing skills. He or she will do this through personal interactions with colleagues, as well as by maintaining management practices which reinforce a positive internal culture and help the company establish a reputation as a rewarding place to build a career. This individual will be expected to set high standards and hold people accountable, and to create an environment in which people work cooperatively and focus on building the long-term value of the enterprise. When management slots open up, the COO must be able to hire executives who can make significant contributions, not only as individuals, but by building effective teams in their own areas of the business; he or she will also have to upgrade the organization when necessary by replacing underperformers with strong new recruits.
Investors/shareholders & board — milestone management and liquidity strategy: The new COO in partnership with the CEO shares liaison to the board and will aggressively manage milestone deliverables, be a key leader at board meetings and to board/investor communications. The COO will be responsible for developing and managing against an annual operating plan and will be accountable with the CEO for optimizing the harvest for all shareholders. This includes continuous improvement of operational efficiency and effectiveness by assessing, upgrading or installing new operational systems, processes and methodologies. In addition, the COO will continually review activity reports and financial statements to determine progress and status in attaining objectives and revise tactics in accordance with current conditions. Combining these, the COO will execute and achieve annual growth targets while gaining increased leverage on costs and operating expenses.
A summary of key competencies required to be successful include the following:
FUNCTIONAL EXPERIENCE
IT and systems management as the lead business champion to solve business problems in support of all functions (HR, operations, finance, sales, etc.)

International operations management

Management of HR function

Legal (customer contracts, compliance, federal customer legal adherences, etc.)

1 to 5 year strategic planning

Program management expertise (new product SOP creation, launch, expansion). Overseeing multiple, related projects and their resources to achieve strategic business goals)

Experience with fixed price contract management for profit

Creating appropriate yet rigorous operating metrics and teaching their adoption

Project management expertise: leading and directing projects and their cross-organizational resources

Internal team project management expertise (project team selection, resource loading, KPIs, etc.)

New customer implementation & onboarding: Partnering with sales and field operations leadership and teams to embed best practices as SOPs across multifunctional customer-facing teams

Existing client relationship, account & escalation management working with municipal, state, and federal C-level customers

Inorganic growth experience, including post-M&A systems and team integration

Financial management (in the day-to-week-to-month focus)
INDUSTRY—BPO (business process outsourcing) with consumer retail delivery last mile. Examples:
Library services

Retail

Food services/cafeteria

staff outsourcing

Services outsourcing (help desk, IT, HR etc.)

BPO other (e.g. document storage, etc.)
CORPORATE STAGE
Working with Board of Directors comprised of involved private equity investors

Sales growth from $50M—> $100M+

Builder leader vs. optimizer leader

Privately-held/small-medium-sized company stage experience (>500 employees)

Building processes and best practices without suffocating speed, innovation, and client satisfaction
MANAGEMENT & LEADERSHIP EXPERIENCE
Driving creation and buy-in to KPIs, goals, metrics within own team and cross-functionally where appropriate/necessary

Remote/multi-office team management US & OUS)

Working for non-US headquartered entity

Track record of hiring/upgrading to A players for A team
MARKETS & CUSTOMERS (government)
Municipal government (town, city, county, district)

State government

Federal government (e.g. Library of Congress, etc.)
GEOGRAPHIC
MD-based, commutable to Suburban northwest DC beltway (Rockville-Germantown)
GENERAL:
Finally, this individual should have as many as possible of the traits required to succeed in this leadership position:
High levels of intelligence, analytical strength and conceptual ability.

The ability, and willingness, to set and communicate demanding standards for professional staff and to hold people accountable for their performance; at the same time, sensitivity to, and insight into individuals' capabilities and development needs.

Decisiveness when necessary, coupled with a willingness to seek input and build consensus as much as possible.

Unquestioned honesty and integrity; also, loyalty to colleagues and to the organization, and the ability to inspire loyalty. This person should have the ability to identify and focus on the Company's best interests, rather than the agenda of any individual or group within the firm.

A very high level of energy and commitment, combined with enthusiasm and a positive attitude.

Excellent writing and speaking skills; this individual must be able to communicate complex ideas and information clearly and concisely.

Outstanding planning and organization skills.

Good strategic instincts and long-term vision; the ability to address both big-picture issues and detailed, day-to-day management concerns.

In general, the business and personal skills, and the absolute commitment required to make a major contribution to The Company during the coming years.
The diagram below illustrates the intersection of competencies critical in the position: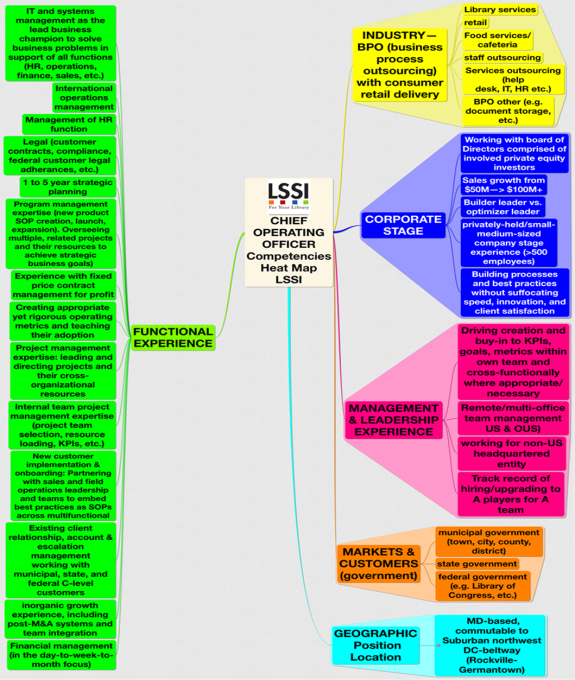 Team
The LSSI team currently numbers approximately 1,000, with plans for additional growth both at headquarters location in suburban Maryland, as well as in field operations in customer facing roles.
Financial Backing
Argosy Capital purchased a controlling interest in LSSI in January, 2015. As such, Argosy brings operating expertise, expansion capital, and both organic and inorganic strategic growth leadership that catalyzes all of their portfolio companies.
Compensation
Compensation is competitive with the position's requirements. In a performance-based environment, this will include base salary, bonus structure based on corporate qualitative and quantitative business development targets, and a stakeholder position in the company.
More Information:
Argosy Private Equity Invests in LSSI
Anger as a Private Company Takes Over Libraries
EXECUTIVE MANAGEMENT TEAM
Listed below is a selection of key executives of the LSSI team. See their website for the complete list and profiles.
Ron Dubberly | Chief Executive Officer
Ronald Dubberly, President and CEO, brings to LSSI clients more than 30 years of high-level experience as a library system director and library consultant. He led the 35-branch Atlanta Fulton County Public Library System for 10 years; the 22-branch Seattle Public Library for 12 years; and the 7-branch Sioux City (IA) Public Library for 6 years. He worked with LSSI as the administrator for the Riverside County Library System and the Jersey City Free Public Library. He also worked for the Baltimore County Public Library as a branch manager and administrative assistant to the Director.
Mr. Dubberly is a frequent speaker on the changing needs of libraries and their users, and constituent-based management perspectives in public libraries. He has extensive experience in conducting surveys and needs assessments for libraries, including user surveys, management assessments, and evaluations of staff, systems, and management. He has recruited high-level professional library staff for LSSI and leading US libraries, and provides staff training on customer service issues. He earned his MLS degree from Florida State University.
Bob Windrow | VP Sales & Marketing
Bob Windrow has more than 30 years of experience in the library industry and has led LSSI's sales and marketing activities since joining the company in 1990. His relationship with potential and current clients includes ongoing assistance with community leaders and with the definition and implementation of state-of-the-art technology upgrades. He began his career at University Microfilms, a Xerox Company as a district manager, then was Vice President of Sales with CLSI, an early Library Automation vendor. At Informatics, Inc., Mr. Windrow was Director, Sales and Marketing for three years, developing successful advertising and promotional campaigns. Just before joining LSSI, he was President/COO of Nationwide Fulfillment Systems.
Dana Braccia | National Director for Public Library
Dana Braccia, LSSI's National Director for Public Library provides strategic oversight and management of library operations and resources for public library contracts throughout the U.S. With more than 25 years' experience in the private and public sectors working in the U.S. and Micronesia, Dana recently served as Senior Manager overseeing library operations, adult services, and community partnerships for Scottsdale Public Library. She was involved in the development of EUREKA, an innovative partnership with Arizona State University designed to serve community entrepreneurs, inventors and collaborators. She has extensive experience in Strategic & Long Range Planning, Grant Writing & Implementation, Digital Content Management, Collection Development, Marketing and Community Relations. Dana was the 2013 recipient of the MPLA Carl Gaumer Library Champion Award.
Dana earned her Master of Library Sciences degree from University of Arizona. She is an adjunct instructor at the University of Arizona, University of Kentucky, and University of Tennessee. She is a former President of the Mountain Plains Library Association and currently an American Library Association Council member and Arizona Library Association Board member.
Steve Coffman | VP Operations Support
Steve Coffman, LSSI's Vice President of Operations Support, oversees a team of professional staff and technology resources that serve all of LSSI's libraries. His group offers collection development services (including securing most favorable pricing and services from vendors); analysis of emerging trends in library services and technologies; recommendations regarding cutting edge improvements as warranted; and integrated library support services.
Prior to joining the LSSI team, Steve spent 15 years at the County of Los Angeles Public Library where he was the Director of FYI, the County's Business Research Service and he pioneered web-based reference services. Mr. Coffman is recognized internationally as one of the library profession's forward-thinkers and has written many articles for library publications including, Going Live! Starting and Running a Virtual Reference Service, available from ALA Editions. He regularly contributes articles to library journals, including: "What If You Ran Your Library Like a Bookstore?," and "Saving Ourselves: Plural Funding for Public Libraries", "The Decline and Fall of the Library Empire", and most recently "How Low Can We Go" on the decline of library book purchasing. Steve has his MLS from UCLA.
Steve Field | Chief Financial Officer
Steve Field joined LSSI in February 2012 as Chief Financial Officer. He has 30 years experience in accounting and finance, with the last 20 years in senior financial management roles in the government contracting industry.
Steve served most recently as the CFO for DRT Strategies, and previous to that as CFO for Platinum Solutions, Inc., both privately-owned federal government information technology contractors. Steve participated in the successful sale of Platinum Solutions to SRA International. Steve also served as Controller for a variety of start-up and software companies, most notably OTG Software, which he helped prepare for a successful IPO. Field's experience includes oversight of financial operations and reporting, treasury management, financial forecasting, proposal development, human resources, and MIS functions.
Steve received a Bachelor of Science degree in accounting from the University of Maryland and has passed the C.P.A. examination.
BOARD OF DIRECTORS
Don Charlton | Chairman & Operating Partner, Argosy Capital
Donald Charlton, Operating Partner, joined Argosy in 2010 and is responsible for evaluating potential investments, performing due diligence, and working with portfolio companies to grow shareholder value. He has over 23 years experience as a C-Suite athlete for venture and private equity backed companies. Mr. Charlton was a founding management team member of InPhonic, the 2004 INC 500 #1 ranked fastest growing private company in the U.S., where the team raised $90 million in private equity and completed a $150 million IPO exit. InPhonic grew to $300 million in revenues and 700 employees in less than five years. Mr. Charlton has diverse industry experience spanning technology, software, manufacturing, ecommerce, Internet advertising/marketing, and professional services. He brings solid middle market buyout experience, having completed 14 acquisitions during his career. Mr. Charlton started his career with Coopers & Lybrand (now PriceWaterhouseCoopers) and held management positions at Baxter Healthcare, Osage Venture Partners, InPhonic (now Simplexity), XM Satellite Radio, Gratis Internet and Venture Catalyst Consulting. Don earned his B.S. from the University of Scranton, an MBA from New York University's Stern School of Business and is a CPA.
John Kerwin | Board Director & Partner, Argosy Capital
John P. Kirwin, III, Founding Partner, co-founded Argosy in 1990 and is responsible for general fund administration, developing and assessing investment opportunities, providing strategic management support, and monitoring investments. He previously had a 14 year career as an attorney specializing in mergers, acquisitions, and corporate law. For nine years he was a Partner with McCausland, Keen & Buckman in Radnor, Pennsylvania, where he did extensive work on public and private securities offerings, as well as venture capital and buyout transactions. His experience encompasses a successful track record investing in over 90 companies and includes sourcing, reviewing, negotiating, performing due diligence, and monitoring various private investment transactions. Mr. Kirwin holds a Juris Doctris from the George Washington University National Law Center, and a Bachelor of Arts from Dickinson College. He is currently a member of the Board of Trustees of The Church Farm School and has previously served as a director on the Boards of four public companies.
For more information, please contact:
Clark Waterfall, BSG Team Ventures, at clark@bsgtv.com
Sandra Dixon, BSG Team Ventures, at Dixon@bsgtv.com
Diane Amador, BSG Team Ventures, at damador@bsgtv.com