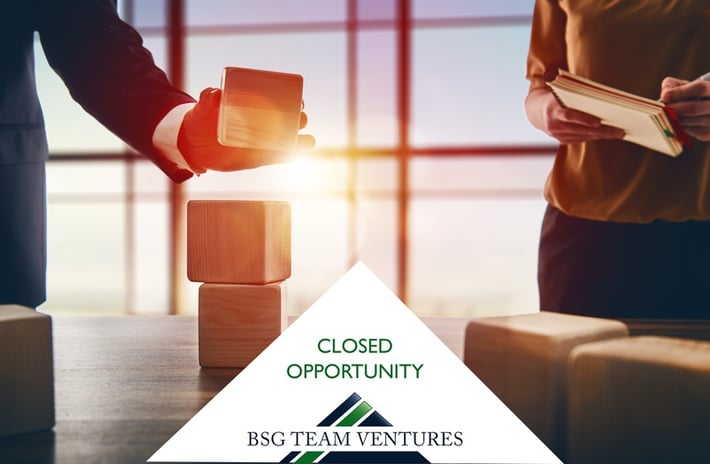 We're recruiting a new COO to join a small, fast-growth CA-based B2B SaaS company specializing in cloud monitoring and analytics with customers in over 100 countries. Who's a great fit? Stage experience growing from $5M to 25M. Track record of bringing process and people to great product. Experience topgrading sales and optimizing drip marketing integration. And of course, partnering with the Founder & CEO as critical member of exec team.
Does this sound like the opportunity for you? Read on...
The Position
The COO is responsible for playing the leadership role in the sales function of the Company, planning and directing all aspects of sales and marketing, including new customer acquisition and existing key account management by performing the following deliverables:
Defining and executing on sales plan for business development within desired markets in alignment with company strategy.

Marketing integration into sales process, including marketing-driven lead generation via online drip marketing, SEO, trade/show conference marketing, etc.

Prioritizing sales resource planning to balance the Company's revenue goals with staff and customer requirements.

Participating and contributing to the development, execution and achievement of the Company's overall growth strategy.

Championing the recruiting, selecting, onboarding, training, coaching and disciplining of the sales team.

Fostering a success-oriented and accountable sales & marketing environment that is metrics driven.

Retaining and increasing gross margins, while at the same time controlling/reducing cost of sales.

Process-izing, staffing and expanding the Company's sales partner channel.
The Ideal Candidate
The diagram below illustrates a comprehensive intersection of competencies critical in the COO position: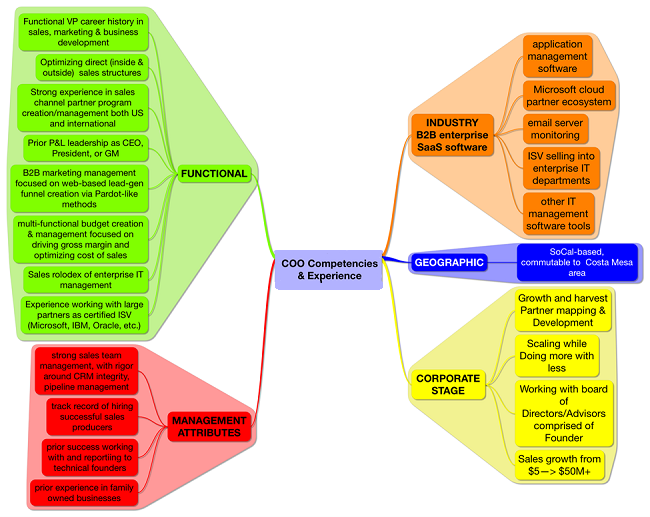 A summary of key competencies required to be successful in this COO role include the following:
FUNCTIONAL

Functional VP career history in sales, marketing & business development.

Optimizing direct (inside & outside) sales structures.

Strong experience in sales channel partner program creation/management both US and international.

Prior P&L leadership as CEO, President, or GM.

B2B marketing management focused on web-based lead-gen funnel creation via Pardot-like methods.

Multi-functional budget creation and management focused on driving gross margin and optimizing cost of sales.

Sales rolodex of enterprise IT management.

Experience working with large partners as certified ISV (Microsoft, IBM, Oracle, etc.)

INDUSTRY B2B enterprise SaaS software

Application management software.

Microsoft cloud partner ecosystem.

Email server monitoring.

ISV selling into enterprise IT departments.

Other IT management software tools.

GEOGRAPHIC

SoCal-based, commutable to Irvine area.

CORPORATE STAGE

Growth and harvest Partner mapping & development.

Scaling while doing more with less.

Working with Board of Directors/Advisors.

Sales growth from $5—> $50M+.

MANAGEMENT ATTRIBUTES

Strong sales team management, with rigor around CRM integrity, pipeline management.

Track record of hiring successful sales producers.

Prior success working with and reporting to technical founders.

Prior experience in family-owned businesses.
GENERAL:
Finally, this individual should have as many as possible of the traits required to succeed in this leadership position:
High levels of intelligence, analytical strength and conceptual ability.

he ability, and willingness, to set and communicate demanding standards for professional staff and to hold people accountable for their performance; at the same time, sensitivity to, and insight into individuals' capabilities and development needs, and the combination of firmness and likability that all good leaders possess.

Decisiveness when necessary, coupled with a willingness to seek input and build consensus as much as possible.

Unquestioned honesty and integrity; also, loyalty to colleagues and to the organization, and the ability to inspire loyalty. This person should have the ability to identify and focus on the Company's best interests, rather than the agenda of any individual or group within the firm.

A very high level of energy and commitment, combined with enthusiasm and a positive attitude.

Excellent writing and speaking skills; this individual must be able to communicate complex ideas and information clearly and concisely.

Outstanding planning and organization skills.

Good strategic instincts and long-term vision; the ability to address both big-picture issues and detailed, day-to-day management concerns.

In general, the business and personal skills, and the absolute commitment required to make a major contribution to the Company during the coming years.

Attention to detail required to deliver consistently accurate data, information and reporting on time and on budget

A sense of ownership, not just of his or her own work, or that of their department, but a sense of ownership for the Company as a whole.

Work ethic required to do what it takes to get the job done, and invest the time required to deliver on key responsibilities in a timely fashion.
Team
The Company's team currently numbers approximately 33, with plans for significant growth in Q4 2015 into 2016.
Financial Backing
The Company has been self-funded to date, bootstrapped by the founder & CEO who has driven it as a profitable entity since the company inception in 2005.
Compensation
Compensation is competitive with the position's requirements. In a performance-based environment, this will include base salary, bonus structure based on corporate qualitative and quantitative strategic KPIs, and a stakeholder position in the Company.
Resume and cover letter can also be posted to the BSG website. No phone calls please.