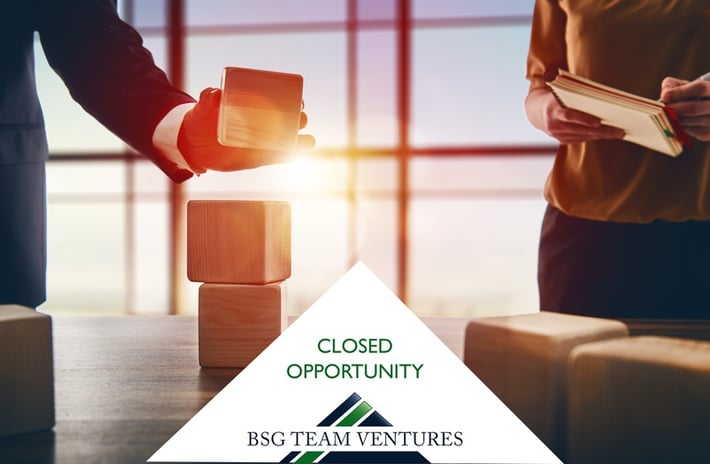 THE COMPANY
XG Sciences, Inc. manufactures and sells engineered nanomaterials and products to customers around the world. XG is a pioneer in the field of graphene particles and has been manufacturing a new type of carbon nano-particle the company calls xGnP® graphene nanoplatelets since 2009.
First discovered in 2004, graphene is a single layer of carbon atoms configured in an atomic-scale honeycomb lattice, and is noted for its strength, density, impermeability, light weight, and both electrical and thermal conductivity. Among many noted properties, graphene is harder than diamonds, lighter than steel but 200-300 times stronger, and conducts electricity better than copper. Graphene nanoplatelets are particles consisting of multiple layers of graphene. The Company believes graphene nanoplatelets are a game changer for numerous industries and estimates the market for graphene will quickly grow to be a billion dollar opportunity with XG Sciences as a first mover. The Company currently has more than 600 customers in 36 countries, many of whom are household names, trialing graphene for numerous different applications, including, but not limited to composites, li-ion batteries, supercapacitors, inks and coatings, construction materials, thermal shielding and heat transfer, printed electronics and military uses.
XG Sciences' initial technology came from Michigan State University, where it was developed with funding from the Michigan Economic Development Corporation, as well as various government agencies. Subsequently, XG Sciences has become known for its proprietary, low-cost manufacturing technology that allows the production of high-quality graphene nanoplatelets at virtually any scale. Global production partners such as Cabot Corporation and POSCO have licensed XG Sciences' production technology for their own use in producing graphene materials. XG Sciences is a private corporation, registered in Michigan, whose shareholders include private investors as well as two corporations - Hanwha Chemical Corporation and POSCO.
Currently, XGS has about 40 employees, one-third of whom have advanced degrees and work in engineering or research positions. Over 600 customers in 37 countries have purchased XGS products for in-house product development or research. XGS has distributors in China, Korea, Japan, Taiwan, and Europe. Lux Research rates XGS as the world leader in this developing space, saying "XG Sciences – Positive – Advanced Materials. Despite increasing competition from a handful of new entrants to the graphene space, XG remains the low cost leader and also boasts the most impressive business execution to date."
XG Sciences, Inc. was founded in 2006 and is based in Lansing, Michigan.
THE POSITION
Highlights of the new CFO's track record and experience will include the following:
Strong small-cap public company financial leadership, with requisite, public reporting requirements, investor relations and analyst management

Financial planning & analysis responsibility as strength across financial career history

International manufacturing entity creation and reporting

Joint venture partnerships involving supply chain, contract manufacturing, and other collaborative and/or licensing relationship creation

Experience as financial steward from single digit millions in top line revenue to $50+

Private & public markets equity capital-raising, including road shows and pre-investment diligence team interface and management
DETAIL OF RESPONSIBILITIES
The CFO for XG Sciences will report to the CEO & Board of Directors and be responsible for all financial activities of the company. The position has the highest responsibility and leadership for corporate financial health and direction. The CFO provides overall financial vision and leadership with the CEO and Board of Directors. The CFO provides financial vision and leadership on behalf of the corporation with all departments. In this role, the CFO holds the highest level of oversight and direction of budgeting, audit, investor relations, tax-related reporting, accounting, purchasing, real estate, long-range forecasting and insurance activities of the corporation. The CFO must be able to adapt to a continually evolving environment and thrive in a complex and deadline-oriented fast-growth, innovation driven corporate culture with multiple funding sources.
Investors/shareholders & board — milestone management, follow-on fundraising, and liquidity strategy: The new CFO is key liaison to the board and will aggressively manage milestone deliverables and be a key contributor at board meetings and to board/investor communications. The CFO will be responsible for developing and managing against an annual operating plan and in addition to possible follow-on fundraising both private and public, will be accountable for optimizing liquidity for all shareholders. This includes continuous improvement of operational efficiency and effectiveness by assessing, upgrading or installing new financial and operational systems, processes and methodologies. In addition, the CFO will continually review activity reports and financial statements to determine progress and status in attaining objectives and revise tactics in accordance with current conditions. Combining these, the CFO will execute and achieve annual growth targets, while gaining increased leverage on costs and operating expenses.
DETAIL OF DESIRED EXPERIENCE AND CHARACTERISTICS
FUNCTIONAL
FINANCIAL

Strategic planning enabled by financial insights

Modeling (financial impact on customers, markets, products)

Forecasting & projections

Budgeting

Accounting month-end and periodic financial closes

Cash management (AR/AP, treasury), bank relationships management

Board reporting

Audit management

Tax, including Revenue recognition & Stock options accounting, etc.

M & A Relationship management (buy & sell-side)

Successful public offerings (US exchanges)

Professional & educational Certifications: CPA BS, Finance MBA (preferred)

COMPLIANCE & REPORTING

Periodic external financial reporting (Annual/10K/10Q, tax returns, etc.)

Regulatory compliance (SOX etc.)

Revenue recognition, OMB-related knowledge

INVESTOR RELATIONS
LEGAL

Contracts: Creation, Review, and Management

Customers

Partners

HR

Staffing, Oversight, & Reporting
INDUSTRY, MARKETS, & CUSTOMERS
Advanced Materials

Batteries

Composites

Coatings & Polymers
MANAGEMENT
Financial team management & oversight (controller, AP, other related accounting)

Board communication

Independent judgment

Maintain and ensure confidentiality
GEOGRAPHY
Mid-Michigan area (Lansing HQ office location)
EDUCATION
Undergraduate degree required, with preference for bachelor of science in finance/accounting, with MBA or other advanced degree a plus. In addition, CPA certification is highly desired.
GENERAL
Finally, this individual should have as many as possible of the traits required to succeed in any CFO position:
High levels of intelligence, analytical strength and conceptual ability.

The ability, and willingness, to set and communicate demanding standards for professional staff and to hold people accountable for their performance; at the same time, sensitivity to, and insight into individuals' capabilities and development needs.

Decisiveness when necessary, coupled with a willingness to seek input and build consensus as much as possible.

Unquestioned honesty and integrity; also, loyalty to colleagues and to the organization, and the ability to inspire loyalty. This person should have the ability to identify and focus on the Company's best interests, rather than the agenda of any individual or group within the firm.

A very high level of energy and commitment, combined with enthusiasm and a positive attitude.

Excellent writing and speaking skills; this individual must be able to communicate complex ideas and information clearly and concisely.

Outstanding planning and organization skills.

Good strategic instincts and long-term vision; the ability to address both big-picture issues and detailed, day-to-day management concerns.

In general, the business and personal skills, and the absolute commitment required to make a major contribution to The Company during the coming years.
IDEAL CANDIDATE PROFILE
The following diagram illustrates the intersection of competencies critical in the Chief Financial Officer position: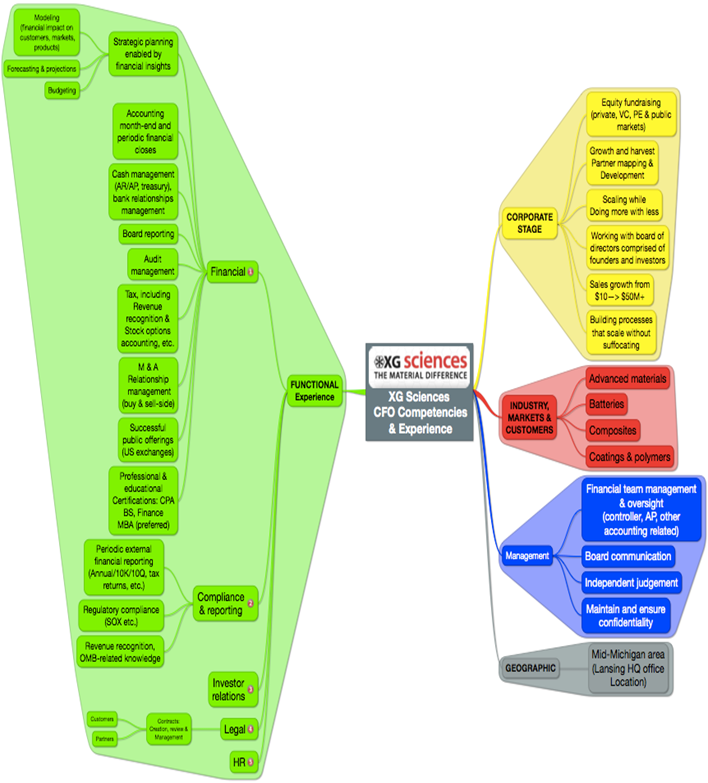 Just a paragraph break; not a non-breaking space.
STAFF
The team reporting to the CFO is currently approximately 3, supplemented by external resources (audit, legal, etc.), as well as other functional consultants. The entire company team is comprised of approximately 3 in sales/marketing/business development, 9 in science & engineering, 20 in manufacturing & operations, and staff in each of finance, product management, and general administration.
FINANCIAL BACKING
XG Sciences has raised more than $20 million in equity capital from both individual and strategic investors, including Aspen Opportunity Fund, Ann Arbor SPARK, Samsung, Hanwha Chemical Corporation, and POSCO Chemtech Company of Korea. Since its inception in May 2006, the Company has funded itself through the issuance of common stock and the sale of licenses. Up to December 31, 2012, the Company had raised $10.8 MM in capital from various individual investors and strategic partners. In early 2012, the Company also entered into a licensing transaction with Cabot Corporation, which resulted in an initial licensing payment of $2.5 million. In March, 2013, the Company entered into a transaction with the Aspen Advanced Opportunity Fund, which will result in up to $10 million of additional capital being invested into the Company over the next 12 -24 months.
COMPENSATION
Compensation is competitive with the marketplace. In a performance-based environment, this will include base salary, bonus structure based on qualitative and quantitative metrics, and an equity stakeholder position.
CONTACT
Resume and cover letter should be posted on the BSG website. The job code for this project is x277xgcfo. No phone calls please.