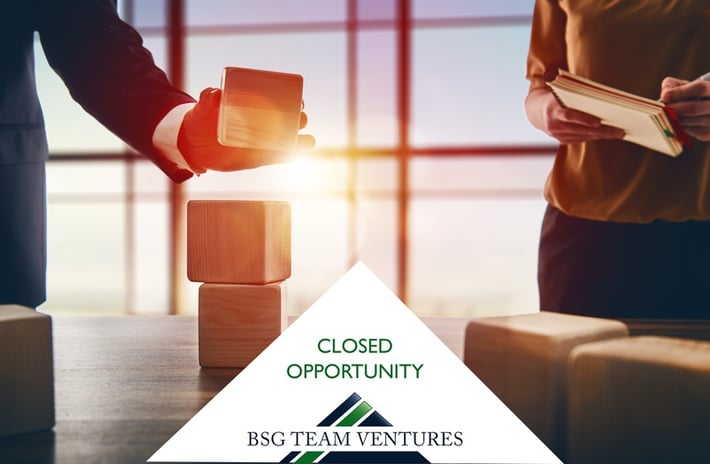 Chief Executive Officer
The Company
Laser Light Engines ® for advanced sensors
TriLumina, Corp. is a semiconductor laser technology company which develops, manufactures and integrates among the fastest and most powerful semiconductor laser solutions in the world. TriLumina infrared emitters are capable of high power illumination for laser radar (LiDAR) depth sensing.
Developed from technology pioneered at Sandia National Labs in New Mexico, and with a patent portfolio of 8+ issued and numerous more pending, TriLumina's innovations are anchored in VCSEL technology (ian acronym for Vertical Cavity Surface Emitting Lasers).
Founded in 2010, TriLumina is based in Albuquerque, New Mexico.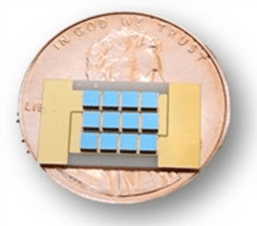 TriLumina Market & Opportunity
Competitive Advantages Summary
Speed and Power


Small Form Factor

Patented

High Reliability

Power Efficient
Power and Speed
Automotive safety mandates a worldwide $260B sensing market powered by TriLumina's powerful laser devices by 2020. Currently, automotive LIDAR is in the hundreds of millions and rapidly growing. The laser diode market is around $8 billion and VCSELs are a very small fraction. Billions of devices will soon be fitted with depth sensing illuminators and high speed data connections. TriLumina provides a single solution for both applications.
High power pulsed IR illumination for LiDAR provides enormous opportunities as vehicles are outfitted with some level of LiDAR sensing capabilities. Sensor applications inside the vehicle and in consumer electronics continue to explode across various markets.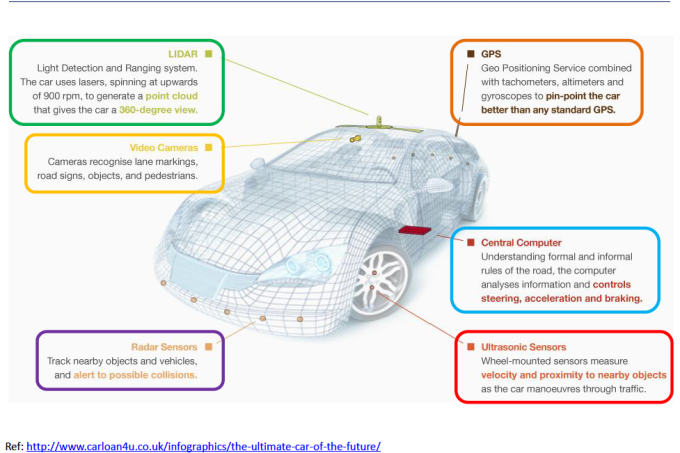 TriLumina's platform technology enables a transformation in automotive safety systems by enabling LiDAR in the mass market. LiDAR is the key to completing the sensing solution around the vehicle. TriLumina' s emitter solution radically improves the capabilities, response time and resolution of depth sensing, driver monitoring, eye-gaze and eye-tracking applications to change the way humans interact with their devices and environment. TriLumina lasers provide scalable, materially superior IR illumination sources for sensing solutions.
TriLumina has two major families of laser products:
Its high speed LiDAR emitters (HSLE) and

Its high speed VCSEL array emitters (HSVAE).
Both product lines are based on its VCSEL array designs that can be customized for power and operational characteristics.
The Technology & Applications
TriLumina delivers a truly new and disruptive platform technology for use in the automotive safety (LiDAR), advanced driver assist systems (ADAS), 3D sensor and IR illumination markets. Using reliable VCSELs, TriLumina delivers highly scalable power and speed in a very inexpensive package via individual lasers combined in an array. VCSEL stand for vertical-cavity surface-emitting lasers, and were pioneered by TriLumina Founder John Joseph beginning in 2010.
For the first time ever, TriLumina has demonstrated high-power, high-speed semiconductor laser technology in a low-cost, very small, thermally stable package. The underlying technology is well understood, reliable and manufacturable base VCSEL technology. TriLumina has delivered a historic demonstration of 10Gbps free space optical data communication and nanosecond pulse widths with Kilowatt pulsed power. The TriLumina VCSEL array is based on indium gallium arsenide (InGaAs) compounds and currently uses four-inch wafers for its systems, scaling to 6-inch wafers with the goal of delivering final emitter modules at less than $100/unit.
The TriLumina technology foundation rests on nine patents issued and over sixteen CIPs and applications pending, supplemented by international protection and affiliated patents issued.
TriLumina's VCSEL emitters operate between 905 nm to 1060 nm wavelengths (near-infrared). The company's HSLE are primarily meant for solid state flash LIDAR systems that have no moving parts. The HSVAE products are meant for free space optical communications - the transfer of data using light propagation. The HSVAE products are scalable with seven, 19, 37, 61, or 199 element configurations. The VCSELs enable high-frequency modulation, permitting sub-nanosecond pulse widths and a data transfer rate up to 10 Gbps. Compared to edge-emitting lasers (EELs), VCSELs emit light from the top of the device, rather than the edge, resulting in a circularly symmetric and narrowly diverging beam. The laser cavity lengths in VCSELs are also shorter than in EELs, resulting in a narrow wavelength emission as well as greater laser mode stability.
The Position
TriLumina is looking for a commercialization leader to take their intellectual property and associated R&D and accomplish the following deliverables:
Internally: lead the TriLumina engineering team through alpha, beta, test, commercialization and fabless manufacturability
Externally: map TriLumina capabilities to market needs, and drive development and markets toward convergence
Reporting to the TriLumina Board of Directors, the new TriLumina CEO will help set the strategy and vision of the company, and drive the execution of the business. This is a hands-on role and will be required to work both inside the company with the engineering team, and outside with OEM ecosystems in each of the industry sectors in which TriLumina represents strategic value.
Success in this role will lean on 3 pillars of skills and experience:
Has had experience selling 1st generation components and modules to multiple automotive OEMs and tier one electronics suppliers with complex and multi-stage qualification cycles

Has a customer rolodex in automotive, industrial automation, robotics, and/or high value consumer electronics, particularly focused on the strategy, product, engineering, and R&D organizations within these respective OEMs

Strong grow-it/scale-it-stage experience, involving building out high performance teams, raising additional equity capital rounds as needed, and establishing and maintaining high level dialogue with the strategic partner ecosystem that ultimately will yield the final suitor pipeline.
Candidate Profile
The successful candidate must have:
Prior CEO/president/GM experience

P&L experience in early stage business

New product category company experience (e.g. Tesla, GoPro, etc.)

Product-centric industry sector experience (new product introduction oriented), "form factor driven," with complex hardware qualification experience

Design-win experience—selling new modules into OEMs that will be mapped to the next generation of commercial products being released (e.g. automotive, aerospace, avionics, etc.)

Proven experience leveraging R&D teams to get to commercial viability
Ideal Candidate Profile
A summary of key competencies required to be successful in this role include the following:
o FUNCTIONAL Prior Success
New product category "trail-blazing" experience (e.g. GoPro, Tesla, DJI)

Managing full P&L (R&D, revenue, opex & capex)

Rolodex of prior/current OEM customers in targeted industry sectors

Building & monetizing a global supplier and customer value chain

Mapping target partner ecosystems

Building companies based on complex, technical products (semi-conductors, etc.) that require deep technical qualification phases with OEM customers and design-win revenue cycles

Education: BA or BS + MBA
o STAGE of Company Experience
Marshalling cash resources, "doing more with less" in scaling business

Experience working with founders, academics, investors, and board directors in closely held companies

Emerging/growth phase of company development from pre-revenue to, $25M+

Raising equity capital, Series B and beyond as necessary

Taking company through multiple value creation inflection points with ultimate harvest/sale/liquidity
o CUSTOMER SEGMENT Experience
Mission-critical realtime embedded systems

Automotive/connected car

Robotics

Industrial automation

High-end consumer electronics (eye-tracking & hand gestures)
o MANAGEMENT & Leadership Experience
Building scalable management processes without suffocating innovation/speed

Success as player/coach

Remote/multi-office team management

Track record hiring/upgrading to A players for A team
o INDUSTRY Experience
IC/chip based modules

automotive (e.g. Infineon, Renesas)

medical device (class I-III)

robotics (with lasers)

industrial automation

aerospace avionics (radar modules, etc.)

telecom

energy
GENERAL:
Finally, this individual should have as many as possible of the traits required to succeed in this leadership position:
High levels of intelligence, analytical strength and conceptual ability.

The ability, and willingness, to set and communicate demanding standards for professional staff and to hold people accountable for their performance; at the same time, sensitivity to, and insight into individuals' capabilities and development needs, and the combination of firmness and likability that all good leaders possess.

Decisiveness when necessary, coupled with a willingness to seek input and build consensus as much as possible.

Unquestioned honesty and integrity; also, loyalty to colleagues and to the organization, and the ability to inspire loyalty. This person should have the ability to identify and focus on the Company's best interests, rather than the agenda of any individual or group within the firm.

A very high level of energy and commitment, combined with enthusiasm and a positive attitude.

Excellent writing and speaking skills; this individual must be able to communicate complex ideas and information clearly and concisely.

Outstanding planning and organization skills.

Good strategic instincts and long-term vision; the ability to address both big-picture issues and detailed, day-to-day management concerns.

In general, the business and personal skills, and the absolute commitment required to make a major contribution to The Company during the coming years.

Attention to detail required to deliver consistently accurate data, information and reporting on time and on budget

A sense of ownership, not just of his or her own work, or that of their department, but a sense of ownership for the company as a whole.

Work ethic required to do what it takes to get the job done, and invest the time required to deliver on key responsibilities in a timely fashion
Ideal Candidate Profile
The diagram below illustrates a comprehensive intersection of competencies critical in the CEO position: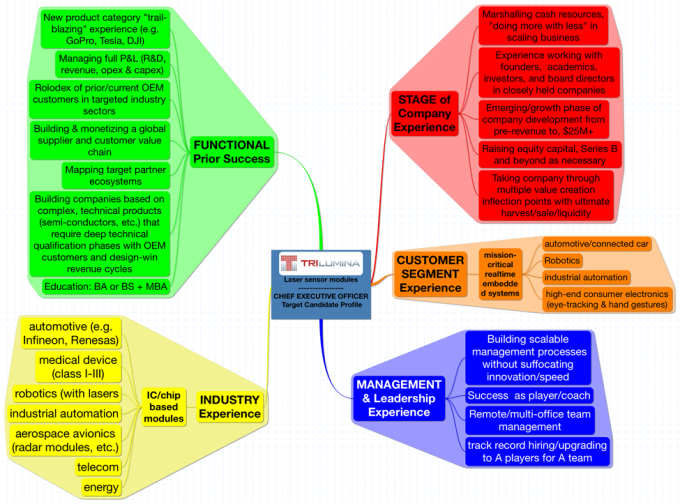 Team
The TriLumina team currently numbers approximately 17, with plans for significant growth in 2016.
Financial Backing
TriLumina's investors include a syndicate of well-known venture and strategic investors, including Stage 1 Ventures, Cottonwood Technology Fund, Sun Mountain Capital and Caterpillar Corporate Ventures Group and Denso. The company has raised more than $15M, between a seed round and a recently closed Series A of $8M.
Compensation
Compensation is competitive with the position's requirements. In a performance-based environment, this will include base salary, bonus structure based on corporate qualitative and quantitative strategic KPIs, and a stakeholder position in the company.
More Information
TriLumina Corp. named a "Cool Vendor" in Automotive Electronics, 2015 by Gartner
TriLumina Named One of LA AUTO Show's Connected Car Expo Top Ten Automotive Startups
CATERPILLAR VENTURES invests in TriLumina for NextGen Lasers for LiDAR
DENSO Invests in Semiconductor Laser Technology Startup TriLumina
Executive Management Team & Board of Directors
Listed below is a selection of key executives of the Trilumina team.
Dan Squiller | Executive Chairman
Throughout his career at Scientific Atlanta, St. Bernard Software, Invensys plc, PowerGenix, GT Advanced Technologies, and Verengo Solar, Dan is known for taking on diverse C-level assignments in technology companies. Areas of expertise include Technology Commercialization and Global Expansion, Manufacturing Facility Startup, Asian Supply Chain Development, Technology and product programs with automotive OEMs and Tier 1 suppliers.
Dan has also consulted to companies seeking solutions to challenges of international growth, product and market strategy, and underperformance. Previous clients include venture capital, private equity, and large industrial firms, many with operations in Asia. Dan helps clients formulate and execute strategies to generate rapid and sustainable results.
Dan has a broad base of functional expertise, including roles in engineering, operations, product management, sales, marketing, and business development. He has had CEO roles in venture backed early stage companies and co-founded St. Bernard Software while, he has also led billion-dollar multi-divisional global enterprises. Sector experience includes power conversion, energy storage, automotive, defense & aerospace, and enterprise software.
Dan has engaged with multiple OEMs such as Daimler, Porsche, Fiat-Chrysler and PSA. He has also worked with Tier1s in both light-vehicle and commercial automotive, including Valeo, Hella and Navistar. His bench strength in automotive provides additional insight to the company in this increasingly important market for TriLumina.
Having served as chairman of Densei-Lambda, a First Section Tokyo stock exchange company, he has led both public and private companies. He has deep knowledge of business cultures worldwide, particularly China, Japan, and other Asian countries.
A competitive endurance athlete, he has completed multiple ultramarathons and triathlons.
A graduate of Ohio University with a BS in Electrical Engineering and an MA in Interpersonal Communication, Dan completed the Stanford Executive Institute program at Stanford University. He has served on, and chaired, various Boards of Directors and Advisory Boards for industrial companies, business groups, and nonprofits. He currently serves on the boards of Verengo Solar, PowerGenix, and TriLumina.
Luke Smithwick | Chief Commercial Officer
Luke has over 25 years of experience in business and technical leadership spanning semiconductors, software, hardware and core R&D with the past 10 years focused on the automotive industry. He joins us from Silicon Valley start-up CloudCar where he was VP of Marketing, Partnerships and Business Development. Prior to that, he was director of Automotive Infotainment Products at Qualcomm driving automotive product management and focusing engineering on achieving automotive qualification of high-complexity application processors. Luke started his automotive career at Freescale as Director of Software and Solution Technologies where he started an automotive professional services P&L and automotive software solutions team and later as Global Operations and Business Manager driving the P&L, product line management, solutions, strategy and vision for Freescale's Automotive Driver Information and Infotainment semiconductor business. Earlier in his career, Luke was focused on complex IP licensing at Aware as VP of Licensing, held a number of senior marketing and sales positions at GlobeSpan Semiconductor and was an advanced technology researcher at Bell Laboratories. Luke did post graduate work at Princeton University and Columbia University and holds a BSEE and MS in electrical engineering from the University of Florida. He holds 14 technology patents and has published multiple industry and technical papers.
David Abell | Chief Strategy Officer & Chief Legal Officer
David is a serial entrepreneur and business attorney and formerly served as in-house securities and governance counsel for Texas Instruments Incorporated. In addition to a law degree, David has a BS in in biochemistry and business administration. He brings a diverse multi-billion dollar portfolio of public and private fundings, venture capital and private equity transactions and acquisitions. David is responsible for corporate development and the management of the company's business and IP structure to support the Company's rapid growth and success. David's also leads TriLumina's IP protection and licensing strategies, new and existing market exploitation, strategic partnering, investor relations and corporate governance.
Rich Carson | Director of Product Quality
Richard F. Carson brings over 30 years of experience in the optoelectronics field. He Joined TriLumina from Emcore Corporation, where he was Vice President of Quality and Reliability for Fiber Optics. At Emcore, he led teams that established quality standards for Emcore's fiber optic products, supported reliability modeling and testing for laser and VCSEL-based products, and managed design and engineering for parallel Fiber-Optic modules. His areas of expertise include product quality, quality systems, supplier quality, management of quality at contract manufacturers, product reliability testing and modeling, customer communication, design and design controls for optoelectronic products, and semiconductor laser manufacturing. He was part of the Micro Optical Devices (MODE) team, a start-up VCSEL manufacturer that was acquired by Emcore. At MODE, he established and managed the VCSEL back-end and packaging operations. Previously, he was at Sandia National Laboratories, where his focus was R&D in optoelectronics, including VCSEL-based optical interconnects. He holds a Ph.D. in electrical engineering from the University of Virginia where he researched guided-wave photonics.
Mial Warren | Director of Technology
Mial was part of Sandia National Laboratories' very successful VCSEL development activity, where he worked with John Joseph and Rich Carson. He did some of the earliest research on phase-locked arrays of VCSELs and pioneered the integration of VCSELs with diffractive and nanometer-scale optical elements to develop micro-optical systems for sensor and data communication applications. His later experience includes managing the Photonics Research group at Sandia and project management in a variety of technology areas. He retired as a Distinguished Member of the Technical Staff after 23 years at Sandia National Labs to join the TriLumina team. Mial has a PhD from the Optical Sciences Center at the University of Arizona.
BOARD OF DIRECTORS
David Baum | Board Director & Managing General Partner, Stage 1 Ventures
David is Managing Director of Stage 1 Ventures. Investments include Carvoyant, PureCars, Donde Esta, AutoNet Mobile, and OpenBay, Carbonite, e-Centives, Skyhook Wireless, Splunk, AdelaVoice, Instream, OwnerIQ, Veloxum, Paydiant, FlashNotes, XPeerient (sold to Net-Net), Delfigo Security, go2, FrameMedia, Auspice, Vivox, Mobee, Sitewit, Coherent Path, ConnectTowers, Nexercise and Zink. He is also Managing Director of S1 Capital Partners, a later stage secondary/growth equity investment vehicle which has investments into YMAX, Corp, which created MagicJack.
David was a key principal that raised, launched, staffed, and managed Prism Venture Partners, a leading early stage venture capital fund which was founded in 1996. David founded two companies including Pensoft Corporation, a venture-backed (Mohr, Davidow Ventures, IVP, and Bay Partners) mobile communications company that was sold to AT&T in 1994. David also had stints at IBM and Genentech. David's investment focus areas are: mobile applications and systems, consumer and business cloud-based applications, the Internet of Things, commercial drones, the connected car, and data communications equipment. David earned a BS in Computer Science from Drexel University and holds an MBA from the Harvard Business School.
Ray Quintana | Board Director & General Partner, Cottonwood Technology Fund
Ray Quintana is a partner at Cottonwood Technology Fund. Investment professional with 20+ years of experience in global technology assessment, corporate venturing and venture capital investment. Prior Partner and Principal Investor with Ascendant Global Technology & Total Media Ventures. Senior Strategy & Corporate Development manager for Global Technology companies, Texas Instruments and Robert Bosch Corporation. Competency driven Global Corporate Strategy development; Corporate Venturing, Global Mergers & Acquisitions of companies and enabling technology, Expansion of Global footprint; Expansion of product lines; Development of new products and product portfolios. MBA from the University of Michigan Ross School of Business served as CGMS Fellow.
Lee Rand | Board Director & General Partner, Sun Mountain Capital
Lee Rand is a Partner at Sun Mountain Capital. He has over 18 years experience starting and managing technology businesses at both startups and large corporations. Prior to joining the firm, Mr. Rand founded Knogee, ran business development for Intel's consumer electronics group, launched and managed the product marketing and standards team for Intel's blade based server initiatives, and led product management at semiconductor start-up Netboost. He also has extensive business consulting experience having worked at Ernst and Young early in his career and more recently as an independent consultant brought in by investors and the board to whealy danork with start-ups on strategy and operations. Mr. Rand is a Board Member of Sun Mountain Capital portfolio companies TriLumina Corporation, Incitor, Comet Solutions, Skorpios Technologies, JackRabbit Systems, KiwiLimon, and FINAE as well as a Board Observer at Aspen Avionics. He is a member of the Arrowhead Innovation Network Advisory Council at New Mexico State University's Arrowhead Center. Mr. Rand holds an M.B.A. from the Harvard Business School and a dual B.A. in Computer Science and Mathematics from Cornell University.
For more information, please contact:
Clark Waterfall, BSG Team Ventures, at clark@bsgtv.com
Carolyn Muszynski, BSG Team Ventures, at carolyn@bsgtv.com
Diane Amador, BSG Team Ventures, at damador@bsgtv.com