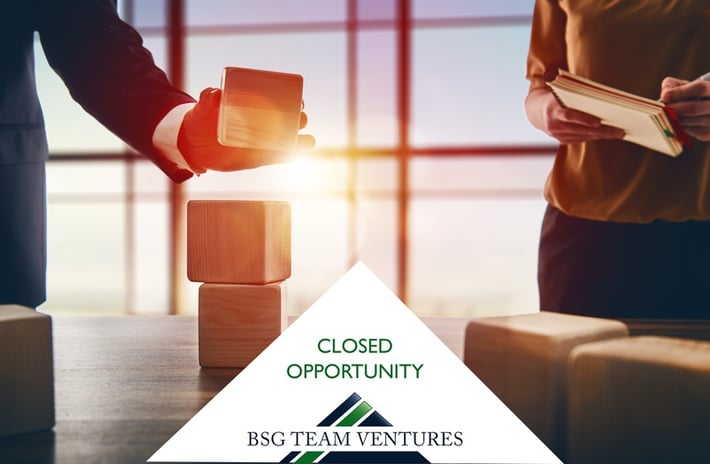 Chief Financial Officer
The Company
An Industry Leader in Human Capital Management Technology
iSystems, LLC, branded as Evolution HCM, is a market-leading, end-to-end HR/Benefits/Time software suite. iSystems' solutions are sold to payroll and HR services providers, banks, CPA firms, and insurance companies who in turn resell the software as a service to the end corporate customer in the small and medium-sized business market sector.
Developed by service bureau professionals, iSystems' fully integrated Evolution® Payroll, HR, and Tax Management software offers service providers a path to growth and success with unparalleled accuracy, productivity, and financial control. Backed by over 14 years of ongoing research and development, Evolution provides its users the flexibility and best practices to handle clients of all size and complexity levels, as well as meet the ever evolving needs of the industry.
iSystems, LLC was founded in 1996 and is based in Colchester, Vermont.
If this sounds like the opportunity for you, read below!
Evolution HCM Market & Opportunity
Payroll and HCM service bureaus today need more than simple payroll and tax calculation software. To succeed, they need a powerful HCM system designed to meet the complex payroll, HR and benefits needs of their clients, as well as the technology challenges of a continuously shifting business landscape.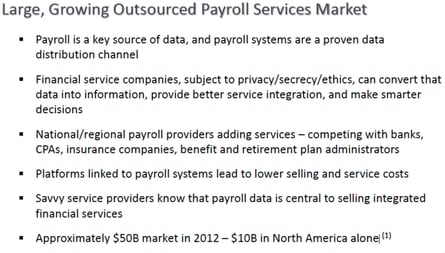 Evolution is a dynamic Payroll, HR, and Tax Management system developed by payroll and HR service bureau veterans for the Human Capital Management (HCM) industry. Providing unparalleled accuracy, productivity, and financial control within one fully integrated platform, Evolution gives the HCM service bureau the power and flexibility to operate and grow their business while continuing to meet the growing trends of the industry.
Evolution HCM Product & Services Offerings

Evolution HCM products and services include payroll, tax, HR, and CRM software for the payroll service bureau market and other financial services.
Evolution offers come in three different packages of features and functionality: Evolution Classic, Evolution Payroll, and Evolution HCM.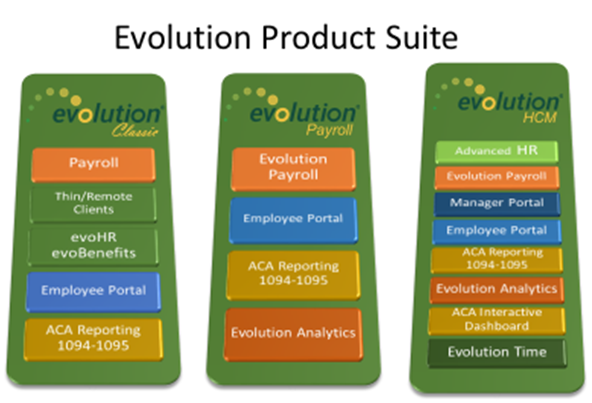 Evolution HCM is the latest set of offerings that includes the following capabilities: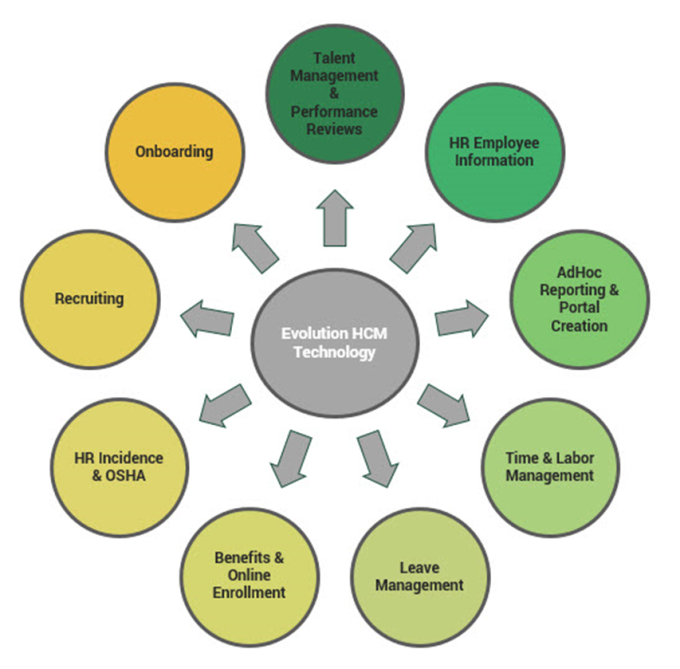 iSystems has partnered with best in class partners where possible to offer the most comprehensive suite of software and solutions for its customers. Some of these include the following:

The Position
As a key member of the management team, the CFO will provide strategic financial input and leadership on decision-making issues affecting the organization by the development of sophisticated financial planning, budgeting and forecasting models for operating and capital purposes, product/service profitability and contribution analyses and special project analyses as needed. Key to the role is an ability to bring a strategic level of leadership to the finance function, serving as financial strategist while managing the day-to-day requirements of the finance, legal & HR departments.
The CFO will be part of the senior operating team with principal responsibilities including:
Oversee and direct finance, treasury, budgeting and forecasting, audit, tax, accounting, purchasing, forecasting, and metric management activities for the organization.

Provide strategic and tactical thinking, as well as broad business insight. Take a leadership role in developing the financial strategy to support the growth of the business, while continuing to drive operating efficiencies.

Interact with the company's Board of Directors, including audit committee and outside independent auditor firm, including producing monthly financial statements for Board, CEO, lenders and other management.

Support & partner with senior management team with improved ongoing analytical and financial management data and insight, developing and utilizing forward-looking, predictive models and activity-based financial analyses to provide insight into the organization's operations and business plans.

Develop and maintain a strong relationship with lending institutions, investment bankers, financial analysts, shareholders and the financial community in general.

Manage all corporate financial functions including general accounting, internal reporting and controls, planning, human resources, budgeting, forecasting and variance analysis.

Oversee all regulatory and tax reporting.

Direct the preparation of annual operating and capital budgets and cash flow projections.

Drive any additional capital raising efforts, if needed.

Establish best practices, identify and implement operational and system enhancements, and recommend new initiatives.

Maintaining and improving "dashboard" of key metrics and distributing weekly and monthly reports.

Overseeing cash, funds, investment and asset management.

Managing the relationship with the Company's lenders and ensuring compliance with its various reporting requirements.

Overseeing and coordinating tax reporting and annual audit.

Analyzing, consolidating and directing all cost accounting procedures together with other statistical and routine reports.

Directing and analyzing studies of general economic, business, and financial conditions and their impact on the organization's policies and operations.

Ensuring financial compliance with company procedures, programs and government regulations.

Evaluating and recommending business partnership opportunities.
Ideal Candidate Profile
A summary of key competencies required to be successful include the following:
FUNCTIONAL Experience

Financial

Forecasting

Financial Cash management (AR/AP, treasury)

Board reporting

Modeling (financial impact on customers, markets, products)

Audit & regulatory management (CPA and audit committee)

Operating & capital budget creation/ management

Lender & bank covenant management

M & A Relationship management (buy & sell-side)

Accounting & monthly closes (NetSuite)

Successful M&A and/or public exit experience

Tax, including Revenue recognition & Stock options accounting, etc.

Financial dashboard creation & management of KPIs

Professional & educational Certifications: CPA

Legal

Contracts: Creation, review & Management

IT
Human Resources

Staffing, Oversight & reporting

Office Management

INDUSTRY: software

Human Capital Management (HCM)

Payroll & Tax Management

Affordable Care Act Compliance

Benefits & Benefit Enrollment

CUSTOMERS serving small/medium businesses

Payroll services providers

HR services providers

Banks

CPA & booking firms

Insurance brokers

CORPORATE STAGE

Growth and harvest partner mapping & development

Scaling while doing more with less

Working with Board of Directors comprised of founders and investors

Sales growth from $10—> $50M+

Building processes that scale without suffocating

GEOGRAPHIC

Northern Vermont (Burlington area)
GENERAL:
Finally, this individual should have as many as possible of the traits required to succeed in this leadership position:
High levels of intelligence, analytical strength and conceptual ability.

The ability, and willingness, to set and communicate demanding standards for professional staff and to hold people accountable for their performance; at the same time, sensitivity to, and insight into individuals' capabilities and development needs, and the combination of firmness and likability that all good leaders possess.

Decisiveness when necessary, coupled with a willingness to seek input and build consensus as much as possible.

Unquestioned honesty and integrity; also, loyalty to colleagues and to the organization, and the ability to inspire loyalty. This person should have the ability to identify and focus on the Company's best interests, rather than the agenda of any individual or group within the firm.

A very high level of energy and commitment, combined with enthusiasm and a positive attitude.

Excellent writing and speaking skills; this individual must be able to communicate complex ideas and information clearly and concisely.

Outstanding planning and organization skills.

Good strategic instincts and long-term vision; the ability to address both big-picture issues and detailed, day-to-day management concerns.

In general, the business and personal skills, and the absolute commitment required to make a major contribution to The Company during the coming years.

Attention to detail required to deliver consistently accurate data, information and reporting on time and on budget.

A sense of ownership, not just of his or her own work, or that of their department, but a sense of ownership for the company as a whole.

Work ethic required to do what it takes to get the job done, and invest the time required to deliver on key responsibilities in a timely fashion.
Ideal Candidate Profile
The diagram below illustrates a comprehensive intersection of competencies critical in the CFO position: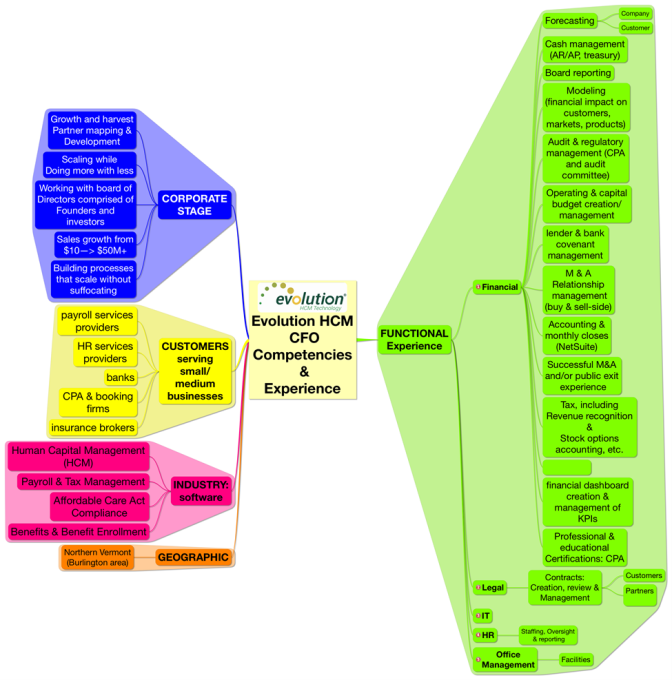 Team
The iSystems team currently numbers approximately 50, with plans for additional growth both at their headquarters location in the greater Burlington, Vermont area, as well as in its professional services division offices in Bradenton, Florida.
Financial Backing
Private equity firm Silver Oak Services Partners purchased a controlling interest in iSystems in May, 2014. As such, Silver Oak brings operating expertise, expansion capital, and both organic and inorganic strategic growth leadership that catalyzes all of their portfolio companies.
Compensation
Compensation is competitive with the position's requirements. In a performance-based environment, this will include base salary, bonus structure based on corporate qualitative and quantitative business development targets, and a stakeholder position in the company.
More Information
Silver Oak Services Partners Leads Acquisition of iSystems, LLC
iSystems Expands HCM Technology via acquisition of Blue Gecko Software
iSystems 2015 White Paper on the Affordable Care Act and its impact on businesses and HCM
Executive Management Team & Board of Directors
Listed below is a selection of key executives of the iSystems team. See here for the complete list and profiles.
Michael Trahan | Founder & Chief Executive Officer
Michael has been in the payroll/HR industry for 26+ years. After founding and operating a successful service bureau, PayData, for more than 12 years, Mike accepted the challenge of developing his own payroll service bureau software platform. The result was iSystems and the Evolution Payroll suite. Previously, he spent 15 years of his early career in management and software development. Mike received an Associate of Science degree in Computer Science with a minor in Accounting from Concord College.
Desiree Hanley-Trahan | Founder & CTO
Desiree has been in the payroll/HR industry for 25+ years, beginning with PayData Payroll service bureau. For 11 years, she grew with the business in various roles before becoming its Operations Manager. In 1998 she joined Mike in establishing iSystems. Her years of payroll operations experience and product knowledge made her the subject matter expert on the initial development team, and her strong leadership skills helped her to drive the effort to develop the most advanced service bureau product available on the market today.
David Meagher | President
David has 30 years in the payroll/HR industry, including working with start-ups and national firms, such as Advantage Payroll, Paychex and CompuPay. At Advantage he grew the sales organization from 2 to 165 over a 4-year period while the client base increased from 9,000 to 54,000. At Paychex he oversaw all marketing and business development programs and launched the company's first international venture in Frankfurt, Germany. At CompuPay he turned a "dial and discount" sales organization into the referral and network-based organization it is today. David has also owned and operated a consulting firm focused on the payroll/HR market. He has an MBA from Babson College and a Bachelor of Science degree from Springfield College.
CA (Carol-Ann) McGregor | VP Engineering
CA joined Evolution in February 2014 and brings to the company over 30 years' experience in software development, product management and information technology. CA originates from South Africa where she worked for 15+ years at SA Breweries, before the company acquired Miller and Coors, to become SABMiller Coors. CA also spent 5+ years working in the financial services industry in South Africa, particularly for the largest bank (ABSA) and SARS (the SA version of the IRS). In 2001, CA and her family immigrated to the USA and CA spent her time working for a student loan organization, Compuware, Fidelity, and Kronos. During her career, CA has contributed to several products in different technical positions such as developer, architect, product manager, Scrum Master, Program Manager and Program / Engineering Director. CA has built several human capital and business intelligence systems for SA Breweries, Fidelity and Kronos.
CA holds a Degree in Psychology and Criminology from the University of South Africa.
Kathey S. Palmer | Senior Vice President, Sales & Marketing
Kathey joined Evolution in October 2014 and brings to the company over 30 years' experience in business development, marketing, sales management and corporate communications. Kathey's payroll industry experience spans 14 years including most recently BenefitMall, as Senior Vice President, Business Development, CompuPay as Senior Vice President, Business Development and Marketing, and PayMaxx as Vice President, Business Development and Marketing. Prior to that, Kathey was the Senior Vice President of Marketing, Sales Support and Investor Relations for American HomePatient.
Kathey holds a Masters' Degree in Public Administration from the University of Alabama and a Bachelor of Science degree in Political Science and Economics from Mississippi University for Women
BOARD OF DIRECTORS
Andrew F. Gustafson | Board Director & Vice President, Silver Oak Services Partners
Mr. Gustafson is responsible for initiating investment opportunities, structuring acquisitions, coordinating due diligence, negotiating debt financings, working with portfolio company management teams on an ongoing basis and arranging for the disposition of investments. Prior to joining Silver Oak, Mr. Gustafson was a Vice President at Thoma Bravo LLC, a middle-market private equity firm with over $3 billion under management, where he was responsible for private equity investments in the business and financial services industries. Prior to Thoma Bravo, Mr. Gustafson was a consultant in the Chicago office of the Boston Consulting Group, where he focused on strategy and corporate development advisory. In addition, Mr. Gustafson's private equity experience includes two years as an associate at Willis Stein & Partners, LLC, and a summer associate position at Wind Point Partners. He began his career in the investment banking division of Goldman Sachs & Co., where he was involved in a variety of merger and acquisition transactions.
Mr. Gustafson currently serves on the board of directors of VASA Fitness, iSystems and Direct Travel. Mr. Gustafson previously served on the board of directors of Convergent Resources and Porter & Chester Institute. He received an MBA from Northwestern University's Kellogg School of Management and holds a B.A. degree in Economics from Middlebury College.
Daniel M. Gill | Board Director & Managing Partner, Silver Oak Services Partners
Mr. Gill is responsible with Mr. Barr for managing the affairs of Silver Oak. Prior to the formation of Silver Oak, Mr. Gill was a Founding Partner and Managing Director of Willis Stein & Partners, LLC, a series of three private equity limited partnerships with nearly $3 billion under management. Mr. Gill and four other partners formed the firm in 1995 after successful careers together at CIVC, a subsidiary of Bank of America (formerly Continental Bank). Prior to CIVC, Mr. Gill worked in the Corporate Finance Department of Kidder, Peabody & Co.
Mr. Gill currently serves on the board of directors of VASA Fitness, iSystems, Physical Rehabilitation Network, Direct Travel, Glazer-Kennedy Insider's Circle and the Pediatric Dental Practice Management platform. Mr. Gill previously served on the board of directors of Convergent Resources, Physicians Endoscopy, Advantage Payroll Services, CompuPay, Aurum Technology, Dynamic Hospitals, Interlink Communications Partners, Education Corporation of America, Merit Health Systems Corporation and six other companies. He is past president of the Board of Trustees of the Illinois chapter of the Leukemia and Lymphoma Society. In addition, he has been a speaker at the University of Chicago, Graduate School of Business. Mr. Gill received an M.B.A. from the University of Chicago, Graduate School of Business and holds a B.A. degree in Economics from Bucknell University.
For more information...
Please contact:
Clark Waterfall, BSG Team Ventures
Don Clark, BSG Team Ventures
Diane Amador, BSG Team Ventures
Please also submit your resume here.