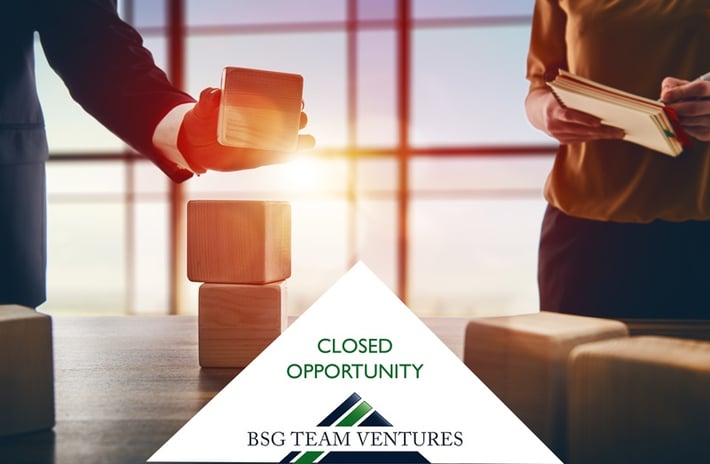 The Company
The Complete Solution for Video Collaboration
The Company provides a next generation media content management and streaming solution for Global 2000 companies. Their cloud-based platform delivers data-driven experiences; and their strategy of making video scalable, reliable, and secure has garnered the best return of investment of any video service. In under two years, The Company has been chosen by many globally known brands who are interested in multi-casting and sharing video with ease.
The Position
The Company is looking for a new leader to take the newly-formed and recapitalized company to new levels in the fast-growing market for video applications in the enterprise. This person will be reporting to and be a member of The Company's Board of Directors. The opportunity has been created to spin off the enterprise business after a partial exit for the company, successfully selling the consumer video side to a strategic acquirer.
The new CEO will set the strategy and vision of the company, and drive the execution of the business. This is a hands-on role and will be required to proactively generate revenue in addition to manage the company.
If this sounds like the opportunity for you, read below!
Profile
The successful candidate must have:
At least 5 years of senior-level management experience.

A compelling background of success in the enterprise software solutions space growing a company's user base and revenue, preferably with direct experience in audio/video solutions.

A strong background in business development and rolodex with major players such as Microsoft, Polycom, Akamai, Amazon, Cisco and others.

Experience with SaaS-based delivery and revenue model.

Experience in software and platform based technology is strongly preferred.

Experience in enterprise and media networking is also a plus.

Extensive experience working with a BOD and able to run BOD meetings.

Willing to roll up their sleeves and bring in business while managing the company.

Small company experience, building and growing revenue streams (e.g. $5mil to $50mil).

Excellent interpersonal skills and able to lead the internal organization and be the external evangelist for the company.

Previous experience in a CEO role or an experience level and track record that has prepared them for a CEO position as the next step in their career.

Significant experience both developing and implementing strategies for achieving business objectives, in addition to organizing and managing multiple priorities in a fast paced, challenging environment.
Ideal Candidate Profile
A summary of key competencies required to be successful include the following:
FUNCTIONAL EXPERIENCE
Prior full P&L leadership as CEO, President, COO or GM and Divisional VP

Functional VP career history in sales, strategy/strategic marketing, or business/corporate development

Experience bringing new enterprise software products to large markets/big corporate customers & partners

International market & customer development track record via global sales/marketing experience, both EU and APAC

Experience in video CDN products & industry

Strategic partnership development using channel, dealer, distributor, VAR & OEM & joint venture structures
MANAGEMENT & Leadership Experience
Leadership approach (style & methodology) -- passionate/assertive (not aggressive)

Building scalable management processes without suffocating innovation/speed

Track record working and leading teams with diverse international and cultural heritage

Track record hiring/upgrading to A players for A team (focus on commercial side)

Driving creation and alignment on KPIs, goals, metrics across entire team

Best practices in organizational development & mentoring
CORPORATE STAGE
Equity fundraising (venture capital and/or strategies)

Strategic partnership development

Working with board of directors comprised of founders and investors

Scaling while doing more with less

Sales growth from $2 —> $50M+

Successful exit(s) as CEO for investors

Experience bringing new/novel products into large enterprise industries

Establishing new industry beachheads in multiple sectors (chasm-crossing)

Vision-selling experience to both customers, partners and investors around emerging markets to industry leader/best of breed
INDUSTRY
ECDN software (enterprise content delivery networks i.e. Akamai)

EVCM (enterprise video content management i.e. Qumu, Kaltura, etc.)

Video webcasting software (i.e. Brightcove)

Audio/video speech recognition (i.e. Nuance)

Video hardware/software OEMs (i.e. Cisco, Polycom, etc.
General
Finally, this individual should have as many as possible of the traits required to succeed in this leadership position:
High levels of intelligence, analytical strength and conceptual ability.

The ability, and willingness, to set and communicate demanding standards for professional staff and to hold people accountable for their performance; at the same time, sensitivity to, and insight into individuals' capabilities and development needs, and the combination of firmness and likability that all good leaders possess.

Decisiveness when necessary, coupled with a willingness to seek input and build consensus as much as possible.

Unquestioned honesty and integrity; also, loyalty to colleagues and to the organization, and the ability to inspire loyalty. This person should have the ability to identify and focus on the Company's best interests, rather than the agenda of any individual or group within the firm.

A very high level of energy and commitment, combined with enthusiasm and a positive attitude.

Excellent writing and speaking skills; this individual must be able to communicate complex ideas and information clearly and concisely.

Outstanding planning and organization skills.

Good strategic instincts and long-term vision; the ability to address both big-picture issues and detailed, day-to-day management concerns.

In general, the business and personal skills, and the absolute commitment required to make a major contribution to The Company during the coming years.

Attention to detail required to deliver consistently accurate data, information and reporting on time and on budget

A sense of ownership, not just of his or her own work, or that of their department, but a sense of ownership for the company as a whole.

Work ethic required to do what it takes to get the job done, and invest the time required to deliver on key responsibilities in a timely fashion
Ideal Candidate Profile
The diagram below illustrates a comprehensive intersection of competencies critical in the CEO position: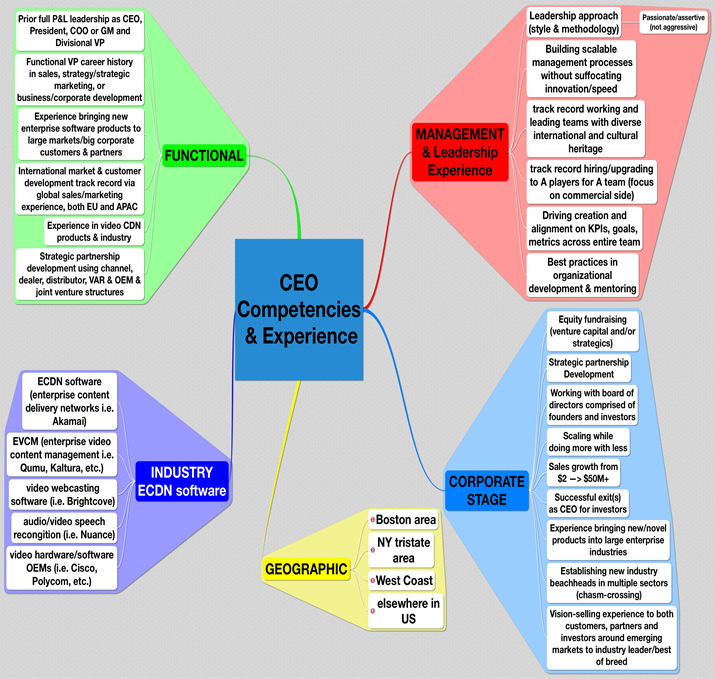 The Team
The Team currently numbers approximately 25, with plans for additional growth in 2015.
Financial Backing
The Company's investors include a syndicate of blue chip venture investors, led by Fairhaven Capital and StarVest Partners.
Compensation
Compensation is competitive with the position's requirements. In a performance-based environment, this will include base salary, bonus structure based on corporate qualitative and quantitative business development targets, and a stakeholder position in the company.
For more information...
Please contact:
Clark Waterfall, BSG Team Ventures
Diane Amador, BSG Team Ventures
Please also submit your resume here.