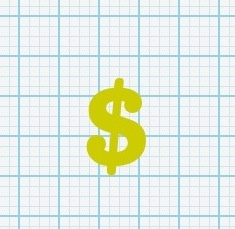 As executive recruiters, we are often asked about executive compensation.
When we complete an assignment, we aggregate the compensation data we have collected across the search, and share it with the executive talent community from which it came. In this case, in Q1, 2015 we finished a President search for a ~$200M e-tailer client located in the South Central region of the US.
Our search strategy focused on the target talent pool comprising titles including: VP e-Commerce, Chief Revenue Officer, VP Merchandising, VP Retail, VP Marketing, VP Omnichannel Marketing, and General Managers of Global e-Commerce and similar. The goal was to identify an executive who had extensive experience and a successful track record in online consumer customer acquisition, conversion & retention using a deep toolbox of SEO, SEM, social, mobile and linear advertising methods (TV, print, radio).
Here is the snapshot of compensation highlights from our search—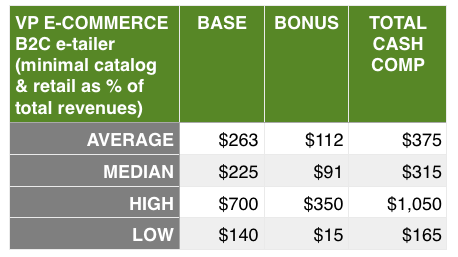 Some other statistics that were relevant to the above numbers include the following: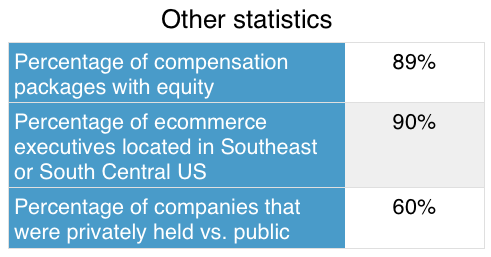 Two areas of additional compensation are not captured in the above data but are worthy of note:
A large majority of executive candidates had equity--either in stock options if privately held companies, or in RSU's (restricted stock units) if in publicly traded companies

At least a third of executives had an LTIP (long term incentive plan) structure that added another 100-200K in annual compensation, with a 3 to 5 year rolling vesting schedule. In simple terms, the LTIP structure had an annual bonus on top of standard bonus structure that would be granted with a vesting schedule, where if the annual bonus grant was 90K with a 3 year vest, 30K would vest at the end of 1 year since grant, the second 30K at the end of the year 2, and the final 30K at the end of the third year. If this occurred 3 years in a row, every year from the fourth year and beyond would have at least 90K or more vesting and paid out to the executive on top of salary, and annual performance bonus.
Finally, it is important to note that while the sample set of data was between 25 and 50, it is not a definitive study, but more directional in nature.