Highlights:

Title/function: CFO (Chief Financial Officer)
Ownership structure & size: PE-backed middle market
Industry: services industry sector
Location: Northeast US
As executive search consultants, we are often asked about executive compensation.
When we complete an assignment, we aggregate the compensation data we have collected across the search, and share it with the executive talent community from which it came. In this case, in Q3-Q4, 2017 we finished a CFO search for a growth equity services middle market client located in the Northeast US focused on selling global B2B services (BPO/business process outsourcing services).
Our search strategy focused on the target talent pool comprising those who either currently or in recent past roles held titles of CFO, Chief Financial Officer, CFO & COO, & VP Finance (if reporting directly to the CEO). Critical skills & experience included the ability to perform "CFO+" role, including not just finance, but IT, HR, facilities & legal. In addition, there was a strong emphasis on FP&A/financial planning and analysis to enable the company to integration tuck-in acquisitions, as well as improve operating insights via KPI dashboards. Finally, it was important the the CFO have the experience and gravitas to be own the relationship with the lender regarding lending covenants reporting and adherence, as well as reporting in a consistent and clear fashion with the private equity control investor . The CFO's team was between 7 and 10 including 4-6 in finance. Below is the summary compensation data—

Graphing each compensation component of base salary, bonus, and OTE (on target earnings) this is what takes shape when you break it out into quartiles—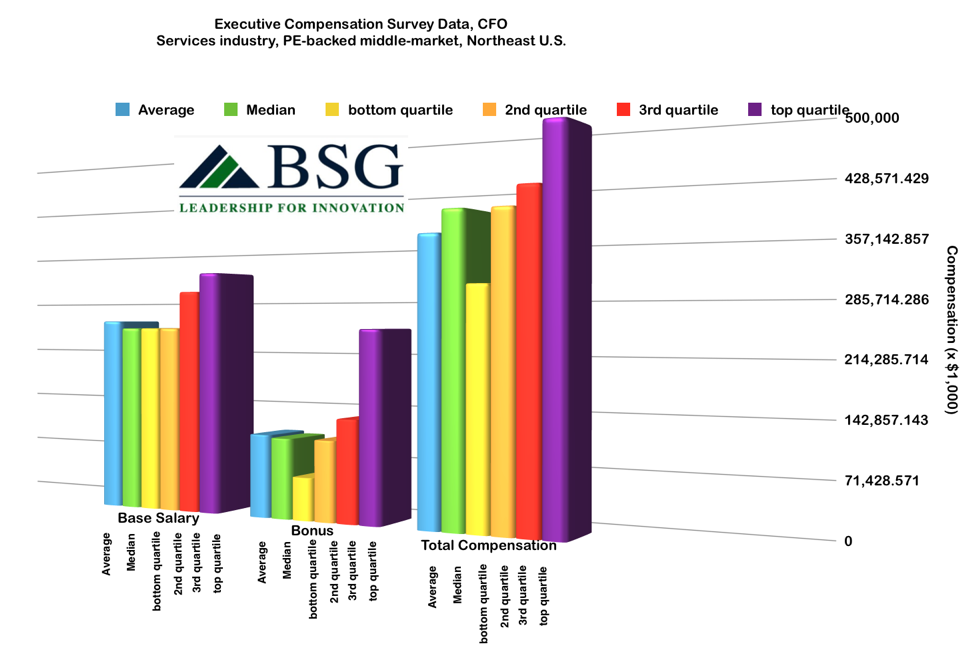 In looking at bonuses, it was interesting to ascertain bonus as a multiple of base salary. Below is what we found, again broken out into quartiles—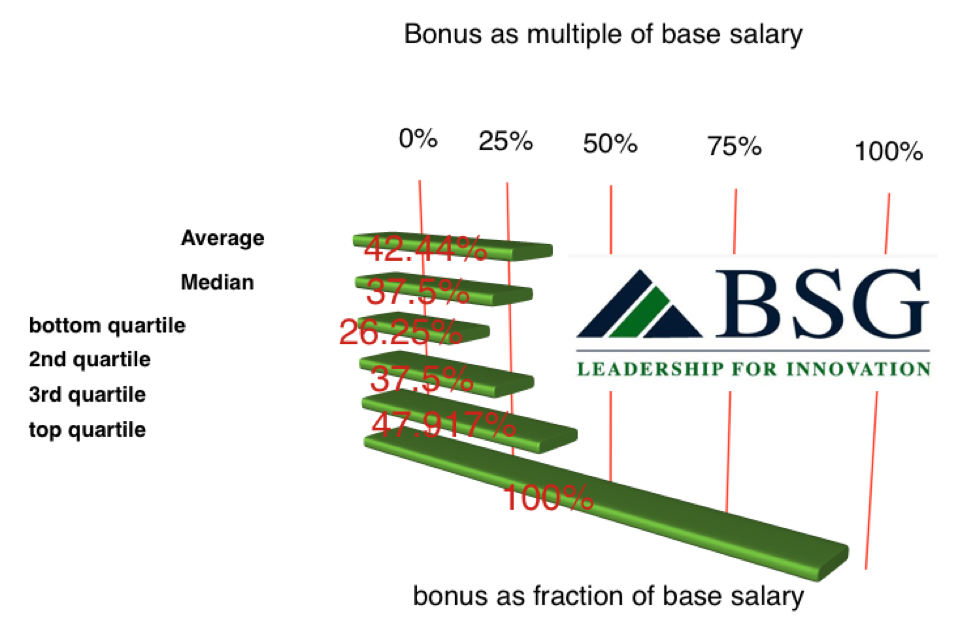 This data is relevant for private equity-backed/growth equity-backed services businesses that are profitable, with 15-30% annual top line growth rates, and revenues between $40M and $100M with the position being based in urban metropolitan Northeast US.

As for equity participation by the CFO, 79% of CFOs recruited had equity as part of their compensation, with an average equity grant of 1.1%.


Looking for your next great executive? See how BSG can help.