About the Company
Approximately thirty-five million Americans are covered by a flexible spending account (FSA) and each year, our client estimates that consumers collectively forfeit over $400 million back to employers because they don't deplete their flexible spending accounts (FSAs). The client operates an online shopping website for FSAs which are employer-based programs that allow consumers to set aside tax-free dollars to purchase medical products and services – from band-aids to smoking cessation programs and tens of thousands of products and services in between.
Our client is the only one-stop-shop stocked exclusively with FSA-eligible products and services so there are no guessing games as to what is and is not reimbursable, a dilemma consumers face every time they walk into a drugstore. In addition to more than four thousand FSA-eligible products, the site offers a national provider database of FSA-eligible services and an FSA Learning Center. The biggest challenge to the consumer in capitalizing on the tax benefits of the FSA is sorting through the arcane rules of what is eligible and what is not. Given how difficult this can be for the consumer to do, many FSA account balances simply languish until year's end, and then revert back to the employer.
The company was founded on the idea that it should be easy and convenient for a consumer to use their FSA and recently launched site enhancements, even in the face of recent eligibility changes, which require consumers to obtain a physician's prescription for many products in order to be reimbursed by their FSA.
The Company has unequalled expertise in flexible spending account eligible products & services. FSA's offerings include the following:
PRODUCTS: Baby care products, cold and allergy, diabetes care, digestive health, elastics/athletic treatments, eye/ear care, family planning, feminine care, first aid, foot care, home health care, oral care, pain relief products, skin care, smoking deterrents, and vitamins/dietary supplements.
SERVICES: The Company also provides services in the areas of primary care, cancer, heart health, radiology, mental and behavioral health, surgery, pathology, orthopedics and sports medicine, and women's health services, as well as ear, nose, and throat.
The company was founded in 2010 and is based in New York, New York.
About the Position
Reporting directly to the Founder & President, the Chief Revenue Officer will play a senior leadership role overseeing all revenue generation for the company, holding leadership responsibility for a team of three to seven (plus), covering both online and offline marketing, merchandising, business development, and partner sales.
Responsible for the overall topline, the CRO will recommend appropriate strategies, tactics, and operational initiatives to continuously build measure and enhance revenue opportunities for the Company. The CRO will provide vision and leadership for each of the three major revenue legs— online acquisition, offline channel partnerships, and marketing/public relations initiatives-- specifically driving the Company's consumer brand awareness and ubiquity.
This role will also work closely with Operations to close, onboard, and drive partner program effectiveness. The CRO will also work in concert with Engineering to optimize UI, UX, merchandising, and retention.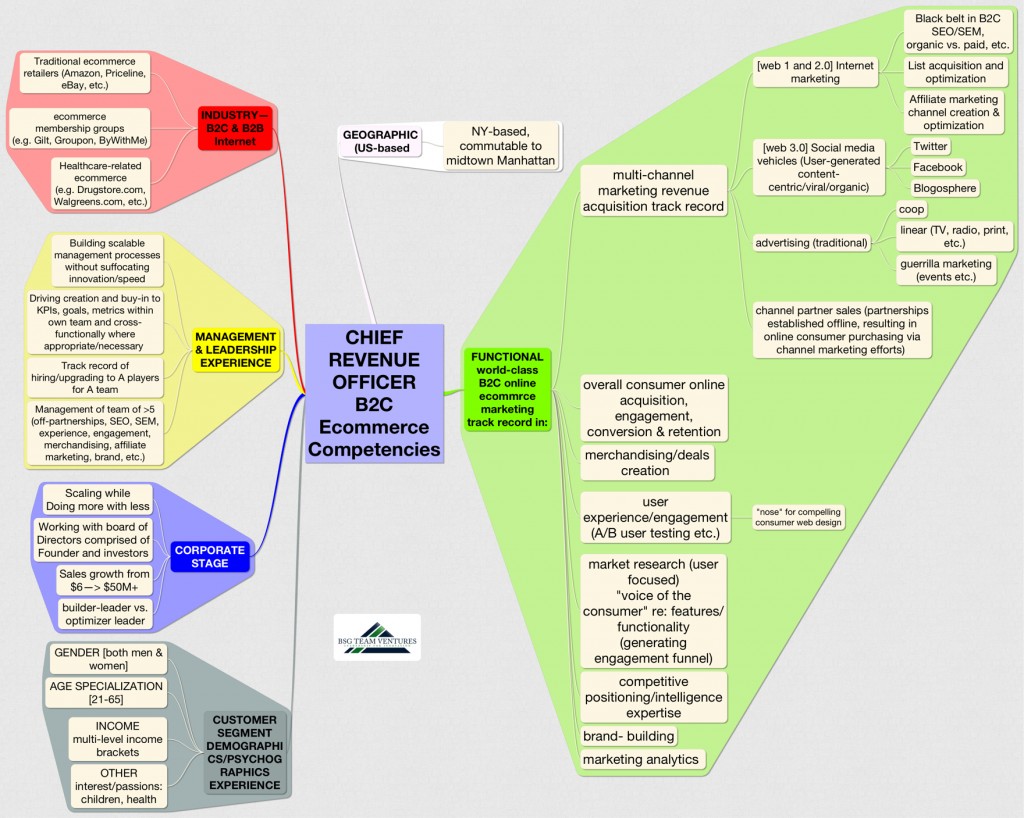 Reporting directly to the President, the Chief Revenue Officer shall:
• Successfully lead and manage a sales and e-commerce team of three to seven staff
• Be responsible for hiring, training, measuring, and motivating the team
• Building new and expanding existing partnerships with third-party administrators and other channel partners to drive program adoption and execution
• Drive online marketing excellence in search engine optimization, search engine marketing, affiliate marketing, online social awareness (e.g., Twitter, blogs, Facebook) with single-minded goal of revenue growth and optimization
• Travel when needed to meet key partners and partner prospects to establish, develop, and maintain those relationships, including the management, expansion, and renewal of multi-year partner contracts
• Manage short- and long-term staff planning, recruitment, performance management, work assignments, training, mentoring, career development, and recognition or disciplinary actions
• Set up processes for project team selection, resource loading, KPIs, etc.
• Own and drive overall budgeting, forecasting, and performance measurement against goals
• Be responsible for business planning and proposals, operating budgets, and financial terms/ conditions of contracts for all revenue channel partners.
The successful candidate must also have the ability and experience to lead a multi-disciplined organization.
click the more button below to see rest of blog post, including the job description
Skills & Personal Characteristics
• Defined by others as smart, capable, hands-on, energetic, and someone who possess a strong entrepreneurial spirit
• A proven communicator both within the sales/marketing function, but as importantly, cross-functionally throughout the organization, and up and down the organizational hierarchy
• A strong, assertive personality, able to make a creative contribution and build buy-in for ideas, as well as integrating ideas of others
Staff
The team reporting into the Chief Revenue Officer is currently four employees, supplemented by a number of consultants. Departments that report into this role include the following:
• Partner Sales (primarily selling TPA relationships)
• Online marketing (SEO, SEM, social, & merchandising)
Currently, the entire full-time team is based at the corporate headquarters in midtown Manhattan.
Compensation
Compensation is competitive with the marketplace. In a performance-based environment, this will include base salary, incentive bonus structure based on qualitative and quantitative metrics, and the opportunity to participate as equity stakeholder.