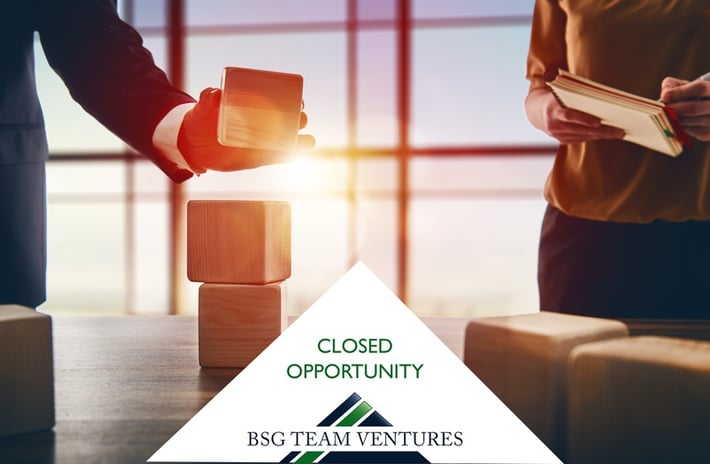 Rent cars for less when you travel
Our client lets people parking at the airport and rent their vehicles out to other travelers. Every rental is insured up to $1 million, and every renter is pre-screened. Depending on the type and model year of the vehicle, the owner can also make up to $20/day. The company will pick the vehicle owner up and drop them off curbside and give the owner a free car wash. Benefits for the renter include free GPS and free insurance.
With premier venture capital behind them and a long list of famous and connected angel investors, the company is poised for serious growth beyond the traction they have already established at San Francisco and Boston Logan International Airports.
The company is headquartered in Northeastern United States.
The Position
The Chief Operating Officer will play a senior leadership role, both strategically and day-to-day, overseeing both the external and internal service delivery functions for the company, with principal accountabilities for operations, business development, and ongoing customer service.
The COO will help build a profitable model that can be duplicated/expanded rapidly into other cities, implement rapid expansion locally both via organic growth and new city expansion, and participate in raising additional venture capital as needed.
In the immediate term, this role will assist the CEO/Co-Founder in building out the multi-city test bed that will serve as the foundation for additional expansion in their next phase of growth. This requires proving the model in current metro markets, and readying the firm for a national roll-out. Creating processes that scale is critical, including standard operating procedures, best practices, and operating manuals for all service-related components.
Detail of Responsibilities
The FlightCar COO's core responsibilities will include:
Ensure that operations are scalable, documented, & transferable to other cities

Establish relationships with suppliers

Understand, be able to work with, and communicate effectively to both FlightCar markets: car owners looking to park and rent their vehicles while traveling, and renters looking to rent a vehicle while they're in town

Understand critical roles of—

Marketing ( demographics, behavior, acquisition, positioning)

Customer satisfaction (quality & effect on viral marketing)

Operations (fluid & fail safe)

Grasp the critical financials of the business and govern by them

Use resources wisely

Motivate staff positively and appropriately given stage of business

Seize opportunities and transform to FlightCar' s benefit

Have relevant contacts/connections

Work in a team environment both with executive staff and hourly wage workers
Detail of Desired Experience
Competencies & Characteristics
FUNCTIONAL EXPERIENCE
Prior P&L leadership as COO, VP Operations, or GM

Strong business-to-consumer services track record

Functional VP career history in service operations leadership

Region-by-region launch & roll-out of consumer service offerings

multi-city major metro area management experience

Shift-worker hourly employee recruitment, training, management, & scheduling optimization

Establishment & management of supplier/vendor relationships in multiple metro regions

Experience creating operations best practices & standard operating procedures for remote city teams

Establishing customer satisfaction & quality assurance methods & metrics for service operational excellence

Financial cost accounting experience, creating dashboards to measure and control costs, establish budgets vs. actuals, etc.
INDUSTRY B2C EXPERIENCE (clicks & mortar services)
Sharing economy web-enabled services (car sharing e.g. Zipcar, urban bicycle sharing e.g. Alta, AirBnB, VRBO, etc.)

High-end services franchising (Starbucks, residential cleaning services, Panera, minute clinics, etc.)

Higher end transportation services (livery/limo, private aviation, etc.)

Delivery services (grocery e.g. Peapod, bike messengers, food delivery e.g. Grub Hub, FedEx, UPS, etc.)

Concierge services (e.g. TaskRabbit, Circles, etc.)

4 star+ hospitality services (Ritz, Four Seasons, W brand, etc.)

Fleet management
MANAGEMENT & LEADERSHIP EXPERIENCE
Building scalable management processes without suffocating innovation/speed

Remote/multi-office team management

track record hiring/upgrading to A players for A team (focus on commercial side)

Driving creation and alignment on KPIs, goals, metrics across entire team

Best practices in organizational development & mentoring
CORPORATE STAGE
Scaling while doing more with less

Equity fundraising (private/VC & strategic)

Strategic partnership Development

Working with board of directors comprised of founder and investors

Sales growth from $2M —> $50M+

Prior successful exit(s) for investors as member of executive operating team

Experience bringing new/novel services to consumer markets
EDUCATION
Undergraduate degree required, with preference for business, management, finance, or economics, with MBA or other advanced degree a plus.
Ideal Candidate Profile
The following diagram illustrates the intersection of competencies critical in the Chief Operating Officer position: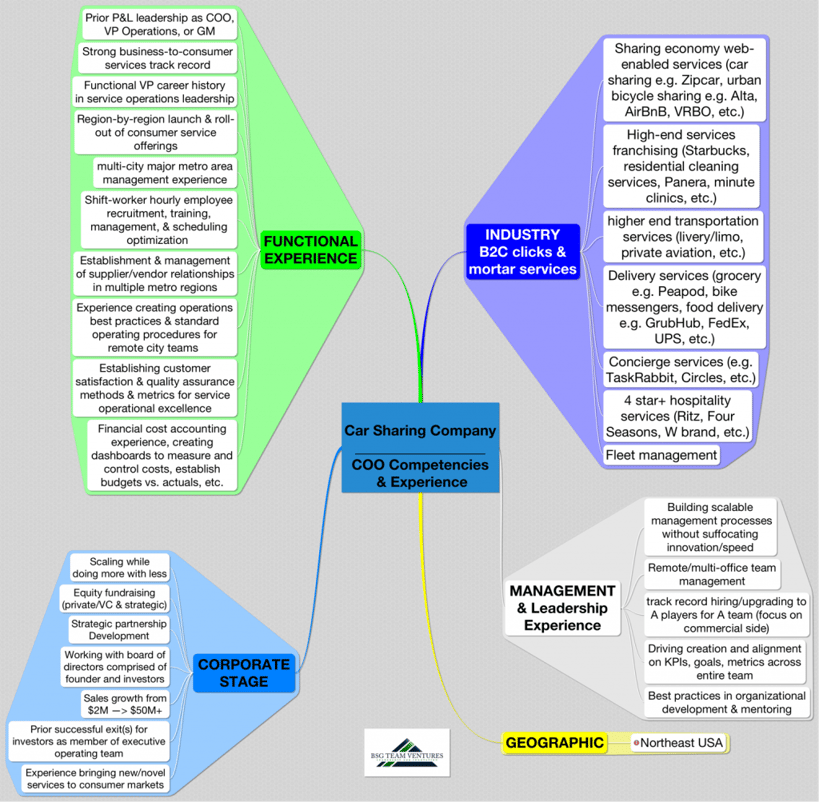 Please follow this link to submit your credentials (CV / resume, etc.)