We've just compiled the results from the most recent CEO survey we sent to our Rolodex of CEO relationships. The theme for this survey was a combination of economy-oriented questions like "What three cost reductions are you planning" and "Do you continue to anticipate further staff reductions," to following results to the opposite question, "What are you spending more on this year than last?"--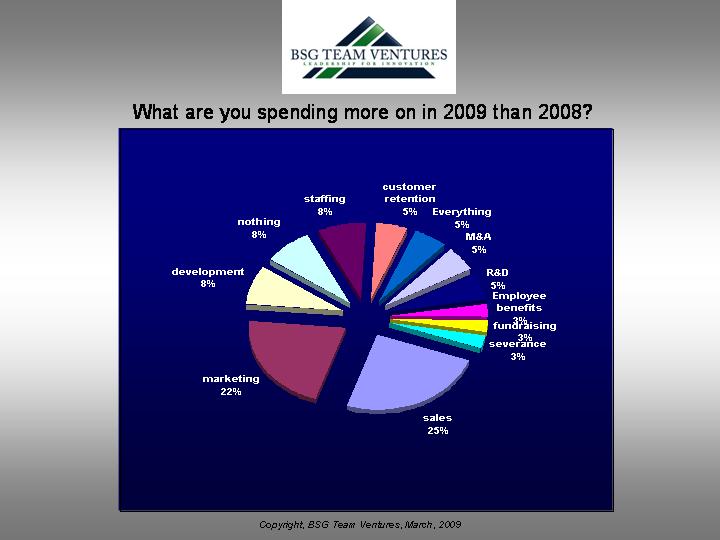 Great feedback and insights were provided by all, and thanks to all those who participated. Below are the slides of the responses, along with some of the content of the responses to questions like "What questions would you like to ask your peer CEOs if given the opportunity?"
When it comes to prognostications as to when the recession will end for innovation-stage companies these CEOs are leading, there was an overwhelming opinion that we still aren't out of the woods, with more than 60% voting that it won't be until 2010.
CEOs who responded were overwhelmingly venture-capital backed (~60%), with the balance of CEO respondents spread pretty evenly between private-equity backed, bootstrapped, and angel-funded.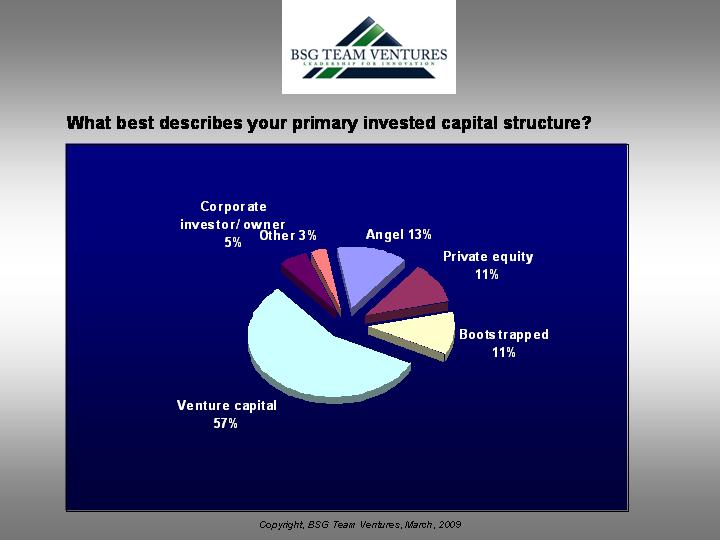 When CEOs responded to the question of what other cost cuts outside of staffing they felt were the most likely, the top 3 responses were:
1) Delaying specific new project or product development
2) Outsourcing of key responsibilities (development, testing, sales, etc.) to make variable that cost, and
3) Reduction of cash compensation for staff, replaced by more equity (options or other stock grants)
As for other areas CEOs were considering cutting, or other ways in which CEOs are considering burn-rate reduction, these included the following:
- External legal and accounting fees

- Eliminate bonus and reduce benefits

- Delaying office expansion

- We made adjustments in Q4 2008. We are judiciously incrementing investment as traction increases in 2009. We have already added headcount.

- Taking-on contract-development work to keep developers attached

- Salary freeze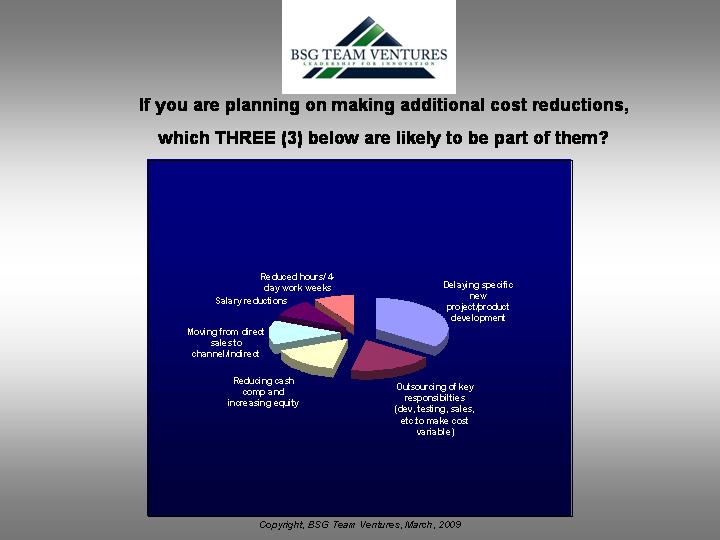 When CEOs were queried as to the potential for further reduction to headcount in Q2 2009, three-quarters of them responded "No," which was an encouraging sign that they feel that perhaps the bottom of the economic miniscus had been hit.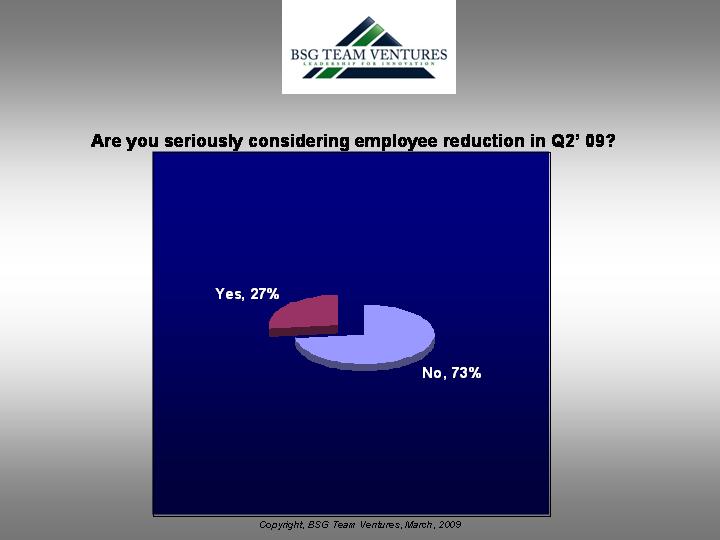 For the 25% or so who said that they were indeed considering more staffing cuts, more than half of these CEOs were looking at staff reductions of less than 20%.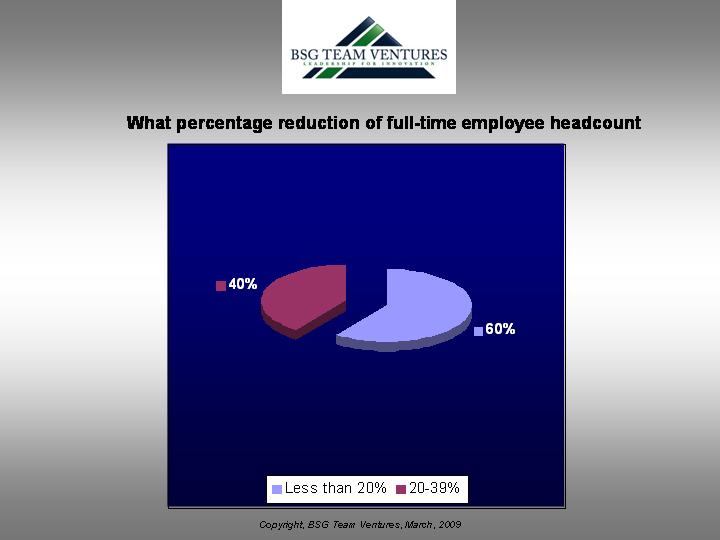 When CEOs were asked what questions they'd like to pose to their own peers, the most popular topic was funding-related questions (38%), followed by questions about the economy (28%), staffing (17%) and burn-rate/expenses related questions (also 17%).
Some of these CEO peer questions in each category are listed below:
-burn rate | How are you lowering non-core costs such as health, insurance, WC etc?
-burn rate | What are companies doing for benefits. How much does the company pay, versus employee. What are innvovative ways to contain, reduce cost
-burn rate | I'd want to explore issues around forecasting revenue in a non-linear world.
-economy | When will you start spending money at a normal pace
-economy | What are the drivers for economy to turn around
-economy | Do you think that eliminating benefits such as a 401k match or bonuses will have a significant impact on employee morale or will they be happy just to have a job?
-economy | Are you able to confidently recognize the biginning of a shift back to a more positive business environment?
-economy/funding | When will credit markets open and when will VCs start to invest again?
-funding | How does present economic situation bear on raising additional operating capital? For Series-A companies, what is likelihood of any funding becoming available in 2009?
-funding | "Do you receive funding or revenue from US Govt? Have your receipts of US Govt cash increased or decreased compared to prior years? Are you counting on US Govt cash to make plan in 09?"
-funding | Congress should increase funding for SBIT and STTR to $250 thousand in Phase 1 which would increase jobs immediately rather than year delay; when people get a SBIR grant they immediately spend the money hiring folks.
-funding | which sources of early stage funding feel open still? My sense: family offices, corporate venture funds. Where is blocked? My sense: most VCs, Angels
-funding | "How will marketing and sales budgets change in the coming year?
-funding | What types of fundraising options are your reviewing?
-funding | Are you looking at merging, selling or acquiring rather than raising equity financing?"
-funding | are you cash flow positive/economically sustainable without a raise, if not when do you need to raise cash again?
-funding | How have the criteria for outside venture funding/financing changed in your sector?
-staff | How are you linking compensation to performance?
-staff | What success have you had with outsourcing
-staff | Where are the best software developers in Boston?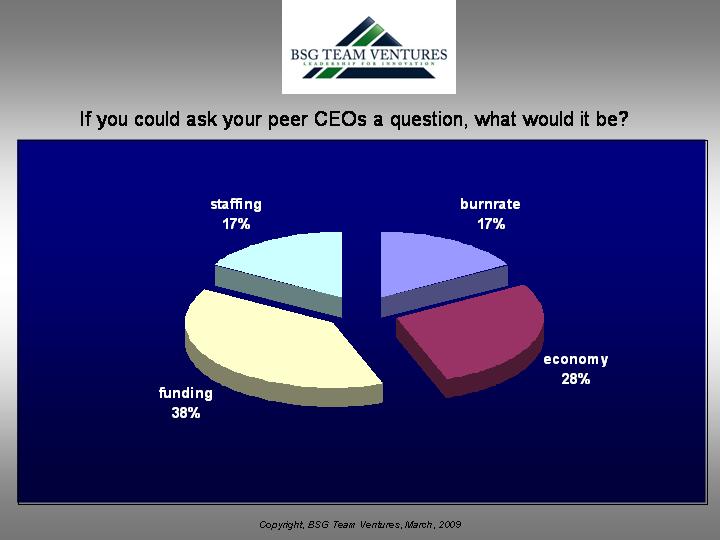 A majority of responding CEOs came from the software/internet/telecom sector (61%), while the balance were distributed across cleantech, medical devices, life sciences/Biotech, and interactive media/content/community.