The Company
Our client manufactures and sells engineered nanomaterials and products to customers around the world. The Company is a pioneer in the field of graphene particles and has been manufacturing a new type of carbon nano-particle since 2009.
First discovered in 2004, graphene is a single layer of carbon atoms configured in an atomic-scale honeycomb lattice, and is noted for its strength, density, impermeability, light weight, and both electrical and thermal conductivity. Among many noted properties, graphene is harder than diamonds, lighter than steel but 200-300 times stronger, and conducts electricity better than copper. Graphene nanoplatelets are particles consisting of multiple layers of graphene. The Company believes graphene nanoplatelets are a game changer for numerous industries and estimates the market for graphene will quickly grow to be a billion dollar opportunity with the Company as a first mover. The Company currently has more than 600 customers in 36 countries, many of whom are household names, trialing graphene for numerous different applications, including, but not limited to composites, li-ion batteries, supercapacitors, inks and coatings, construction materials, thermal shielding and heat transfer, printed electronics and military uses.
Lux Research rates the Company as the world leader in this developing space, saying, "... Despite increasing competition from a handful of new entrants to the graphene space, [the Company] remains the low cost leader and also boasts the most impressive business execution to date."
The Position
Highlights of the new CEO's track record and experience will include the following:
Strong commercialization stage leadership experience, with a focus on establishment of both direct and channel sales distribution and post-sales service support

Experience with oversight of manufacturing "whole solution" electromechanical systems

Executive team-building, with particular emphasis on the sales, marketing & business development side

Corporate Development expertise in developing key strategic partnerships across the targeted Harvest customer ecosystem

Success taking new products "cross-chasm" into new markets

Experience taking companies from pre-revenue to $50M+

Experience with global expansion, customer identification and development

Equity capital-raising
Detail of Responsibilities
The CEO will report to the board of directors, and be responsible for all P&L activities of the company. The CEO's core responsibilities will include:
Strategy & Product Marketing Direction:
Establishing a short and long-term business direction that drives the company to become an industry leader and maximize the penetration of the markets served. The CEO will bear primary responsibility for refining and carrying out The Company's strategy. This will include such activities as monitoring The Company's current markets and its standing within them; assessing current and potential competitive activity; and evaluating opportunities for growth (new but related products, entirely new initiatives which leverage the Company's relationships, intellectual property and intellectual capital, possible acquisitions, etc.).
Marketing:
Ensuring close symbiotic relationship between product development and customer market needs, creating demonstrable competitive differentiation and performance benefits of XG Sciences' products vis-à-vis industry alternatives popular in the market.
Sales & Business Development Leadership:
The CEO will be charged with setting the approach to commercialization, including direct sales, joint-venture partnerships, licensing agreements, etc. First and foremost, the CEO will play a hands-on role in building the Company by acting as its most-senior business generator and evangelist. He or she must understand both the Company's capabilities and the market's needs, and combine those understandings to identify and pursue specific new opportunities.
Research, Development & Operations:
The CEO will have oversight and ultimate responsibility research and development teams responsible for commercializing the science and technology, establishing insource/outsource decisions, etc. Working with the rest of the team, the CEO also will have oversight of other key development areas, working with the science & product development teams to ensure that product development meets various domestic and international multi-regional market-driven specifications, ensuring smooth and on-schedule product roll outs.
Staff— team building, development, mentorship: The CEO is responsible for human capital planning and hiring. As important, the position will actively be responsible for developing new and existing staff to help prepare them for company growth and increased leadership responsibilities at all levels. Finally, the new CEO will serve as leader and mentor to the founding team and as a complement to their existing skills. He or she will do this through personal interactions with colleagues, as well as by maintaining management practices which reinforce a positive internal culture and help the company establish a reputation as a rewarding place to build a career. This individual will be expected to set high standards and hold people accountable, and to create an environment in which people work cooperatively and focus on building the long-term value of the enterprise. When management slots open up, the CEO must be able to hire executives who can make significant contributions, not only as individuals but by building effective teams in their own areas of the business; he or she will also have to upgrade the organization when necessary by replacing underperformers with strong new recruits.
Investors/shareholders & board — milestone management, follow-on fundraising, and liquidity strategy: The new CEO is primary liaison to the board and will aggressively manage milestone deliverables and be a key leader at board meetings and to board/investor communications. The CEO will be responsible for developing and managing against an annual operating plan and in addition to possible follow-on fundraising both private and public, will be accountable for optimizing liquidity for all shareholders. This includes continuous improvement of operational efficiency and effectiveness by assessing, upgrading or installing new operational systems, processes and methodologies. In addition, the CEO will continually review activity reports and financial statements to determine progress and status in attaining objectives and revise tactics in accordance with current conditions. Combining these, the CEO will execute and achieve annual growth targets while gaining increased leverage on costs and operating expenses.
Detail of Desired Experience and Characteristics
FUNCTIONAL:
The Company is seeking a seasoned and accomplished executive with an unusual combination of skills. However, there is no question that the most critical skill is a proven ability to commercialize enterprise software into appropriate market segments. The CEO should have had significant experience, and demonstrated success, in an environment which required building out the go-to-market and sales initiative. Furthermore, as a result of that experience, this individual should have strong, ongoing relationships with many key executives in in relevant downstream customer targets, including thought leadership in the Company's' target market sectors, focused on advanced materials, advanced battery manufacturing, and coatings. In addition, P&L experience as a prior CEO, President, or General Manager is a critical qualification for the Company's CEO.
LEADERSHIP:
Distinctive leadership capabilities—this must be someone with impressive personal presence. The CEO will be expected to command the respect of The Company's staff and motivate them to perform at a high level. This individual must also be strong enough to earn the confidence of the Board of Directors, senior executives within customer organizations, and a variety of outside constituencies.
INDUSTRY, MARKET & CUSTOMER SEGMENTS:
Broad experience in systems software sold into relevant industries is a given. Specialized industry experience will be critical in any of the below specialties:
Electrode materials for batteries and ultracapacitors

Films and "papers" for electronics applications

Coatings, inks and dispersions for chemicals, polymers and plastics additives
STAGE:
Key background & successful experience with company growth stage includes—
Board/investor communication and management

VP level hiring across the organizational spectrum

Growing sales from early-revenue stage to >$50M+

Industry partner mapping for growth and harvest

M&A and/or public offering experience

Equity fundraising
INTERNATIONAL:
Previous exposure to international business expansion, in particular OEMs in Asia, with Korea and China as specific experience is critical. This includes the ability to work effectively in other parts of the world, and an appreciation for the ways in which cultures and business practices differ from country to country.
EDUCATION:
Undergraduate degree required, with preference for bachelor of science in chemistry, with MBA or other advanced degree a plus.
Ideal Candidate Profile
The following diagram illustrates the intersection of competencies critical in the Chief Executive Officer position: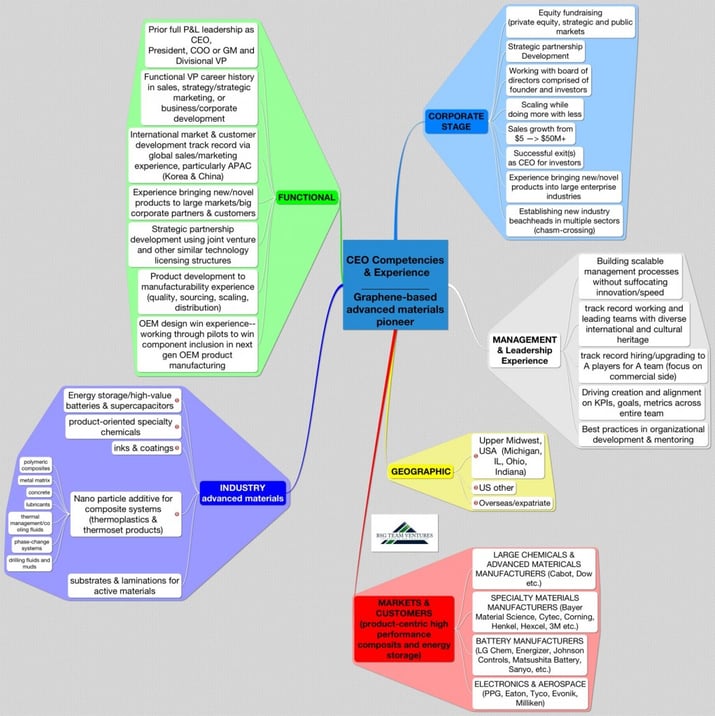 To submit your CV / resume in confidence, please visit our job board.