Nine months ago, business leaders could not have anticipated the enormous upheaval that lay ahead in 2020 as a result of the Covid-19 pandemic. Across most industries, companies experienced dramatic declines in revenue, while in some sectors, like retail, the impact has been so severe it has forced industry giants such as Lord & Taylor, Neiman Marcus, and J.C. Penney to file for bankruptcy.
In addition to revenue, the talent function has been severely impacted by the pandemic as well. Covid-19 has forced many companies to think differently about how they recruit, retain, and optimize their talent needs. Virtual workforces have become the norm. Getting comfortable with hiring talent without meeting in person has become a necessity, as has rethinking how the office environment will change if and when people return to their desks.
In order to capture a snapshot of where businesses collectively stand on these talent issues, BSG's 2020 mid-year talent survey chose to focus specifically on the impact of Covid-19 and the anticipated timeline for recovery.
1. During the Pandemic, my company:

It is fortunate that none of the respondents to BSG's talent survey went out of business due to the pandemic, however, the majority (55.8%) had to either freeze or reduce hiring plans in 2020. Nearly a third of respondents (27.9%) also indicated their company was required to institute pay cuts. Roughly a fifth of respondents (18.6%) said their companies saw little or no impact from the pandemic.
2. When the pandemic is over, I anticipate that my company's policy regarding working from home will:
If there is a silver lining to the impact of Covid-19 from a talent perspective, it may be that many companies learned that they could operate successfully with a distributed workforce. A large majority of respondents indicated that they expect their company will be more flexible with regards to its Work From Home policy once the pandemic is over. This bodes well for talent acquisition teams who will be able to consider a larger pool of candidates for key roles as geography becomes less of a requirement.
3. To accommodate a return to the office, my company has implemented the following precautions (multiple answer, percentage of respondents):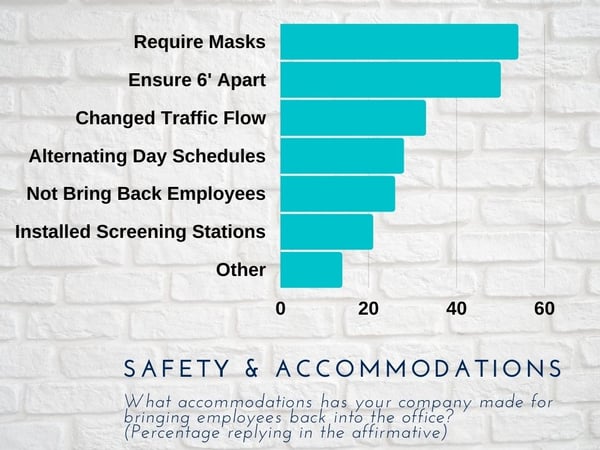 As companies begin to consider how they will bring employees back into the office, a number of accommodations are being implemented. The two biggest will be the requirement to wear masks in the office and making spatial modifications so employees are able to maintain a distance of 6' from colleagues. A third of respondents (27.9%) indicated that their companies will use an alternating schedule to reduce the number of employees in the office on any given day.
4. If you anticipate hiring to return to normal volumes, when do you anticipate that will be?: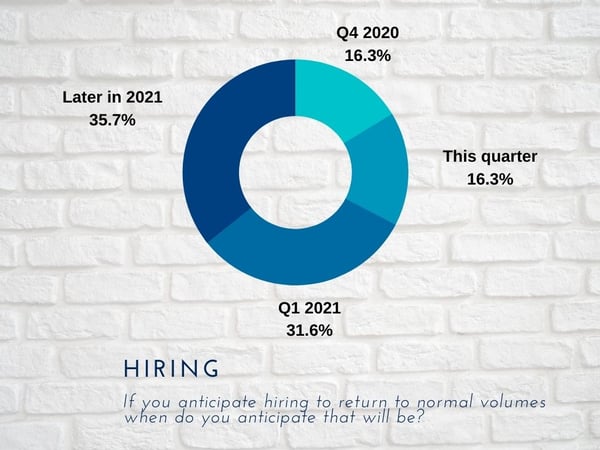 Looking ahead, it's clear that the majority of survey respondents don't believe hiring volumes will return to normal during 2020. The majority in fact don't anticipate a return to normal until later in 2021. A third of respondents are optimistic, however, that it will be in Q1 2021.
5. The requirement to work remotely for my company:
Most companies instituted 'work from home' policies to address the need to socially distance. Fortunately, the majority of respondents indicated that their companies took this requirement in stride selecting that their company already had WFH policies in place and were able to scale them across their entire organizations. More than 20%, however, admitted that their companies were caught flatfooted and had to respond with considerable modifications to allow their employee base to work from home.
With the expansion of work-from-home, whether temporarily or for the foreseeable future, comes increased concerns surrounding the eroding of company culture. As companies learn to adapt, it is important we continue to keep a finger on the pulse of our new distributed cultures. As quoted in a recent Bloomberg article, BlackRock Chief Executive Officer Larry Fink said "The most difficult issue for all of us is retention of a culture. Cultures were not meant to be done in a remote fashion." Our recently launched Distributed Culture Heatmap aims to support companies looking for an opportunity to stay connected and engaged with their company cultures. Explore it today.