One of the chief challenges to 2020 is finding ways to supplement our usual partner engagements. In private equity, many of our key connections come from the conversations that happen when we aren't specifically working on business. The social activities that surround our typical event calendars are missed—not just for levity but for our interpersonal relationships.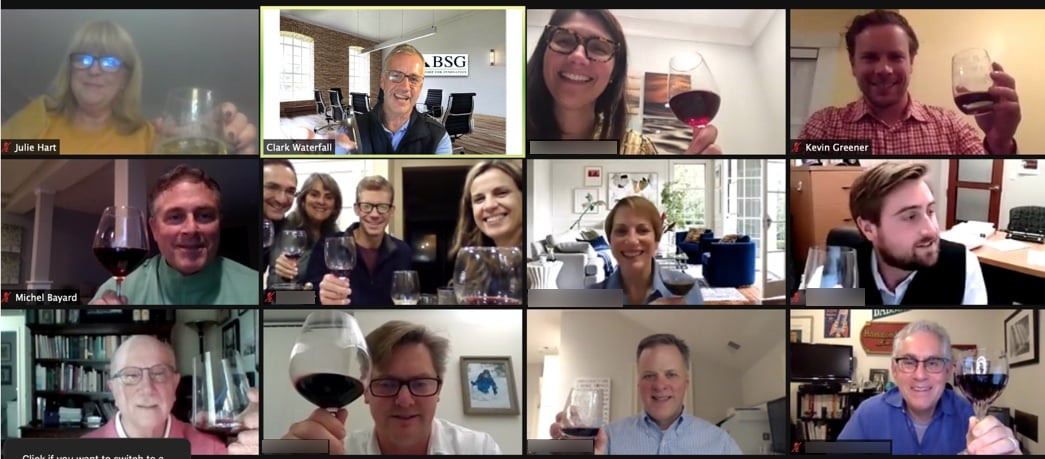 It didn't take us long to pivot to virtual events, and we hit a great stride with our virtual wine tasting series beginning this summer and continuing today. So much so in fact, that we've been teaming with private equity firms and advisors to bring groups together again in ways, albeit virtually, where we can once again enjoy the social activities and connections we've missed for so long.
On November 12th, we enjoyed our BSG-Falcon "France vs. US" wine discovery event. Many thanks to our wine expert, and former BSG co-founder, Ralph Protsik for the wine selection and education, as well as to Falcon's Michel Bayard & Kevin Greener co-conspirators.
To help everyone connect, we sent out a list of participant bios ahead of the evening. We encourage our attendees to continue to connect with those whom they'd like to carry on a discussion.
For anyone interested in our wine selection for the evening, we've included those here. Interested in teaming up with us or attending one of our events? Email Julie Hart for more information - Julie@BSGTV.com
Private Equity Virtual Tasting Event: Wine Selections
"American" Sonoma Coast Chardonnay
Jordan Chardonnay 2018
A vintage defined by its crispness, vibrancy and freshness. Pretty aromas of honeysuckle, lemon blossom and Fuji apple spring from the glass. The palate boasts bright, lively layers of citrus with a hint of oak and creaminess from careful barrel aging and bâtonnage. Flavors of kumquat, lemon and Fuji apple linger in the juicy, mouthwatering finish. Enjoy now or cellar through 2023.
"French" White Burgundy
Samuel Billaud Chablis Montmains Premier Cru 2018
Samuel Billaud left his post as winemaker at Billaud-Simon to establish his own domaine in 2009, and now works with ten acres of vines. He ferments this wine with ambient yeasts in a combination of stainless-steel tanks and large, neutral oak casks, presenting a cool, gentle Chablis with gingery concentration of green pear and white nectarine flavors. It's bright and firmly focused, a quiet waterfall of fruit richness lasting in the end.
Henri Costal Chablis Premier Cru Vaillons 2016
Domaine Costal is a unique collaboration between the well-known Chablis producer Domaine Jean Collet and Kermit Lynch. The project began with a simple barrel tasting with Kermit and led to the first of now two cuvées, a custom label, and custom vinification and bottling process exclusively for the American market. The vines are worked organically and Kermit and the Collet family together agree on a blend of stainless steel,
foudre, and barrel vinifications. The skill of the Collets and their excellentterroirs combine to give us wines of extraordinary purity and finesse. There is no mistaking it—one taste and you are in Chablis territory: zesty minerality, wet stone, freshness and nervosity.
Jean-Claude Bessin Chablis Fourchaume Premier Cru 2018
Fourchaume is lively and charming with crisp stone fruit and a creamy texture. Subtle but not invisible wood frames a similar array of aromas. Once again there is very good richness to the even more powerful and slightly denser flavors that reflect plenty of citrus influence on the clean, dry and slightly firmer finish.
Billaud-Simon Chablis 2017
Beautiful yellow color with pale green reflections. The nose is alluring with a distinctive Chablis style of vine peaches, banana, citrus and a touch of brioche. The palate is well-balanced between richness, freshness and elegance. The rich and supple texture lingers on the end palate. Intense ripe fruits blend with vanilla, mineral and vegetal notes and complement the wine's soft structure.
"American" Oregon Pinot Noir
Cristom Mt. Jefferson Cuvee Pinot Noir 2018
Mt. Jefferson Cuvee is Cristom's flagship Pinot Noir. The longer "hang-time" for the fruit in 2018 created brighter, blue-fruited wines. Showing surprising complexity and firm structure in its youth, this wine will age well for years to come.
"French" Red Burgundy
Joseph Drouhin Cote de Beaune 2017
A true delight and a great harmony! A beautiful purple color. On the nose, delicate and fruity aromas such as strawberry and red currant. On the palate, the tannins are refined and lend a nice roundness to the body. Elegant aftertaste.
Domaine Camus-Bruchon Savigny-Les-Beaune Narbantons Premier Cru 2017
The 2017 Savigny-lès-Beaune 1er Cru Les Narbantons will be one of the longer-lived wines in this year's portfolio. Aromas of dark cherry fruit, cassis, baking chocolate and spices preface a medium to full-bodied, concentrated wine with chewy structure and a deep, dense core. This has good potential but will demand a little patience.
Domaine Bachelet-Monnot Maranges La Fussiere Premier Cru Rouge 2017
At eleven acres, these vines constitute the largest holding of the domain. And the vines are mature, with an average age of 55 years. The site is up-slope and the wine is heavily influenced by the calcareous soils. Deep, dark, direct and mineral, this wine is a terrific buy for premier cru Burgundy.