November 30, 2022: BOSTON, MA: BSG and companion brand Talent Sequencing today announced a strategic partnership initiative with Ascend Coaching & Training, as part of a growth initiative to bring an all-inclusive, full talent optimization stack to its clients worldwide. Ascend is a value-driven, mission-oriented boutique training & coaching firm focused entirely on the coaching, mentorship, and development aspects of scaling organizations, teams, and individual leaders. For 25 years, BSG has led the boutique executive search functions of talent strategy and acquisition for private equity firms and their portfolio company clients.
Several years ago, BSG launched companion brand Talent Sequencing, aimed at talent needs that occur outside of talent acquisition, including organizational design services, executive assessment, and executive coaching on the individual and team performance levels—rounding out the three key talent-related pillars of talent strategy, acquisition, and performance acceleration. In BSG and its companion brand ecosystem's Talent Growth & Optimization cycles, 5 key stages were identified and optimized for clients to ensure maximum success across the talent spectrum.
As these key practices evolved, BSG identified an opportunity to incorporate an additional layer of coaching that transcended individuals and team-focused coaching strategies—Programmatic Organization Learning—to support their work. BSG turned to the experts at Ascend Coaching & Training to provide this service to BSG and Talent Sequencing clients—expanding the 5 key stages into 7 and rounding out the entire Talent Growth & Optimization Cycle.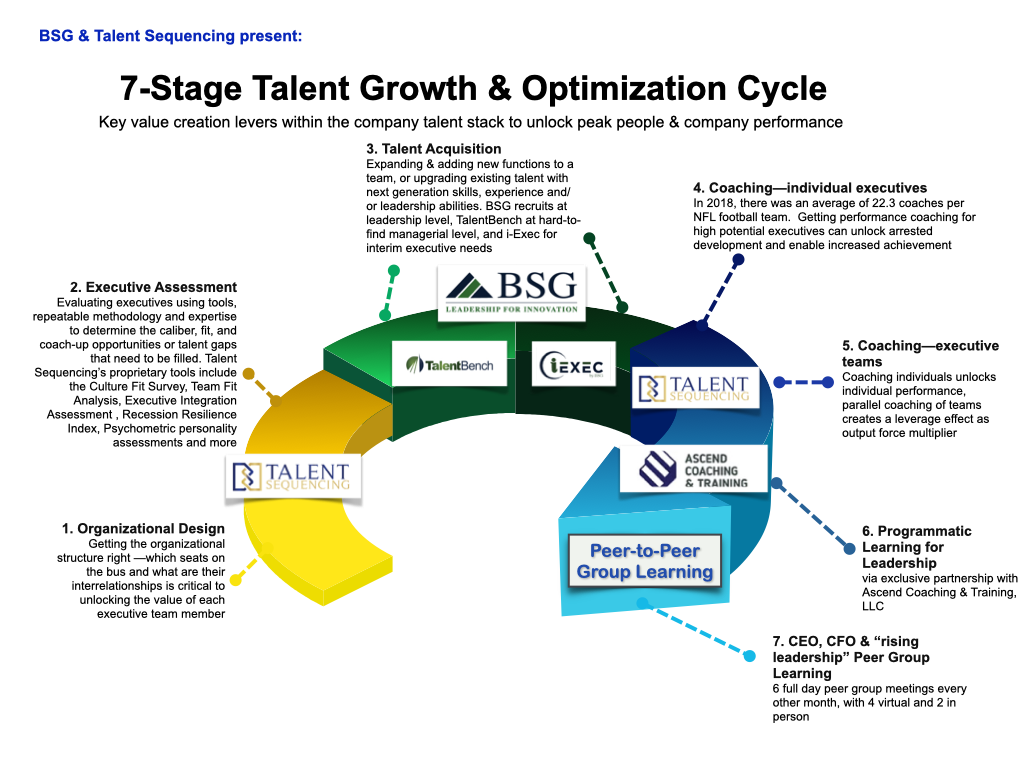 "By leveraging the capabilities of Ascend's extensive experience, we are able to further support our clients' organizational breakthroughs required to raise their companies to the next inflection point on the value creation journey," shared BSG Managing Principal and Co-Founder Clark Waterfall. "One of the most important areas for team performance optimization is programmatic leadership learning. There is a set of core curricula critical for all leaders and leadership teams to internalize to reach maximum performance. Via our partnership with Ascend, we're excited to be able to deliver both these core leadership learning modules, as well as customized learning for our middle market client companies."
Tom Frank, founder & CEO of Ascend reinforced the value of the tie-up by saying, "BSG/Talent Sequencing is all about executive talent acceleration and we're excited to add our leadership content and development curriculum in service to this goal. When individual and team learning & performance increases, what inevitably follows is company performance acceleration and increasing enterprise value."
Explore Programmatic Learning for Leadership on Talent Sequencing:
For more on BSG and its companion brands, visit https://www.bostonsearchgroup.com/brands. To learn more about Ascend Coaching & Training, visit https://www.ascendcoachme.com/.
-by
BSG
on Nov 30, 2022 11:45:04 AM