If being able to consistently create perfect matches between opportunity and candidate is an art, then as a retained executive search firm, we should strive to become as Leonardo da Vinci. The genius of this Renaissance man was in applying to his art insights derived from science. In the same way, BSG Team Ventures seeks to apply academic research to improve our executive assessment capability. On a basic level, this means being familiar with ideas such as creative inclination vs. logical inclination – or, what is commonly known as "left brain-right brain" theory.
Hence we were intrigued by this Wall Street Journal essay, which was written by Stephen M Kosslyn and G. Wayne Miller in advance of their book, available since November 5. The first author is a psychologist and neuroscientist; the second, a filmmaker and journalist. Their 240-page thesis, entitled Top Brain, Bottom Brain: Surprising Insights into How You Think, presents an alternative to the "left brain-right brain" theory, which has defined popular understanding for a generation.
The general awareness of the differences in cognitive function between the left hemisphere and the right hemisphere of the brain has always been a gross oversimplification; and research is now increasingly supportive of the importance in the cooperation of the hemispheres. However, the idea that there are different kinds of learners and thinkers and movers and doers is still a valuable way to interpret why some people succeed at a certain task while others fail.
Kosslyn and Miller describe their approach, "the theory of cognitive modes", as broadly based on distinctions between the top half of the brain, which they describe as given over to goals, plans, and expectations; and the bottom half of the brain, which is primarily used for processing sensory input and reconciling perception and memory. High utilization of the top half of the brain enables formulation of complex plans above and beyond the needs of the situation. Similarly, high utilization of the lower half of the brain facilitates a higher level of perception and attention to detail. A combination of utilizations distinguishes four cognitive modes: Mover, Perceiver, Stimulator, and Adaptor.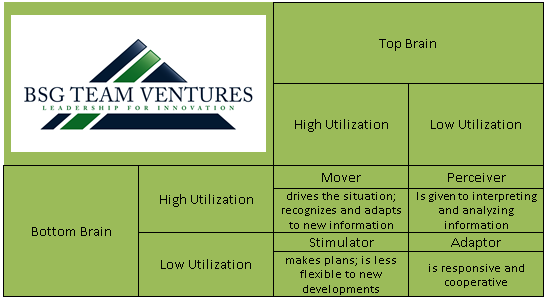 This kind of analysis – that is, determining someone's cognitive mode and predicting how he or she will react in certain situations – should be essential to leadership assessment and executive search. This is not a discussion of someone's qualifications, which can be gleaned from a resume; it is primarily the dissection of someone's aptitude in terms of (a) an inclination towards goal-setting and decision-making and (b) a history of accurate interpretation of and responsiveness to new information. In a setting where the candidates all have stellar backgrounds and references, it is especially critical to be able to sift for differences that distinguish one candidate as a better fit for that particular position. A good match between candidate and position is just as valuable as a bad match is destructive.
Just as the four cognitive modes described by Kosslyn and Miller are necessarily a simplification of the complex capabilities of the brain, their application as categories is necessarily a distillation of what can be determined from someone's personality and experience, and the faithfulness of a distillation is a measure of the completeness of the information from which it is derived. From this it follows that the decision makers for a company in need of a new senior executive certainly know the cognitive mode of the person being replaced, but they will likely have a harder time pinning down the cognitive mode of someone they have only met during interviews.
This creates a potential conflict between the companies and the candidates: both parties recognize the importance of a thoroughly meticulous survey – in such a high-risk setting, everyone hates surprises – but neither side may have either time to do so or the experience to know how to acquire all of the information necessary to correctly categorize or distill. A retained search firm conveniently fills this space by providing time and expertise. BSG Team Ventures especially is driven to integrate new cognitive theories with proven search methodology to provide client companies with best-fit candidates.
What does this mean in practice? Naturally, BSG explores the basic information about a company – the amount of revenue it generates, whether it is public or private, how many people it employs, how long it's been around, etc. But beyond this, BSG explores the situational needs of the position – what will this person be doing in six months? In five years? How will this person be interacting with other senior staff? What would the company like the person to achieve? The answers to these kinds of questions informs the target profile or ideal cognitive mode; from there, it is a matter of charting candidates to a bull's-eye, with the process driven by rigorous investigation into the unique roles and situations that governed their professional development.