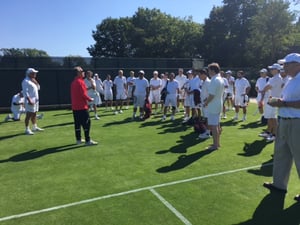 The occasion? The 13th running of the charity tennis tournament pitting investors vs. operators on the grass courts in Chestnut Hill, Massachusetts.
The date? Mid-September, Indian Summer. A perfect punctuation to the summer officially past, but still palpable on this day if you you were lucky enough to come out and let it bowl you over.
The weather? A perfect 10… blue skies, temps in the 70's, humidity… zero.
The participants? 35 to 40 white-clad gladiators … men, women, some younger, some older. Some with incredible tennis IQ and skill, others still honing their craft. All with a passion for the game, the community, and the cause.
The game? Yes, doubles tennis. But on grass courts. The only grass oasis in all of Boston. 3 hours of game-driven opportunity to test one's skills against others… lose the total game count accrued over a 20 minute set of match games, and you move down a court. Win? You move up. Goal? Get to the top "clubhouse court."
The cause? This year, as in the past 12, a cause that started as a glimmer in a social entrepreneur's eye… Ned Eames believed that something he fell in love with as a kid and refined as a pro might be used as a magnet for at-risk inner city youth in the school systems of Boston to help build passion, stick-to-it-iveness, and sense of self-worth that might allow these children to create their own "escape velocity" from what so many others around them couldn't seem to dodge—dropping out, ending education either before a getting a college degree, or worse yet a high school diploma.
The winners?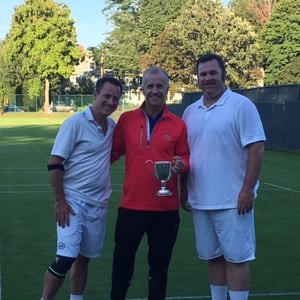 For the day, it was the team of Eric Sockol and Michael Quinn, from event underwriter Bridge Bank, who won the playoff finals match on the Clubhouse Court with the rest of the event's participants and organizers cheering them all on.
The biggest winners? results? A collective group with a shared passion driving more than $10,000 in donation proceeds for a great cause. Renewal of existing friendship bonds, and forging of new. And all enabled by a ball, racquets, a net and historic and immaculately manicured grass lawns.
BSG is not just delighted, but humbled at the passion of our community of private equity and venture capital investors and the entrepreneurs and business operators in these portfolio companies to come together year after year, good weather (and bad)--to gather, grapple, & give. And we expect to also get something that keeps us all coming back.