10 tips for candidates [& interviewers] interviewing across the virtual talent landscape during Covid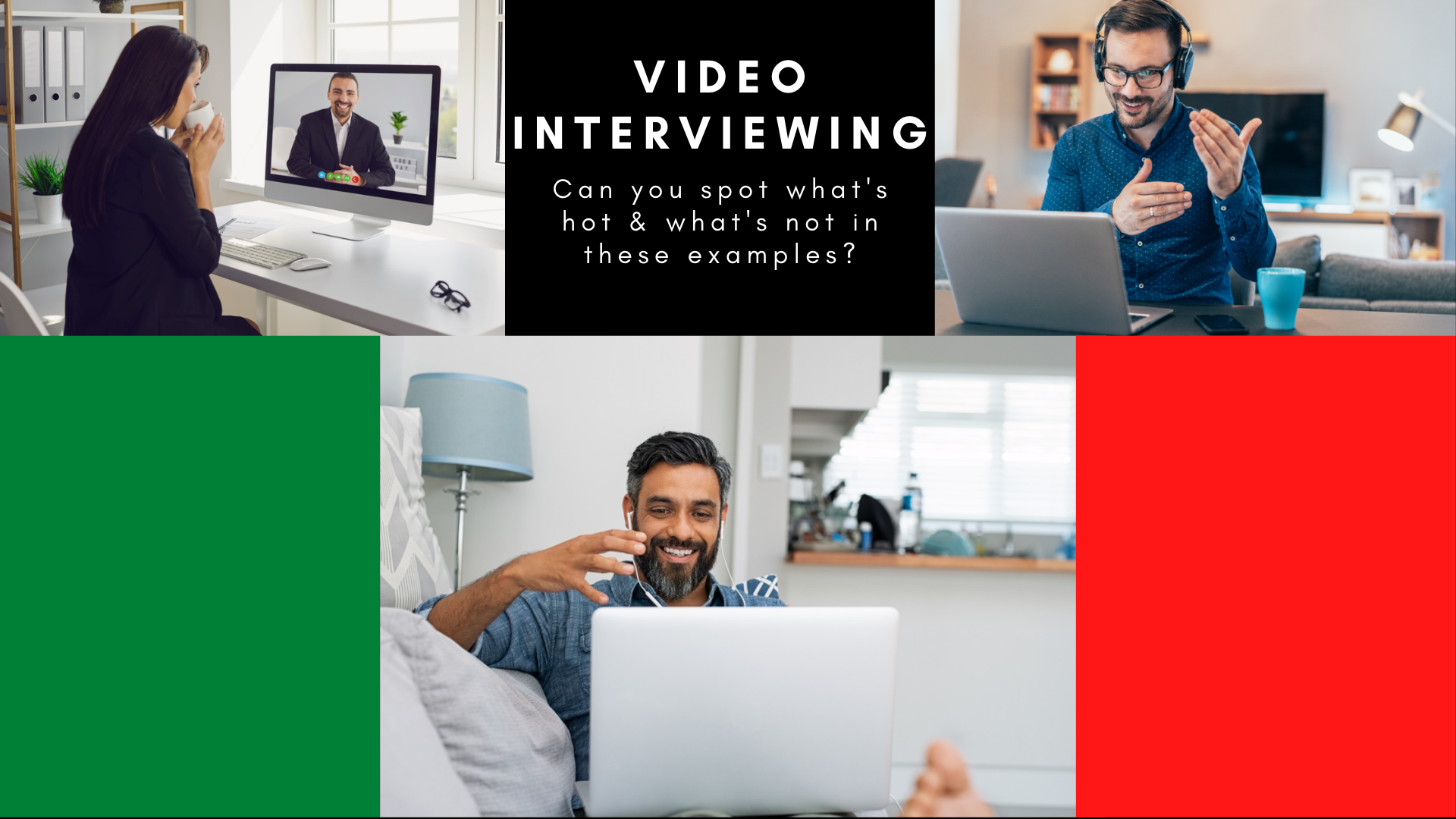 Covid may have made virtual interviewing far more commonplace during the pandemic, but many indicators point to virtual interviews maintaining a strong presence in our hiring processes even as we return to "normalcy". To ensure the greatest likelihood of success, we've compiled some presentation tactics & enhancing technologies to make your "best first [video] impression":
MAINTAIN A DRESS CODE: Following a proper dress code for interviewing is still very important. With the pandemic, many of us have fallen into casual attire for video meetings. Dressing professionally and "to the expected level of the role & responsibility" is critical. If any doubt, level up to the next rung of formal dress.
DO A DRY RUN: Log in early and test the platform (Zoom, Teams, Bluejeans etc.). Don't wait to log in until the actual time that was set. And/or, ask for a "test login" to make sure it will work, and when you need it to work. But don't only test access...
CONSIDER YOUR APPEARANCE: Recognize that the background behind you is important to convey your professionalism. If by Zoom, make sure you change your virtual background to "blurred" so the focus is on you and not something that will distract the interviewer behind you--keep in mind, tropical palm trees can be just as distracting or "unprofessional" as an unmade bed in the background. If you are interviewing from your car (this is more frequent than many might believe though not advisable) it's strongly advised to either blur your background or find a virtual background that professionalizes your environment.
CHECK YOUR LIGHTING: It's important to create the most favorable lighting environment that allows you to be seen as "front-lit," and not backlit. Backlit example would be if you're sitting in front of a window with bright sun outside. This creates an effect that can best be described as "witness protection," which is probably not the imagery you wish to convey. Ring lights are less than $20 and clip onto the top of your laptop or computer screen… problem solved.
MIC CHECK PLEASE: If you need to use headphones, think about using low-profile earbuds like Apple airpods or something similar. If you're wearing large, "gamer" headphones with a boom mike, it can be very hard for the interviewer to feel as if they're having a "natural" conversation vs. talking to the air traffic control tower.
PLAN FOR INTERRUPTIONS:

If you have background noise

or are likely to encounter it during your video interview, think seriously about taking evasive actions. "Life happens" in the home environment, including surprise visits from children, barking pets & landscape crews with loud machines. Preventive measures? These can include using earpods that have noise canceling features (e.g. Apple airpods Pro), or even using noise suppression software on your computer (krisp.ai). That is something that you can download and will run with most all of your video conferencing software apps like Zoom, Teams, RingCentral, etc. Again, make sure to test run this in advance of your meeting.
AVOID INTERNET INSTABILITY:

Make sure you have a strong Internet connection.

You can test this by using an number of free websites like speedtest.net. Just hit the "go" button and it will tell you have fast your connection is, both upload and download speeds. 5 megs for both upload and download are minimally viable threshold. If you have less, you risk seriously compromising the fidelity of the interview experience and comprising the professionalism of your candidacy. Keep in mind, this is especially important if you are going to also be working from home full-time--having a strong, reliable internet connection will be considered a "must have".
GET YOUR BEST ANGLE: Know where your video camera is located… and look at it! Many laptop computers have put cameras in the worst locations, and if you're watching the incoming video image, it may appear you're not establishing eye contact. Similarly, if you use multiple computer screens for more digital document real estate, try to make sure you are using the monitor that has the camera on it, and not the one that doesn't. PS: a camera that is shooting up from below your head height almost never makes a person look as good as they might. Do all possible to raise your camera to head height--you may even want to consider getting an external camera to improve your presentation.
HAVE A BACKUP PLAN: Establish a contingency plan contact method if things go completely awry. The random electrical failure or power outage can wreak havoc for an interview. Get a mobile telephone number for your interviewer, or some other telephone number in the room where the interviewer is housed so you can reach out if the signal is unexpectedly lost or connection cut.
VIRTUAL INTERVIEWING PROTIP: Think about screensharing. With so much compromise that video interviews forces on all of us, one of the few benefits of video vs. in person is the opportunity to share your screen with your interviewer. If you feel you have some particularly important and valuable documents or presentations you've put together, such as those that illustrate your expertise or proficiency in something relevant to the position, by all means think about pulling those up ahead of your interview, and then ask permission to share your screen first before you do that. Documents like performance reviews, presentation decks you were responsible for crafting and delivering, or even short pieces of video of you presenting at a conference or other (Ted talk, seminar, guest panelist as subject matter expert) can be a very powerful share. Note: if video content, playing no more than 15 seconds of it to deliver only a "sound byte" is de rigeur. You can always send the link to the full length, LP version in a follow up email. Be mindful of having them "ready to go" as bandwidth can be reduced for loading files when you're active on a video interview.
BONUS PROTIP: Manage your time when interviewing. Time is valuable real estate. Ask how much time the interviewer has planned to spend with you. And then budget time accordingly to ensure the interviewer balances the time they take talking & sharing about the company & the opportunity with asking you all the questions they want to ask. Helpful hint: often interviewers feel that they run out of time and don't get to ask all they'd wanted to cover. Help them, help you.
Interested in more on virtual interviewing and hiring? Visit here.