Today we join BSG Principal Lori Gleeman in the kitchen for a comfort food recipe perfect for these uncertain times...
Persian Inspired Rice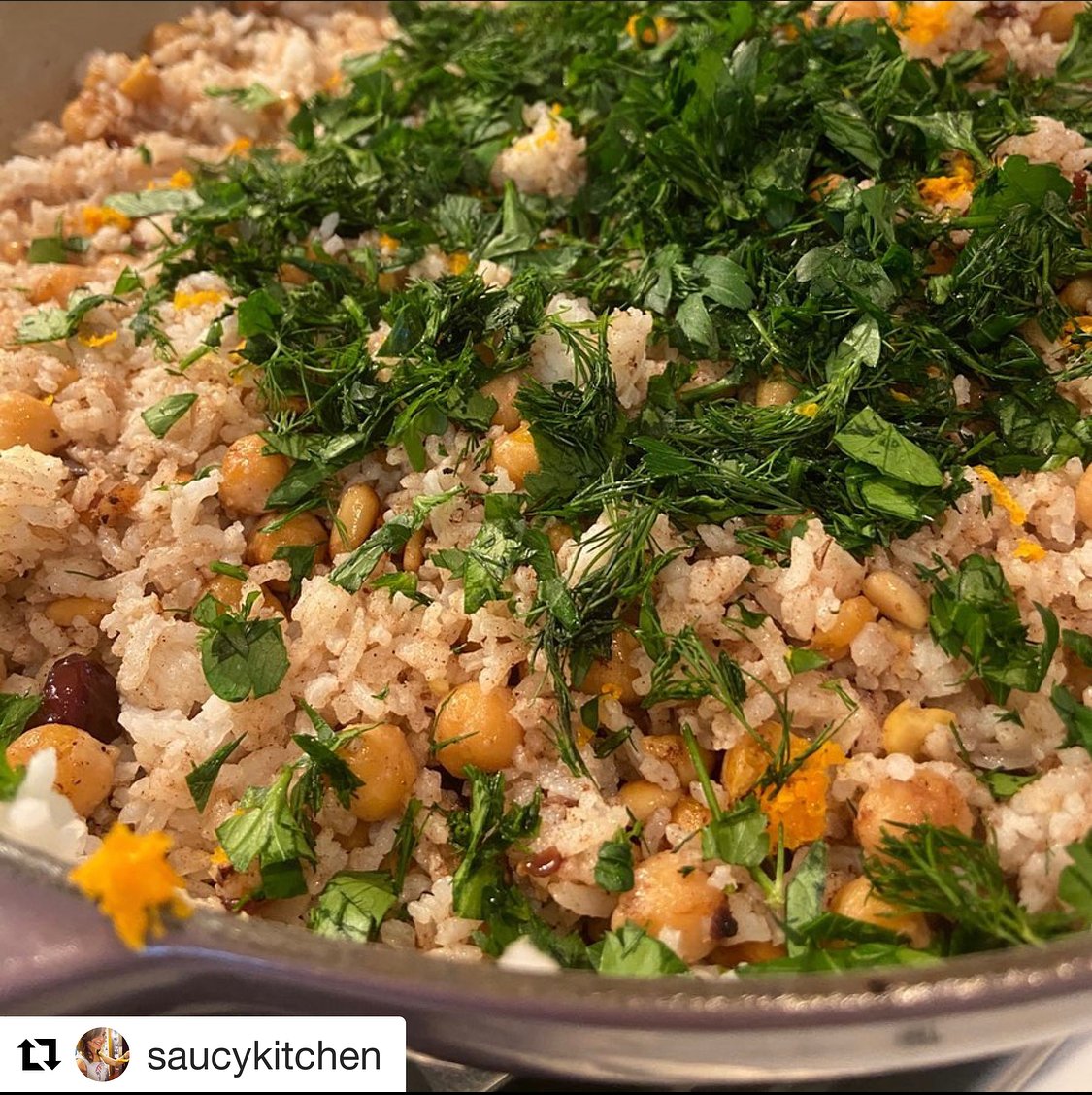 This vegan meal checks a lot of boxes. It is plant based, chock full of protein, and lends itself to being served over a delicious salad green such as arugula. It also has delish warming spices. It is based on a very special (and much more complicated) middle eastern rice dish called TahDig. The beauty of TahDig is the delicious rice crust that forms on the bottom of the pan. I've tried to recreate that dish, but making it one-pan super user friendly. Feel free to substitute as needed. For example, use any nuts you want, any dried fruit, and if you don't have certain ingredients don't stress it. Like just use cinnamon as a spice if ou don't have Cardamom. If you want to add sautéed onions go for it! If you want heat, add cayenne pepper! Just follow the basic recipe and you will be so happy you have something yummy and healthy to eat. Watch your heat as nuts burn quickly.
.
About 6 servings:
2 cups uncooked rice (basmati preferred)
2 15 oz cans chick peas
1/2 cup pine nuts (or other nuts)
1/3 cup chopped dates (or other dried fruit)
1/3 cup chopped parsley and dill combo (just parsley is fine, or cilantro would work)
1 tsp cinnamon
1 tsp cardamom
1/2 tsp Allspice
1/2 tsp ground black pepper
1 tsp kosher sea salt (or to taste)
1 orange 🍊 for zest
Olive oil and Butter
.

1)cook rice as directed on bag
2)wash then chop dried fruit and herbs
3) measure spices and combine in small bowl
4) heat 2 TB olive oil and 1 TB butter in large frying pan
5) when bubbly add nuts and fruit, keeping a close eye stir 2-3 minutes, lowering heat to medium if they start to brown too much.
6) add spice mixture and stir together about 30 seconds
7) add drained chick peas, mix all together so everything is coated with spice mix. You may need to add another 1-2 TB of oil at this point
8) taste it! Add more spices and salt (slowly!!) until you love the flavor!
9) add cooked rice, stir all together
10) I added about 2 TB more of butter here, mix everything together. Lower heat to medium
And stop stirring! This is when the crust will form. Use your nose, if It smells like it's burning then take it off the heat quickly.
Zest orange over the top and sprinkle on fresh herbs!
Follow Lori in the kitchen on Instagram at https://www.instagram.com/saucykitchen/
-by
BSG
on Mar 23, 2020 3:06:58 PM