January 2019: BSG Completes Another Successful Executive Search— CMO, Fusion Education Group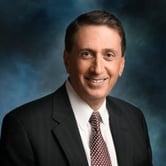 BSG proudly announces a recently completed executive placement. Peter Reiner formally accepted the position of as the Chief Marketing Officer at Fusion Education Group.
Peter Reiner has a deep background in consumer packaged goods and multi-site retail across a number of industries. Most recently Peter was Chief Revenue Officer/Chief Sales and Marketing Officer at Empire Candle Company. At each role in his extensive career Peter has focused on how customers make decisions with the belief that understanding a customer's journey will help a company find the customers most in need of their product or service.

Fusion Education Group, owned by Leeds Equity Partners, runs Fusion Academy, with over 50 locations across more than a dozen states. Fusion offers a completely personalized education experience to middle and high school students. Focusing on each student's academic, emotional, social, and scheduling needs Fusion meets each individual where they are and provides an environment in which they can flourish. This personalized approach is possible as each classroom has one student and one teacher; the on-site Homework Café allows students direct access to teachers while completing their assignments and results in free time after school. Parents frequently credit Fusion schools for the life-changing impact they have had on their son or daughter's success. With Peter's expertise Fusion will become a well-known name and, with expansion, help more students reach their academic potential. Each student in their own way.
ABOUT BSG'S EDUCATION PRACTICE:
For almost two decades BSG has been an active participant in the growth of the Education industry, with a track record that includes more than 250 senior-level searches for companies big and small, public and private, PE-backed, for-profit and not-for-profit, at the VP level and above.

Its industry expertise comprises the full spectrum of education markets–K-12, postsecondary, corporate, and consumer–and products and services therein. Clients have gone public, merged, been acquired, raised and invested capital, grown through acquisition, and, with most, thrived under strong leadership.

BSG has remained persistent in its belief that competence as a service provider begins with knowledge of an industry's people, companies, niches, and trends. You will find us attending industry events such as: Capital Roundtable, ASU GSV Summit, BMO Capital Markets, EdTech Week.

For assistance with your next executive search, in the education sector or across our array of practice area specialties, contact us today.